Tessa Lovell, our Federation Archivist has produced this very comprehensive article about the Federation and how to look after our archives. You can download this for your WI as a PDF file
Thank you Tessa.
HEREFORDSHIRE FEDERATION OF WOMENS INSTITUTES
ARCHIVES
Tessa Lovell
HFWI Archivist
June 2020
1 ACRONYMS.
2 INTRODUCTION.
3 FEDERATION HISTORY.
4 FEDERATION ARCHIVES.
5 GUIDE TO ARCHIVING FOR WIs.
5.1 Risks to archives.
5.2 What to keep?
5.3 For how long?
5.4 Where?
5.5 How should items be stored?.
5.6 Keeping records.
5.7 Textiles.
5.8 WI Archivist
5.9 Procedure for items to be deposited at HARC.
6 APPENDIX A - NOTES.
7 APPENDIX B - HFWI KEEPING OF RECORDS GUIDELINES.
1 ACRONYMS
| | |
| --- | --- |
| Acronym | Meaning |
| HARC | Herefordshire Archives and Record Centre |
| HFWI | Herefordshire Federation of Women's Institutes |
| WI | Women's Institute |
| | |
2 INTRODUCTION
As well as a guide to record keeping for Herefordshire Federation WIs this document also provides information for those researching the history of the WI in Herefordshire. For further information see contact details in Appendix A.
3 FEDERATION HISTORY
Records show that the formation of the Herefordshire Federation was "unanimously agreed" at the first Council Meeting at the Shire Hall, Hereford on 4th February 1920. In order for this to have happened at least twelve Institutes had to be in existence in the county. In fact at this stage there were already eighteen with another five being formed that year giving a membership of nearly thirteen hundred. This was largely due to the vision, energy and enterprise of twenty-four women in St. Weonards who, two years previously, had voted "unanimously to have an institute".
Mrs. Alice Madeleine Foster was elected as the first Chairman and three years later she purchased 6 St. John's Street for use as a clubhouse with the main office just across the road at number 1. In the summer of 1923 Mrs. Foster organised a rally in which some sixty Institutes, each under its own banner assembled in the Cattle Market and marched to the Cathedral where a service was held.
Mrs. Kevill-Davies was largely responsible for the formation of the Federation and became its first Secretary. It was she who persuaded the National Chairman, Lady Denman, to visit Hereford when she gave added impetus to the Movement leading to a stall in the Butter Market and the formation of the Produce Guild with its Club and weekly WI Markets in the city and the four market towns in Herefordshire.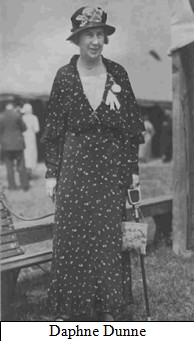 Mrs. Foster retired in 1925 and was succeeded by the redoubtable Hon. Mrs. Daphne Dunne who served as Chairman for the next twenty years. Together with her long serving secretary, Miss Barbara Lilley, she presided over a remarkable growth in membership which by 1931 had already reached nearly four thousand. In addition Mrs. Dunne was also responsible for devising and writing numerous pageants and masques that were all very successful. In the late twenties the Federation office was re-located to 7 St. Owen Street where it remained until the mid 1950s.
With the advent of War the Executive became an Emergency War Committee and long term planning was encouraged. By May 1940, members had made more than three thousand garments for the troops. Savings groups were initiated and subscriptions sent to the National Federation's Ambulance Fund. Evacuees and refugees were welcomed and members responded to an appeal for help with munitions making. The majority used their skills to increase food and crop production – most famously in the copious quantities of jam with which the WI became synonymous.
The WI's reputation for handicraft skills was advanced by Mrs. I. Harding of Aston Ingham WI who founded the extant Handicrafts Club in 1946. Cleverly, meetings were held on market day, the only day when members were able to travel to Hereford due the shortage of public transport and petrol for private cars. As part of the Federation's Golden Jubilee the Club presented a County tablecloth to the Federation.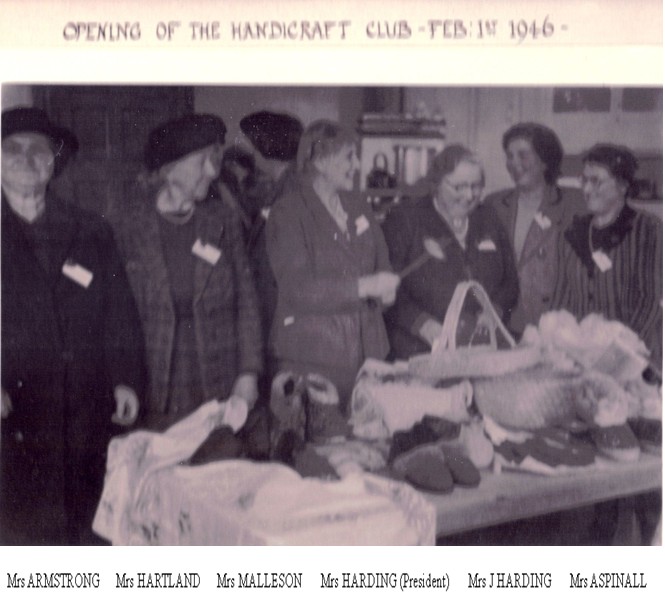 A regular feature of the summer WI calendar was the County Picnic held at various grand country houses until 1966 when the executive decided that many members were "rather bored by it" and the practice lapsed for a few years. Photographs show that these were well attended and consequently a useful source of revenue for the Federation.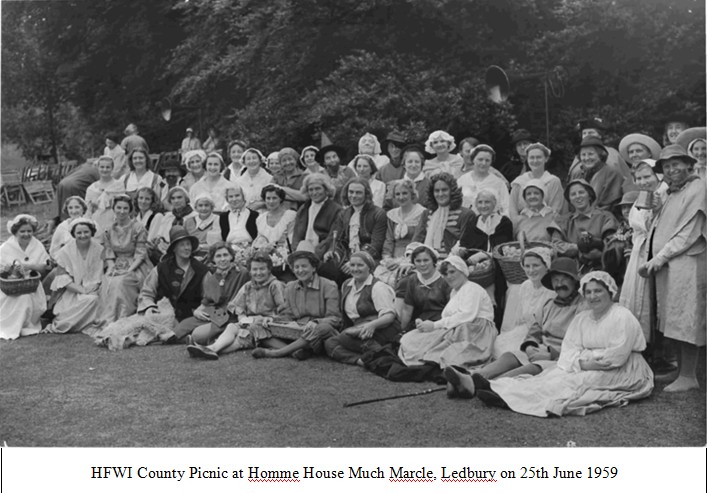 Involvement in the Three Counties Show has been ongoing since 1926 when Herefordshire joined Gloucestershire and Worcestershire Federations in sending exhibits to a WI tent. This has now expanded into running catering outlets but on a triennial basis.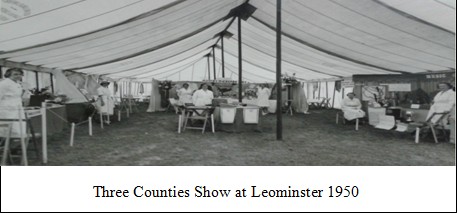 After periods in rented offices in Broad Street (1956 – 1979) and Hereford House in East Street (1979 – 1989), the Federation was finally able to purchase the current WI House. This was officially opened on 29th March 1989 by the National and Federation Chairmen, with the Bishop, Mayor and Mayoress of Hereford in attendance. Other highlights include the visit of Their Royal Highnesses the Prince and Princess of Wales to a luncheon for five hundred guests prepared by members in 1985. A series of "An Evening with ...." was held in 1999/2000 where guests included Edwina Currie, Henry Sandon, Jennies Pitman and Bond. The Queen's Golden Jubilee was celebrated with a Tea Party at the Bishop's Palace.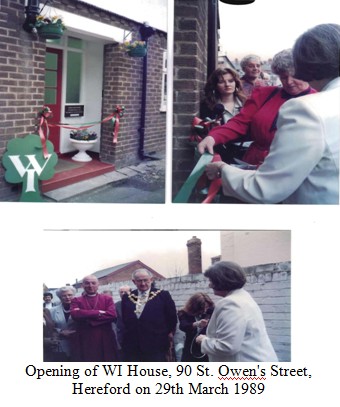 The Federation is fortunate to have been able to mark previous anniversaries in the magnificent setting of Hereford Cathedral. These include a service for the Diamond Jubilee featuring the WI Choir, a "Home and Country" Flower Festival in 1990, a recital ten years later and a choral evensong and thanksgiving service in 2010. It is fitting that the centenary was commemorated in the same venue.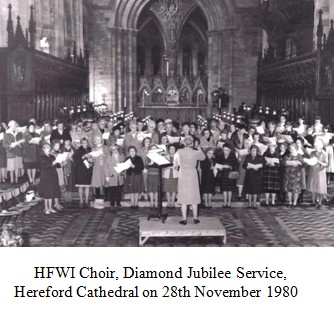 4 FEDERATION ARCHIVES
The majority of the archives of Women's Institutes (WI) in Herefordshire are held on loan in the county record office, the Herefordshire Archive and Records Centre (HARC) 1. Textiles deposited from 2020 onwards will be held by Hereford Museum. 2 In the main, WI House 3 holds items from suspended WIs during the three year suspension period. The remaining items are held by individual WIs, museums, local history societies, churches and village halls throughout the county. The Federation archivist 4 is currently building a catalogue of all these items so that researchers will be able to locate records of interest more easily.
5 GUIDE TO ARCHIVING FOR WIs
Why should we keep an archive?
The archive provides a history of Herefordshire Federation and WIs as well as a social history. It is used by researchers of women's history.
5.1 Risks to archives
The following are all risks to mitigate when looking after archives:
Elements – fire/flood
Environment – light/heat/damp/dust
Wildlife – vermin/insects/moles/bats
Burglary
Disorganisation
Lack of space
Borrowing/not returning
Obsolete technology – cine film/LPs/floppy disks
Rust – from use of paper clips, pins and staples – this can occur in a surprisingly short time span
5.2 What to keep?
The National Federation of Women's Institutes (NFWI) provides general guidelines for the types of records that should be kept and the retention period. To assist WIs in Herefordshire the Herefordshire Federation of Women's Institutes (HFWI) has produced its own version covering local variations (HFWI Keeping of Records Guidelines) 5.
When deciding what to keep two questions should be asked:
What evidence does it provide?
How useful is it?
Publications, other than anniversary certificates, issued by NFWI, Denman and HFWI should not be submitted for archiving at HARC as these will be stored in the archives of the respective issuing organisation. This avoids duplication of records and saves on much needed storage space.
5.3 For how long?
Per the guidelines, the retention period at a WI for items to be permanently archived is flexible. However it is recommended that records are deposited on loan at HARC where they can be stored in the optimum conditions. If items are to be kept long term it would be worth investing in acid free archive boxes available at cost from HARC 6.
5.4 Where?
Archives should be kept:
where the temperature is stable (preferably with no heating)
where there is no light or sunlight
in a locked space with secure access
Avoid storage in lofts (subject to extremes of temperature) and cellars (prone to flooding).
5.5 How should items be stored?
Records should be held flat – loose or in folders within lidded boxes (NOT plastic) to exclude light and dust. Ideally packaging should be acid free but this can be expensive. Use cotton tape (not string) and brass paper clips (to avoid rusting).
Try to avoid:
plastic – boxes, bags, folders, punch pockets, sticky notes, Sellotape ®, self adhesive albums
exploding volumes – where sticking items in books causes the spines to break
Plastic has poor aging qualities and thus deteriorates rapidly causing damage to materials that it comes into contact with. As an example Sellotape ® degrades quickly, causing the plastic section of the tape to discolour and separate leaving the adhesive and yellow staining on the document.
Exploding volumes are a familiar occurrence in WI archives where printed minutes are stuck in the traditional Minute/Record books. If your WI is generating printed records retain them as loose sheets in a folder marking each sheet with the following information:
name of the WI
title of the record (minutes, committee report, annual financial statement etc.)
page number (in p/n format where p is the page number and n the total number of pages)
date (with four digits for the year)
Word and Excel both have options in their page set ups for headers and footers where this information can be set up and generated automatically on each page. Contact the Federation archivist 4 if you need help with this.
5.6 Keeping records
Keep a note of what is held in your WI's archive and of any items borrowed to ensure their safe return.
Date (with four digits for the year) and label all items. Years down the line no one will know/remember the details of the records and photographs in your archive. Without such information items would most likely fail the evidence and usefulness tests mentioned above thus bringing into doubt their value to the archive.
5.7 Textiles
The advice from a professional archivist is as follows:
cover a cardboard tube with acid free tissue paper
roll the textile round the tube with the decorated side facing OUTWARDS (this puts less strain on the stitching)
then store in a protective covering ideally made from unbleached cotton; this is relatively inexpensive and a worthwhile investment to protect your WI's textiles
5.8 WI Archivist
Ideally each WI should have its own archivist responsible for caring for the WI's records. These should be clearly marked and passed back to the WI if the role is relinquished. Sadly there have been instances where records have been lost or damaged due to members moving away or storage in inappropriate conditions.
5.9 Procedure for items to be deposited at HARC
There is currently a backlog of cataloguing of WI items deposited at HARC. Therefore there is no oversight of such items. So WIs are asked to bring items to be deposited there to WI House. These will be added to the HFWI catalogue and will then be taken to HARC for safe keeping.
In the case of WI suspension items should be taken to WI House where they will be retained for the three year suspension period. Thus if the WI reforms within the allocated time span its records can be returned. If not they will be deposited at HARC and Hereford Museum (textiles)
6 APPENDIX A - NOTES
Herefordshire Archives and Record Centre (HARC), Fir Tree Lane, Rotherwas, Hereford, HR2 6LA

Telephone: +44 1432 260750

Website: https://www.herefordshire.gov.uk/info/200164/herefordshire_archive_and_records_centre

Hereford Museum, Broad Street, Hereford, HR4 9AU

Telephone: +44 1432 260692

Website: https://www.herefordshire.gov.uk/info/200172/museums/648/hereford_museums_and_art_gallery/2

WI House, 90 St. Owen Street, Hereford, HR1 2QD

Telephone: +44 1432 272268 Tuesdays and Wednesdays 09:30 – 14:30

Email: hfwi.reception@gmail.com

Federation Archivist

Email: HFWIArchivist@gmail.com

HFWI Keeping of Records Guidelines - see Appendix B
Acid free storage boxes available from HARC - £4.30 (45cm x 28.5 cm x 12.5 cm) (Price as at June 2020)
7 APPENDIX B - HFWI KEEPING OF RECORDS GUIDELINES
Type

Item

WI

Retention period

Archived

Yes/No

Archive Location

Certificates

Employer Liability Insurance

1 year

No

-

Certificates

Insurance

Expiry date + 3 years

No

-

Certificates

Leases

Expiry date + 15 years

No

-

Certificates

WI Trademark Agreement

Permanently

No

-

Committee

Committee Annual Reports

< ~10 years

Yes

HARC

Committee

Declaration of Eligibility

During committee member's tenure

No

-

Correspondence

NFWI or HFWI re rulings /running of WI

5 - 10 years as appropriate

No

-

Correspondence

Treasured

< ~10 years

Yes

HARC

Financial

Annual Financial Statements

< ~10 years

Yes

HARC

Financial

HMRC Correspondence

7 years

No

-

Financial

Other financial paperwork

7 years

No

-

Financial

Registration Certificates including charity/

gift aid

Permanently

No

-

HFWI

County Yearbook

+ 1 year

No

-

HFWI

HFWI Newsletters

+ 1 year

No

-

Membership records

WI Member Registration Form

As defined in WI's Privacy Notice

No

-

Minutes

Annual Meeting Minutes

< ~10 years

Yes

HARC

Minutes

Committee Meeting Minutes

< ~10 years

Yes

HARC

Minutes

Record Books

(Monthly Meeting Minutes)

< ~10 years

Yes

HARC

Rulings

Bye Laws & Decisions

Permanently

Yes

HARC

Rulings

Signed Rules

Permanently

Yes

HARC

Textiles

Banner

Permanently

Yes

Hereford Museum

Textiles

Tablecloth

Permanently

Yes

Hereford Museum

Textiles

WI Sash

Permanently

Yes

Hereford Museum

WI Records

Attendance Records

Permanently
Yes
HARC

WI Records

WI Programmes

< ~10 years

Yes

HARC

WI Records

WI Scrapbook

ncluding:

Cards

Certificates

Photographs

Newspaper cuttings

Village History

WI History

< ~10 years

Yes

HARC

WI Records

Receipt for records on Loan at HARC

Permanently

No

Copy to HFWI Archivist

-