Welcome to Christy Crouch, Longtown and District WI who is our new Climate Ambassador for the Herefordshire Federation.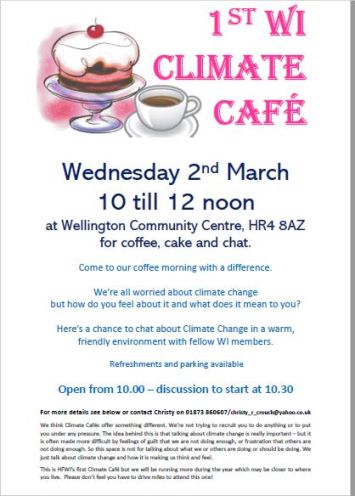 26 November 2021
Recycle your electrical equipment!
11 November 2021
From our Climate Ambassador Christy: Teabags without plastic
https://moralfibres.co.uk/the-teabags-without-plastic/?fbclid=IwAR2SF_A7lvMW8_oHhRIewvA9de88Bgh3FkwXYLPa9WL29rPWGHzzBmECqyM
8 September 2021
"With a week to go to WI Day and the start of Great Big Green Week, our Great Big Apple Tree has 4 green apples on it - well done to Tupsley, Allensmore, Kingsland and Almeley for your fantastically enthusiastic responses. There's still plenty of time for lots of you other lovely WIs to get a pledge in there too - you don't have to promise the earth - every little helps as some supermarket somewhere says!"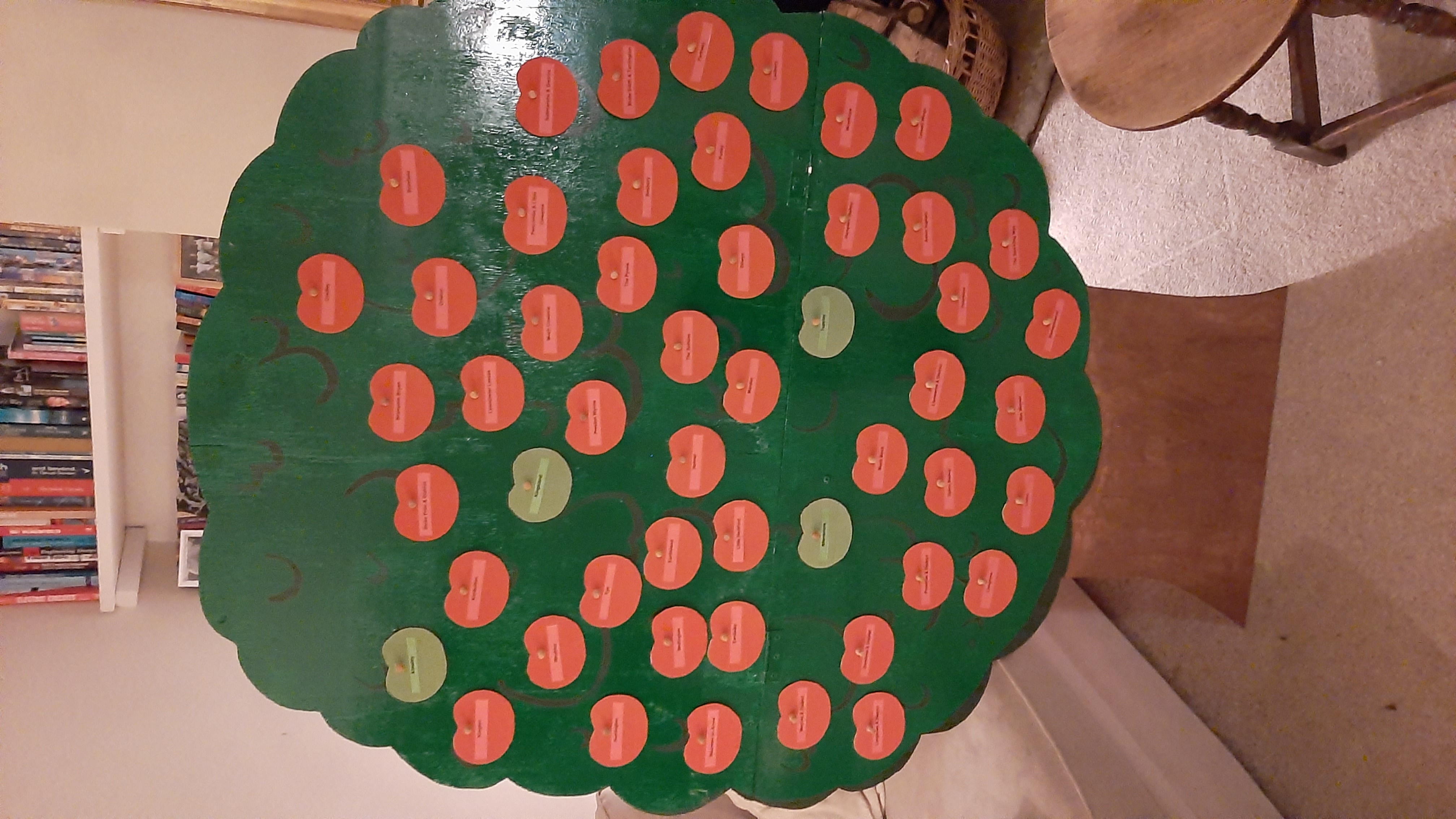 26 August 2021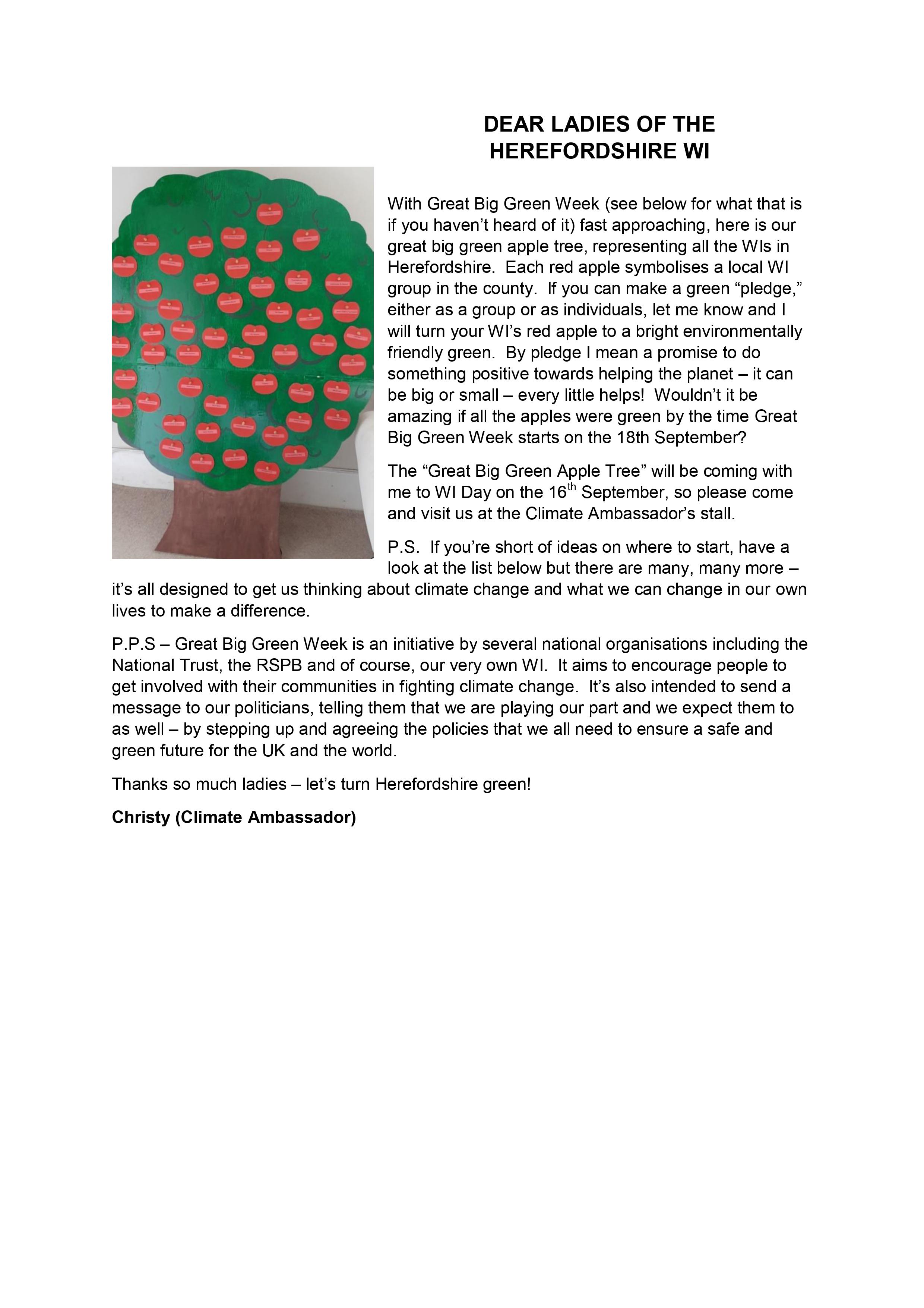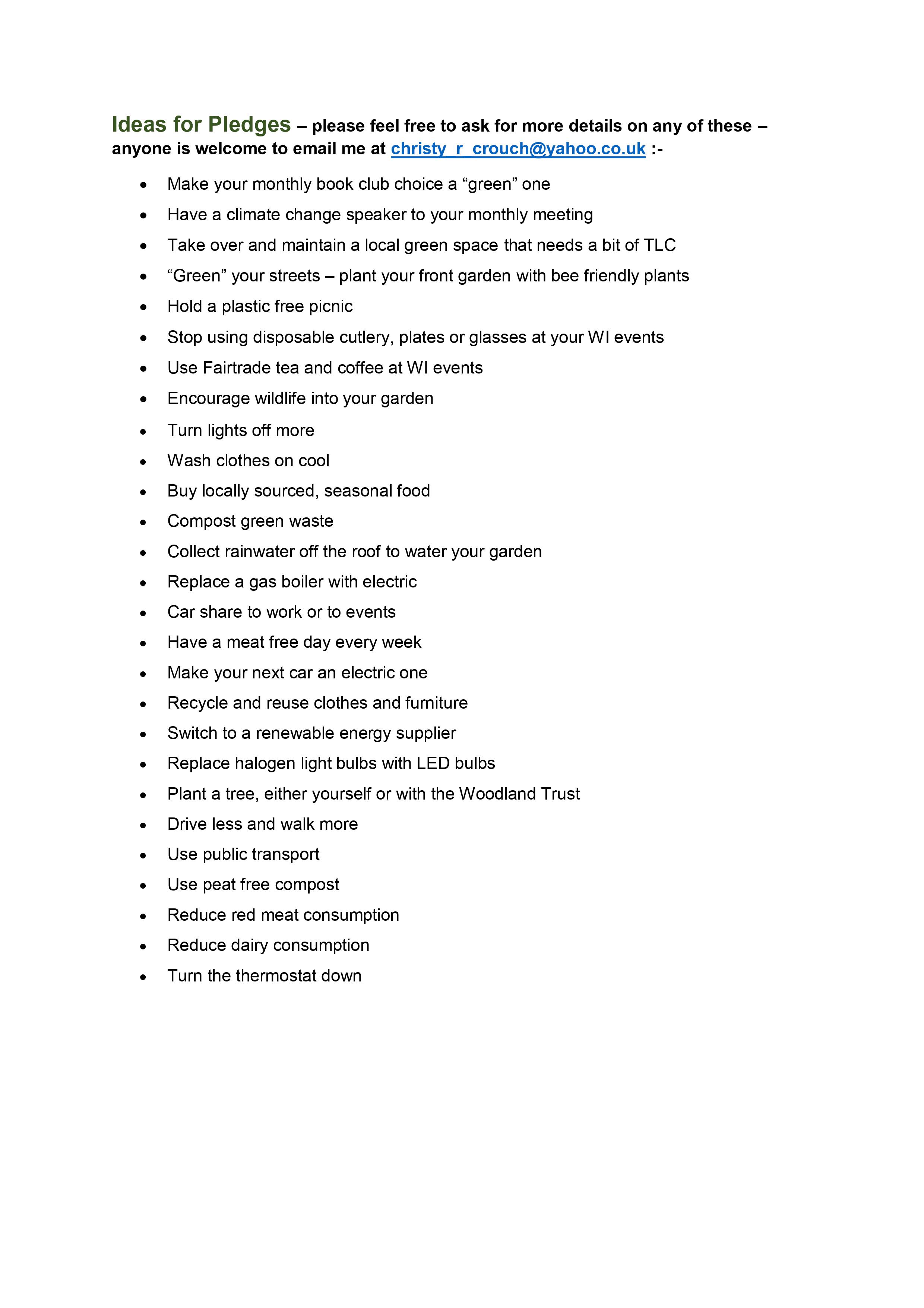 8 August 2021
WI and COP26
I am writing to ask for your support in helping WI members to take action ahead of COP26.
Please forward this e-mail to your members so every member is aware of the WI's plans over the next four months.
As a member of the Climate Coalition the WI has been campaigning for action to reduce climate change since 2009.
In November 2021 the UK will be hosting a crucial climate conference, COP26. This UN conference will be attended by 196 countries and is a vital chance for us to get strong international action on climate change.
The WI needs your help to push the government to show leadership and make sure the conference delivers real progress.
The WI has a team of very effective Climate Ambassadors who work with federations and members to raise awareness and provide training on climate issues.
Great Big Green Week 18-26 September
The WI is calling on all Federations to work with the Climate Ambassador team to organise an event (or events), during Great Big Green Week during 18-26 September 2021.
This will be the largest event for climate and nature ever seen in the UK. Thousands of events will celebrate how communities are taking action to tackle climate change and protect green spaces.
The NFWI Public Affairs team has been working with The Climate Coalition to put together a range of resources to help you organise events. These can be found on the Great Big Green Week's website.
Your federation could get involved by:
Hosting a virtual discussion event
Organising an outdoor environmental photo opportunity
Holding an information session with other local environmental groups
Please do refer to the guidance on resuming meetings before planning your event.
The Whole Story- what you can do to support the WI's COP26 plans
As the largest women's voluntary organisation in England, Wales and the Islands NFWI Public Affairs and the NFWI Board will lobby decision-makers before COP26 for strong international action on climate change, focusing on the links between gender inequality and the impacts of climate change.
New resources explaining how to get involved have been produced for members by the Public Affairs Department and are available through MyWI. In addition we would encourage all members to read the WI – 'Whole Story' Action Pack, which is attached to this email.
The efforts of members, federations and NFWI Public Affairs will only be effective if the WI's voice is heard. Please ask your members to use their local influence to meet with their local MP and ask them to support action on climate change in your area
We have provided the following resources for WIs and federations to use:
A PowerPoint presentation, script and factfile
Quizzes
MP briefing to use to meet with your local MP
'No More Loopholes' craft bracelet template
Please send photographs of your events, as soon as possible, after the event, to publicaffairs@nfwi.org.uk so that we can show the strength of feeling on this issue across England, Wales and the Islands.
Please cascade this memo to WIs in your federation via email.
If you have any questions, please do contact the Public Affairs Department.
With best wishes,
Nicky Amos Fiona Thomas
Chair of Public Affairs, NFWI Research and Campaigns Officer
https://mywi.thewi.org.uk/public-affairs-and-campaigns/current-campaigns/climate-change/the-whole-story-the-wis-campaign-for-cop26/WI_COP26_TheWholeStory_003.pdf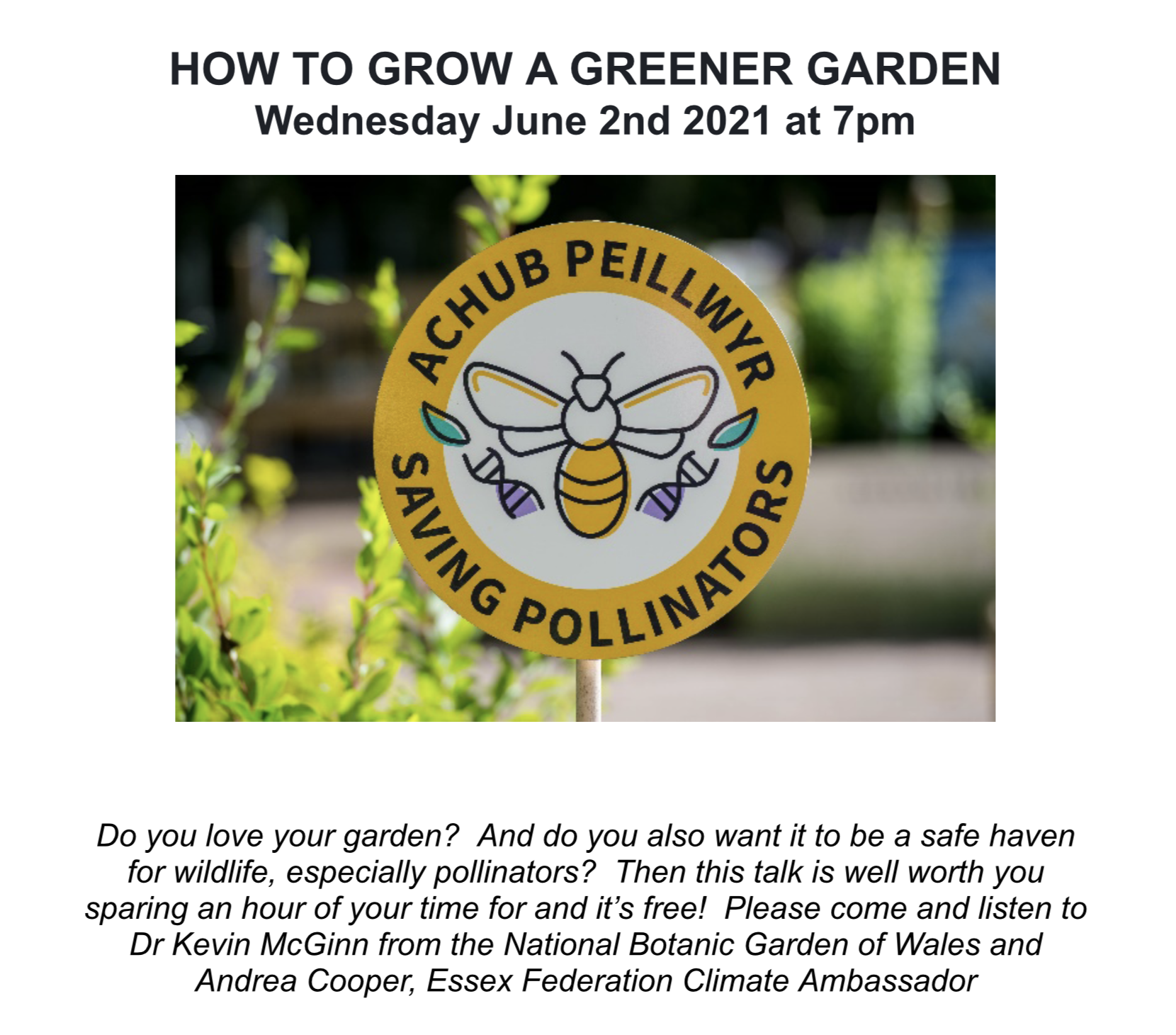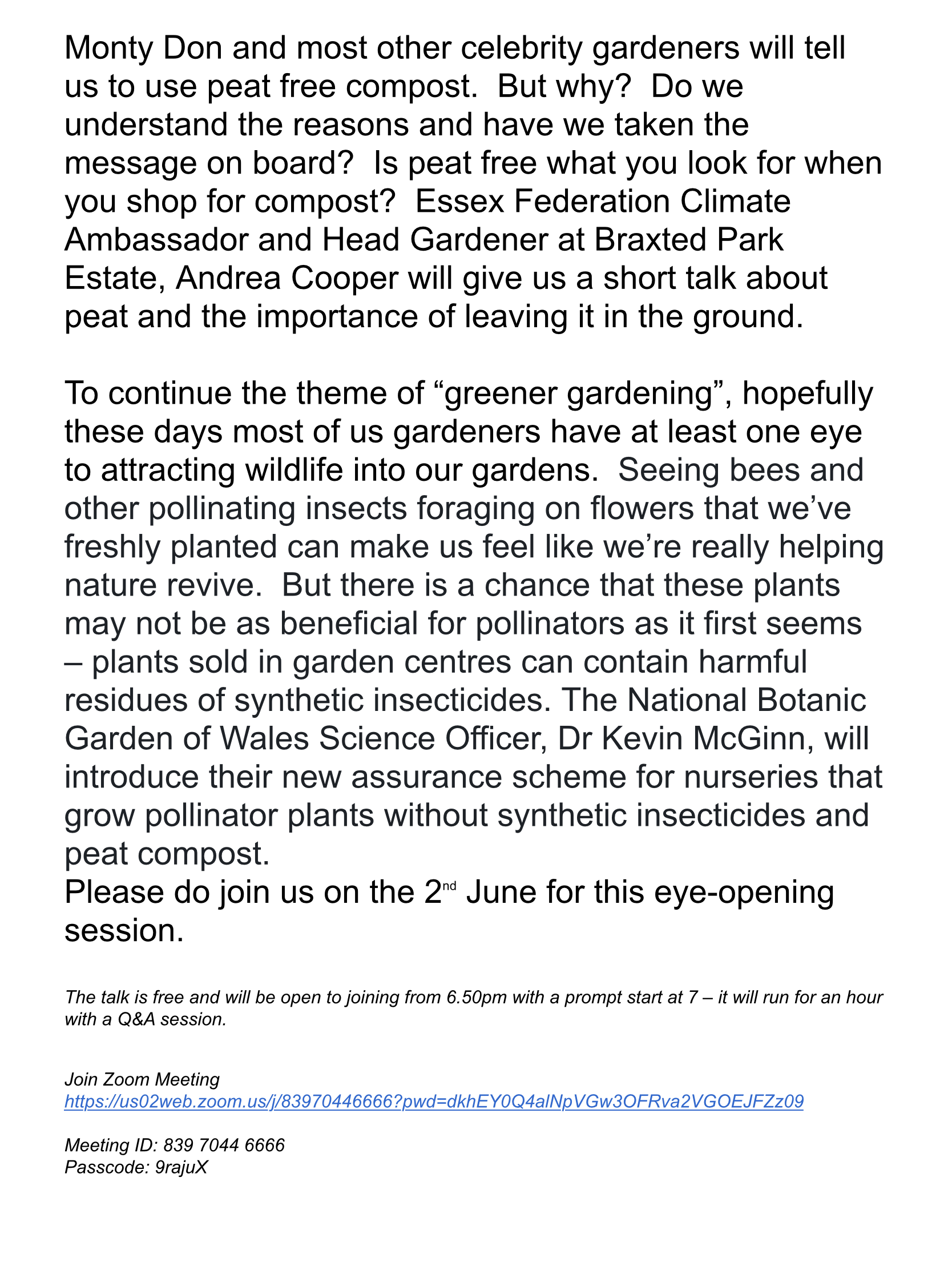 15.4.21
"I wonder how many of you are aware of this amazing group, essentially run by one man with the help of other volunteers, who are recycling stuff we would normally throw away and in doing so raising money for local charities. They collect all sorts - a complete list will follow shortly - but in these Covid times, you need to keep an eye on which days particular items are being requested to be brought."
Please feel free to spread the word amongst your friends who may not be on Facebook.
2.4.21
"What could be nicer than taking 10 minutes out of your day to sit and watch the insects visiting flowers, either in your garden or out and about. Please sign up to this if you fancy giving it a go - the information the project will provide is going to be really useful to find out how we're doing in the battle to save our insects"
Christy Crouch, Climate Ambassador
28.3.21
For those of us old enough to be drawing a pension, making that pension sustainable can be many times more powerful at cutting your carbon footprint than giving up flying and becoming a vegan combined.
By clicking on this link you can find your pension provider and send them a quick message asking them to commit to net zero emissions. It's one of the most powerful things you can do to protect the planet.
It will literally take you a couple of minutes. Thank you."
https://makemymoneymatter.co.uk/net-zero/
Dear ladies of Herefordshire
Climate change is an inescapable fact. Whether we know what it is or why it's happening or not, we
have all experienced it – although you might not realise it – flooding; drought; stronger winds; more
storms; rain when we don't expect it, no rain when we do – it's all part of a shifting pattern. But
hand in hand with that goes biodiversity loss – alarmingly, we've lost 50 million birds since the
1950s, over 70% of our insects, 97% of our wildflower meadows, and many species are in trouble,
some on the edge of extinction. I'm not saying the two are connected, just that they both urgently
need addressing.
We are continually bombarded with information from all sides and it can seem very overwhelming –
what can we, as individuals, actually do? Well, I believe there are many, many things we can do
ourselves – little things that may not seem much on their own, but which together can add up to a
great deal. So, I think my role as Climate Ambassador is to help and encourage anyone willing to
give it a go, to do those little things.
To that end, our first event will be an online Zoom session with Michelle James of Severn Waste Management to give us first
hand information about what we can and can't put in our green bins.
She will be happy to answer any questions you may have - I, for one, discovered only the other day that I could have been
putting something into the recycling that I've been throwing in the rubbish
for the last five years!!!
So please do come along if you can – I'm sure we can all learn something from it.