Maisie Holland celebrating her 90th birthday in style - Much Cowarne WI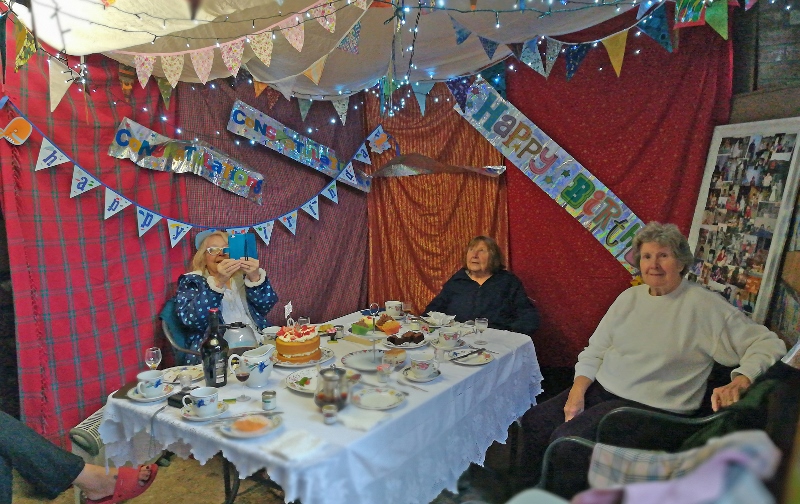 Tallest sunflower competition at Bosbury WI show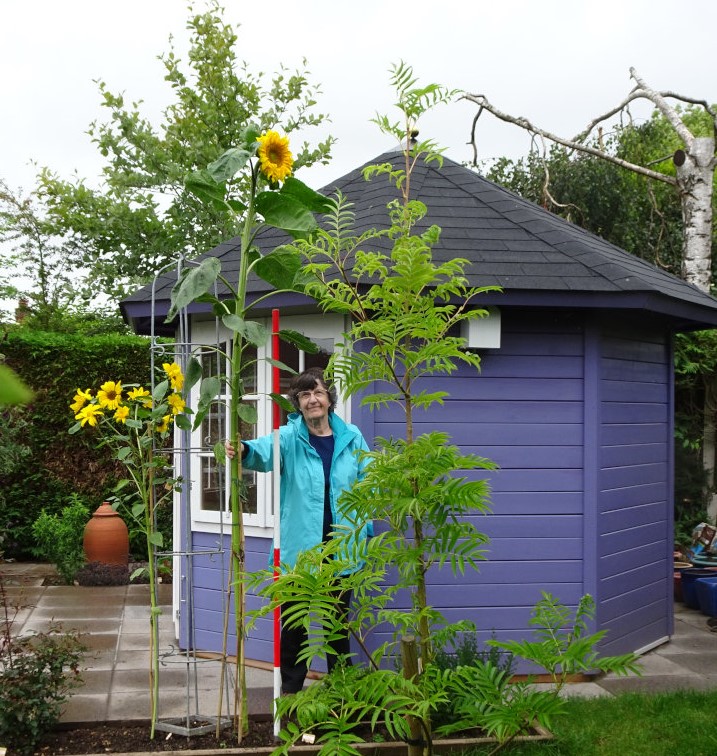 Saltmarshe & District members remembering happier times!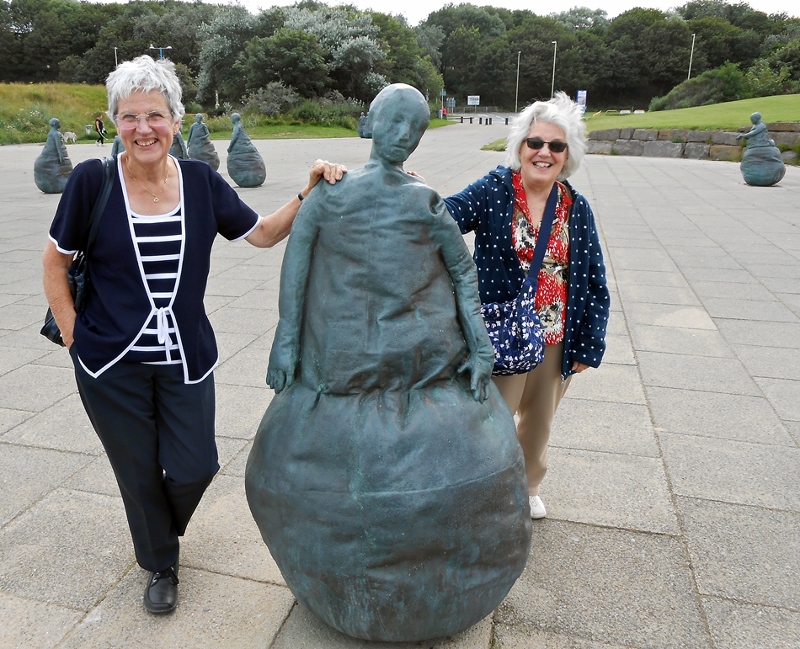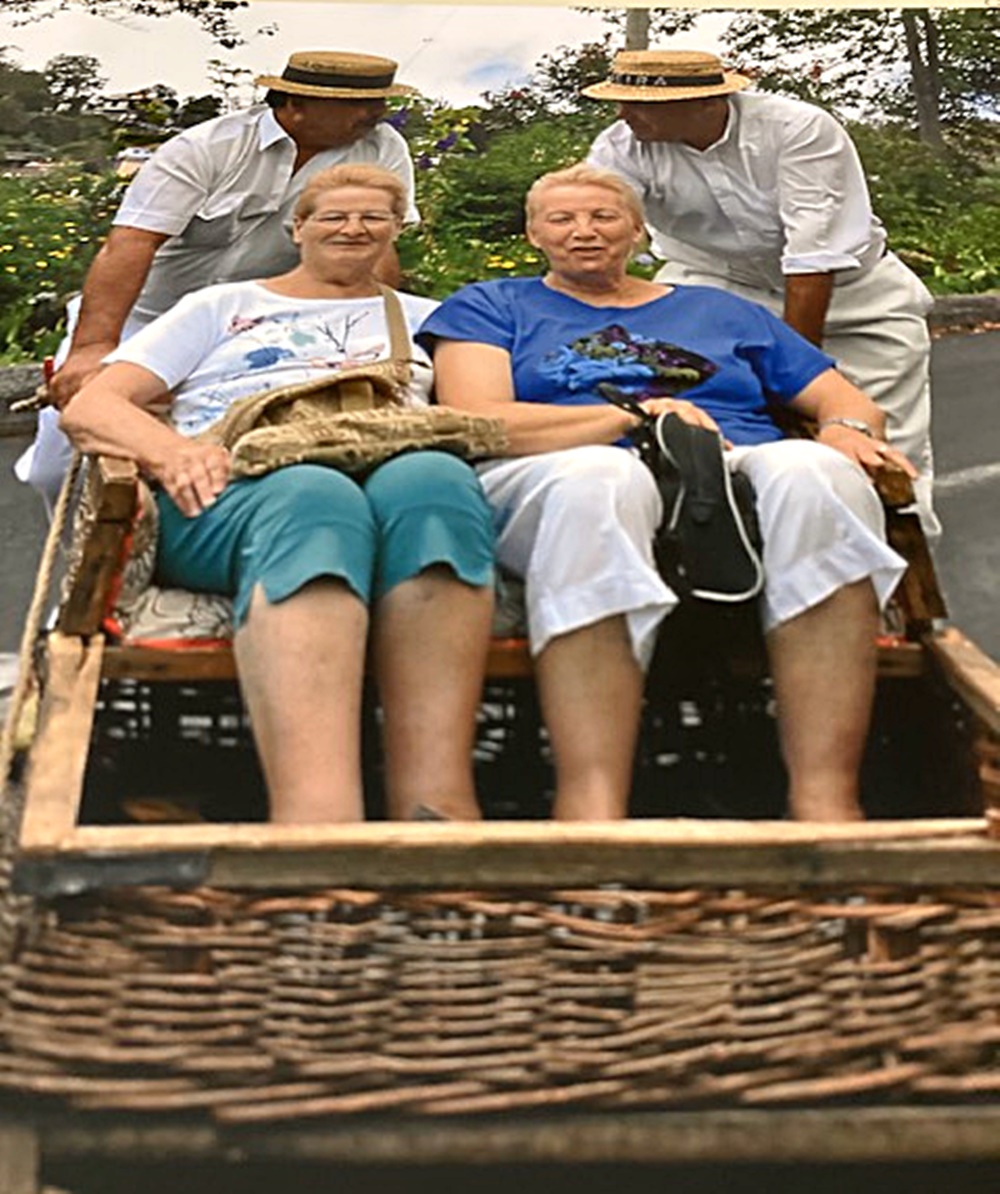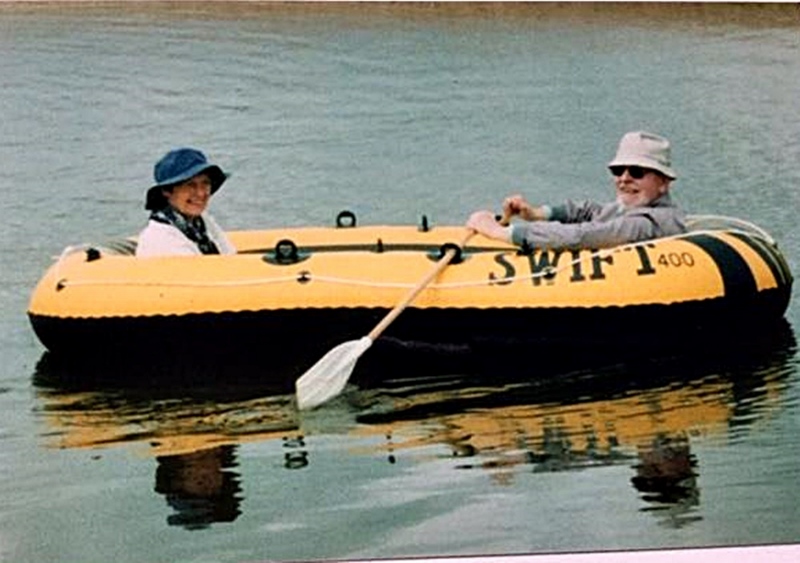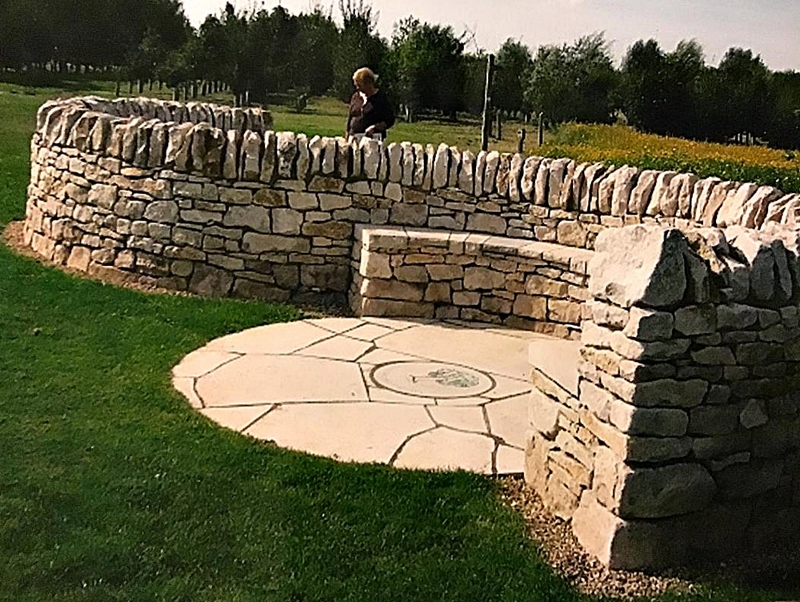 OCTOBER 2020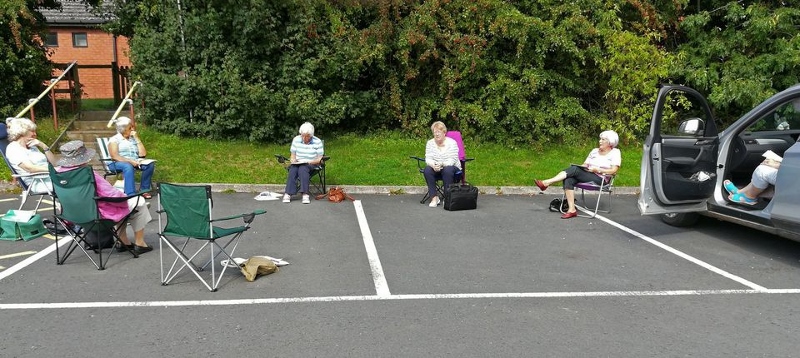 Much Cowarne committee having a socially distanced meeting in Stoke Lacy car park.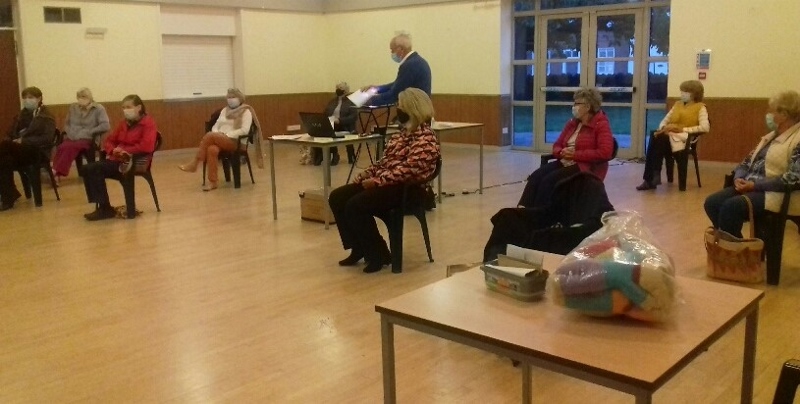 Bosbury WI had a socially distanced talk about Cuba.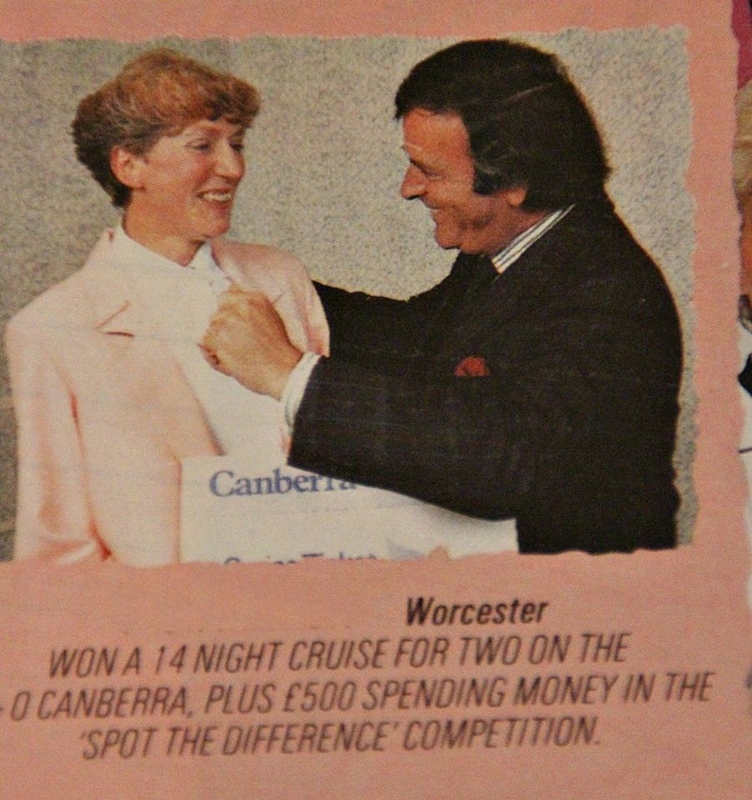 Saltmarshe & District WI reminisced about famous people they had met and Rachel told of being presented with a cruise prize by Terry Wogan.
SEPTEMBER 2020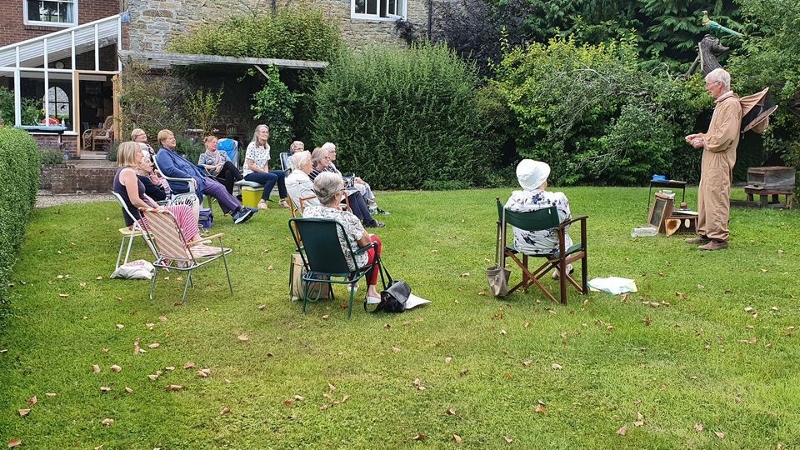 Brampton Bryan had an outdoor talk about bees from Culain Morris of Leintwardine.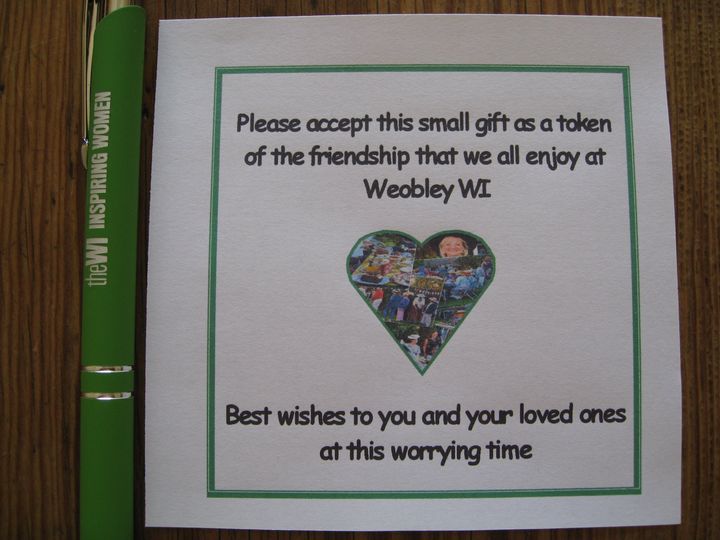 Weobley WI gave keepsakes to their members.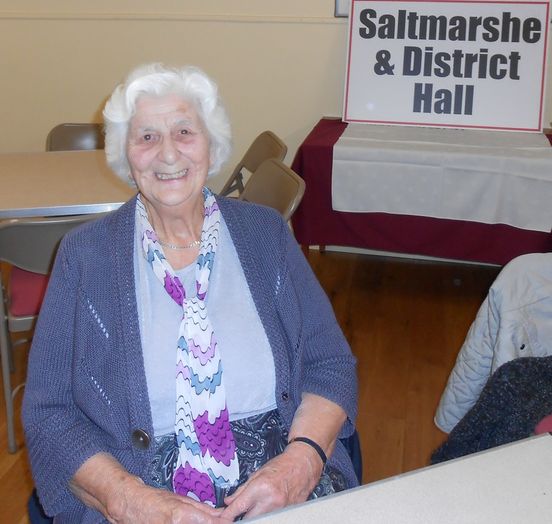 Members at Saltmarshe sadly lost one of their longest serving members Evelyn Whistance.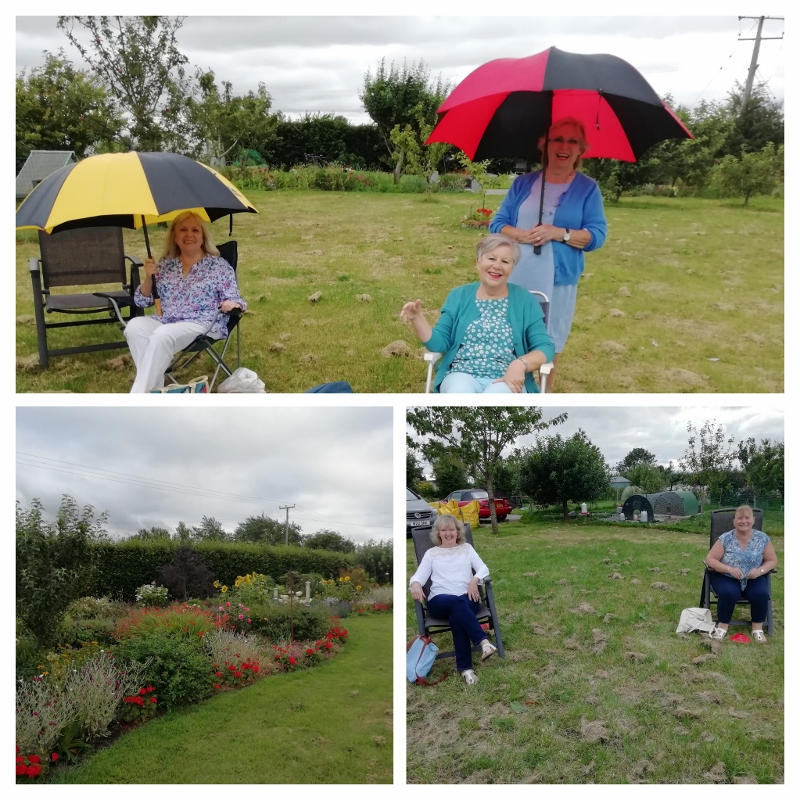 Cradley had socially distanced meetings in their President's garden.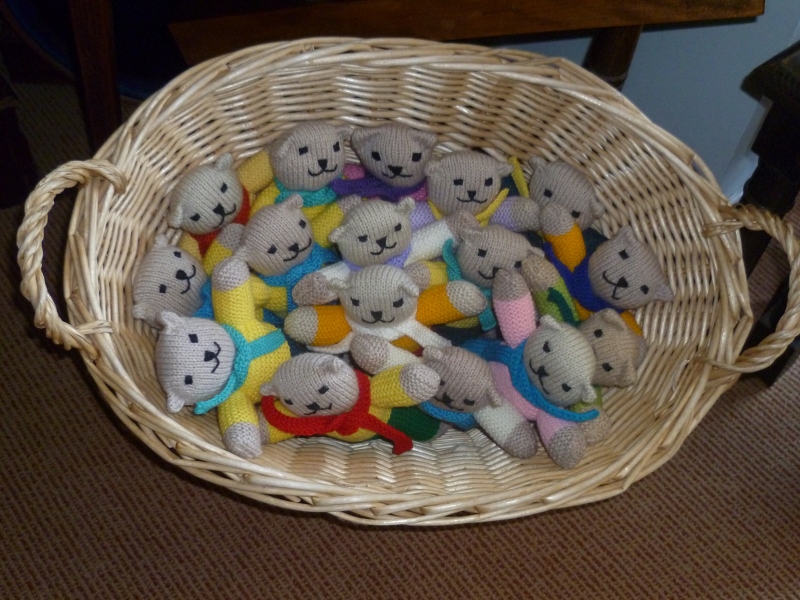 Anne Weedon from Upton Bishop knitted over 30 teddies for the Hereford Hospital baby unit.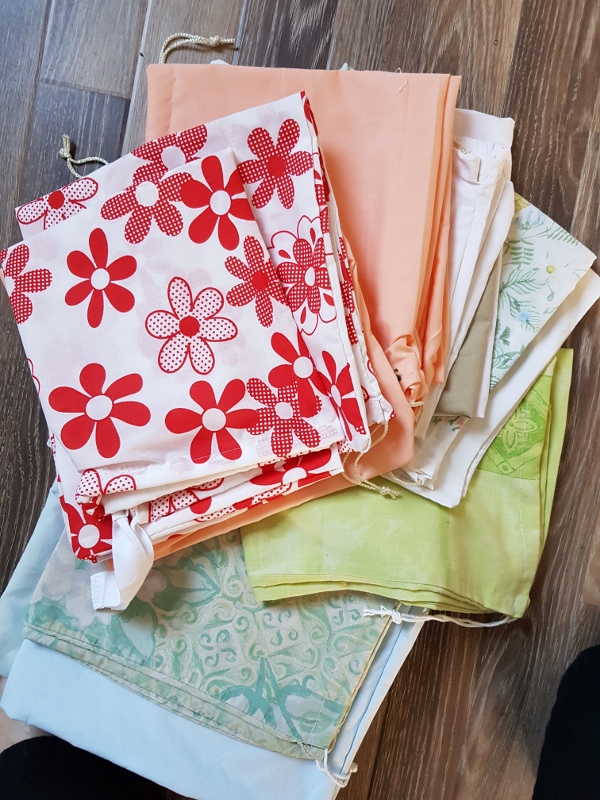 Members at Peterstow made many scrub bags and face masks.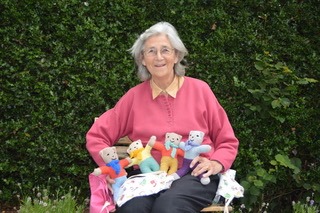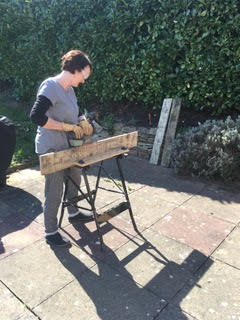 Cradley members busied themselves knitting teddies for Hereford Hospital Baby unit and doing DIY, upcycling plants into designer shelving.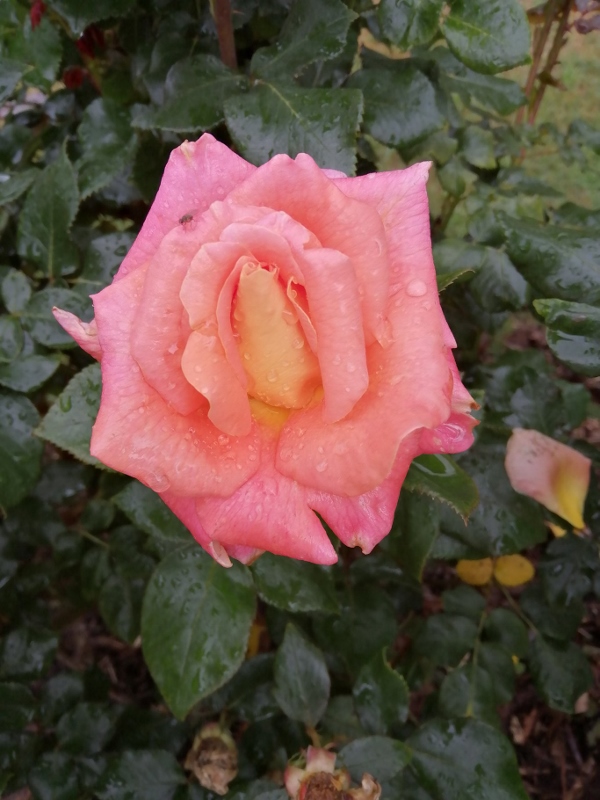 Little Hereford members are making a scrapbook of their favourite roses in lieu of a Rose Evening. This is the WI commemorative rose.
Saltmarshe & District members reminisced about their first cars. This is Janet's, a Bond Minicar three wheeler from 1956.
JUNE 2020
ASTON INGHAM WI
During these very strange times, Aston Ingham members, apart from the usual activity of gardening on these beautiful, sunny days, our members have been busy:-
Making scrub bags for Hereford hospital
Knitting teddies for children attending the hospital
Walking and picking up litter, as we walked,
ZOOM yoga sessions, each week
ZOOM singing with Rock Choir
Facebook 'free for all' sing along with Rock Choir each day at 3pm(during Mental Health Awareness Week more than £40,000 was raised).
Some even found time for some home decor and renovations.
Cycling
Keeping in touch with members and other people in the community who are living alone.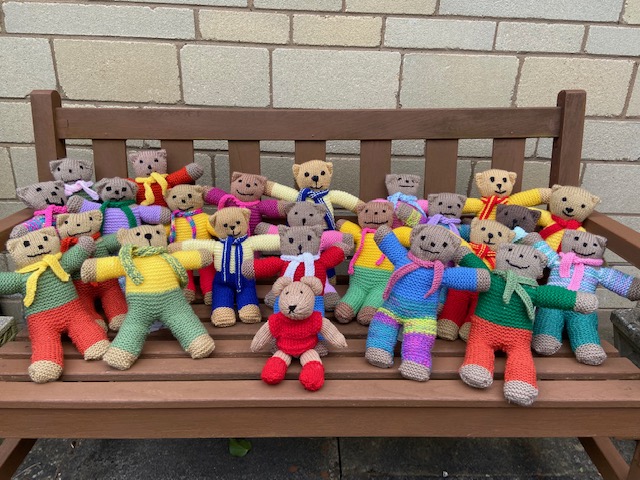 PARKWAY WI
During Lockdown it has been difficult to stay in touch, about two thirds of Parkway's membership belongs to the Shielded community, strictly following Government guidance to stay at home, so those members of Parkway still able to get out and about have made it part of their daily routine to walk by the homes of those who are shielding to wave or chat through windows.
For the 75th celebration of VE Day, Estelle Dalraine and Sue Hill, Parkway's co-Presidents came up with the idea of displaying the front cover of May' WI Life in the absence of bunting to decorate windows. They also suggested members should raise their teacup or glass of wine to Parkway during the day to think of friends in the WI, many of whom remembered well the events of 8 May 1945.
Parkway has also tried to keep in touch with past members and has gathered in one or two new friends who live alone and have expressed feelings of loneliness. It's at times like this that being part of a community is so important.
As always hobbies and crafting skills have filled our time and for those still able to stride out, the country side has been a great solace. In return, hopefully, we shall be able to continue our support of environmental projects when Covid-19 is less of a threat.
SALTMARSHE & DISTRICT WI
Over the last few months we've been keeping in touch with phone calls, e-mails and via our website http://www.saltmarsheanddistrictwi.simplesite.com
When it's been our Meetings night we've tried to keep us all together by gathering online - singing along to whichever version of Jerusalem has been available - for example in June we sing to Billy Bragg on his acoustic guitar and in April sang to the National Annual WI Meeting attended by the Queen in the centenary year. In May we had a ten item "What is it" Quiz and in June instead of actually going out en masse to visit a garden, we've enjoyed online pictures of our own gardens in all their glory
Our Birthday Secretary has kept the birthday cards going by post and e-cards and any news of our members is passed on from one to another.
Those of us who are shielding at home and been receiving food parcels surplus to their own requirements have been having the extra collected and taken for use through the local Food Bank.
Our practical, creative Member, Wendy, has been helping to provide laundry bags, scrubs and gowns for the Doctor's Surgery, Hospital and local Care Home
As part of our local communities we've been joining in each Thursday with the Applause for Carers and the NHS and individually endeavouring to keep of good heart; VE celebrations took place for some of us each outside our own house
One day we'll be able to mix and join together once more.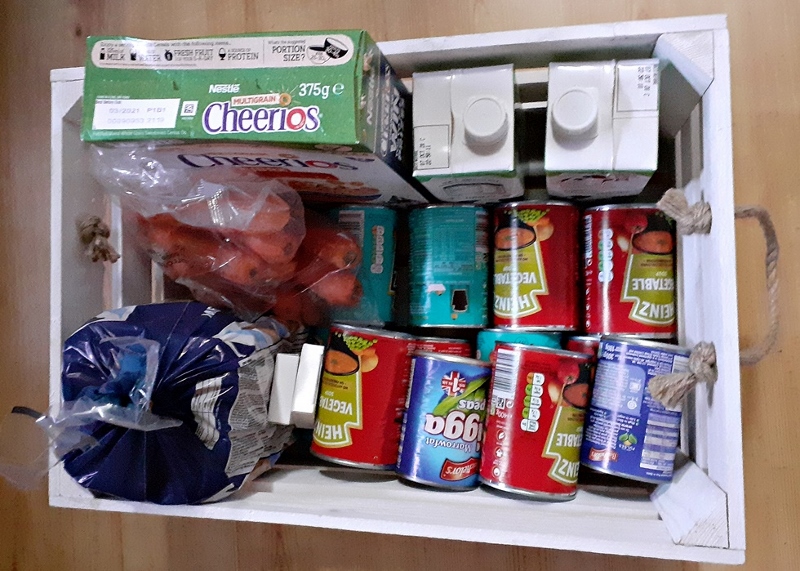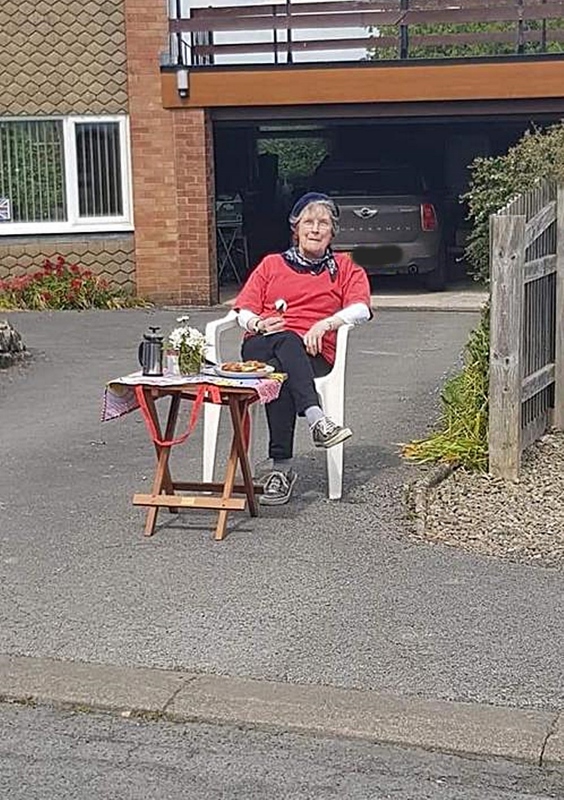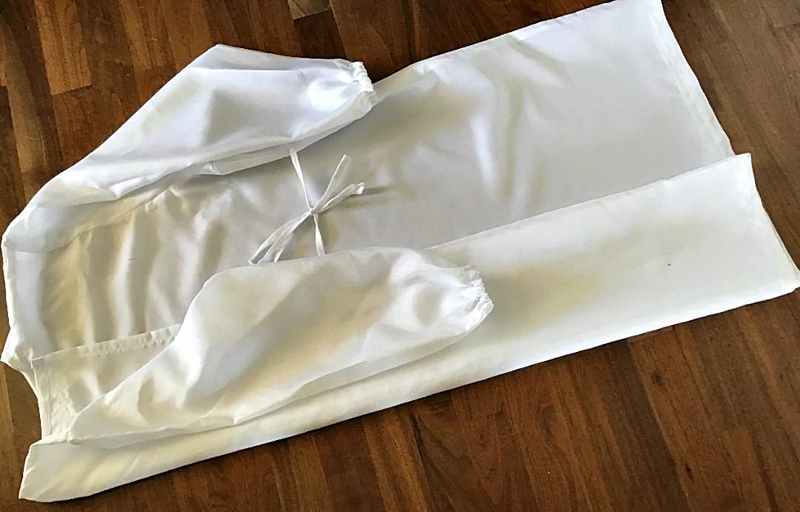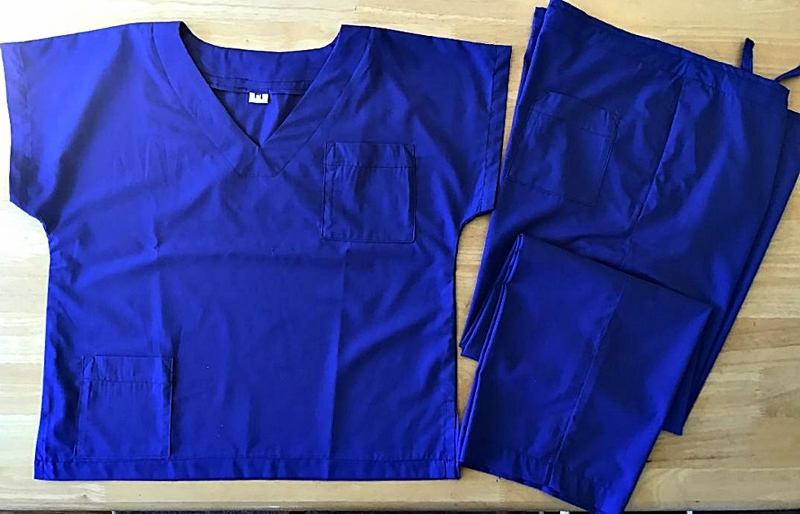 22.4.2020
LITTLE HEREFORD WI
75th Anniversary!
75 years ago this week a group of women met to decide whether Little Hereford needed a WI...
Well here we are, still going strong, 75 years later. Our Party is cancelled but this is a photograph taken last year at our Rose evening.
Looking forward to seeing you all very soon.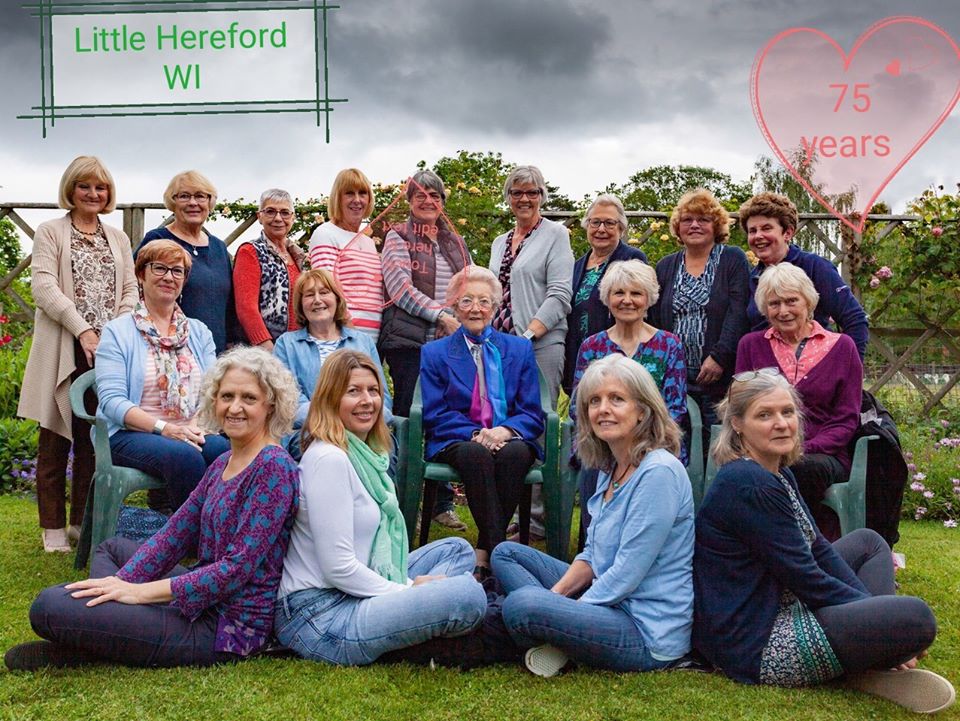 15.4.2020
WOOLHOPE WI
Today 15 April 2020 the Woolhope WI should have been holding a party to celebrate its 75th birthday. The members and friends would have been arriving at the Parish Hall this evening dressed in 1940's style clothes and having a thoroughly good time, watching a chocolatier demonstrating his art, listening to 1940 s music and, of course, eating wonderful homemade food ...........but none of this is possible because we are all at home self-isolating, mainly because of our age.....but are we downhearted? Absolutely not. We are the ladies of the WI. We realise how lucky we are to be living in this rural paradise, sometimes nicknamed the bread basket of Britain. We decided that, along with a few friends in the very small rural villages of Woolhope and Mordiford we would cook up a storm ....., just as those doughty Institute ladies did during the war. All day food and gifts have been arriving at the gates of the home of the President but the WI will not be enjoying this wonderful array of food as it will be taken by the President's daughter, a radiographer, to Hereford hospital as a thank you to the staff.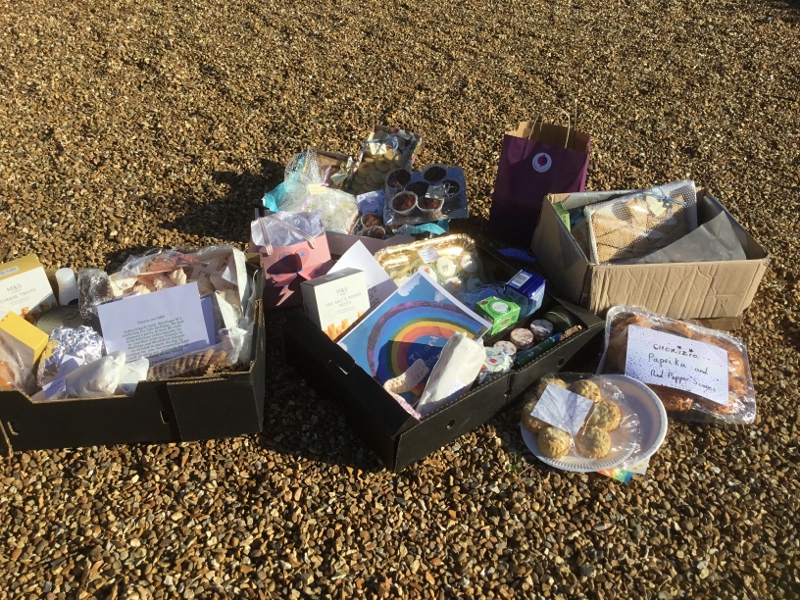 MARCH 2020
Ledbury
Ledbury had a visit from Michelle James of Severn Waste Services to learn all about recycling in Herefordshire and Worcestershire.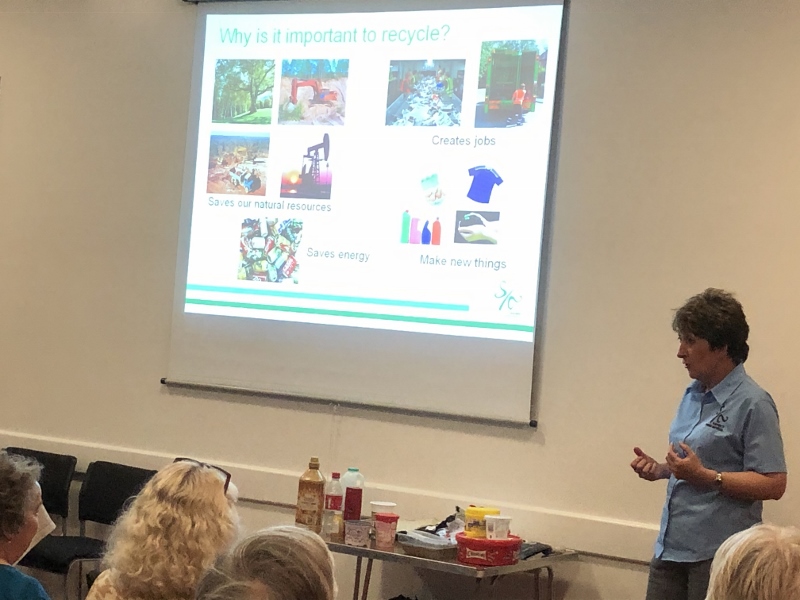 Aston Ingham
Liz Muncy, a member of the Lace Guild, came to Aston Ingham to demonstrate her craft of lace making.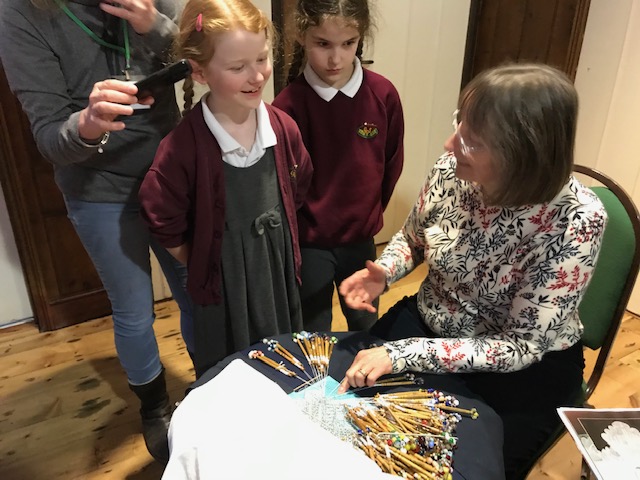 Saltmarshe & District
Saltmarshe enjoyed a talk from Kathie Barrs about the technique of wet felting and enjoyed seeing all of her crafts.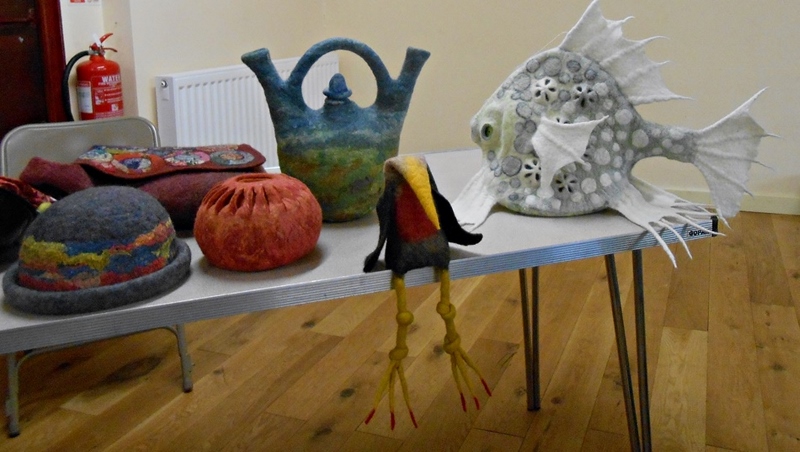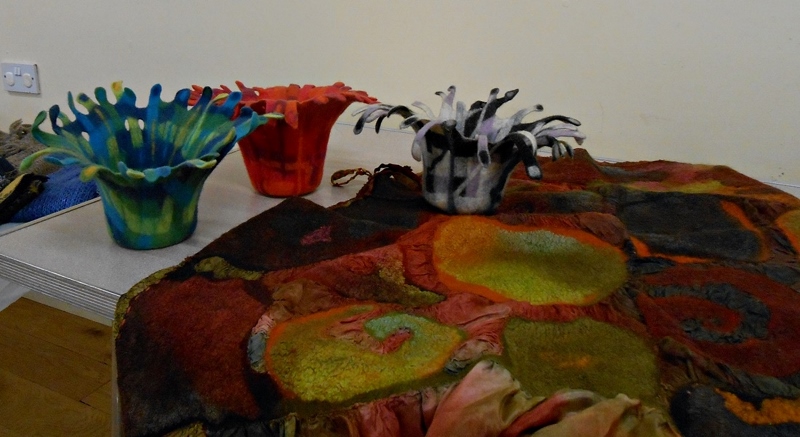 Cradley
Cradley celebrating their 82nd birthday, and enjoying some beautiful quilts made by the Worcester branch of 'Linus Quilts' who make quilts for children.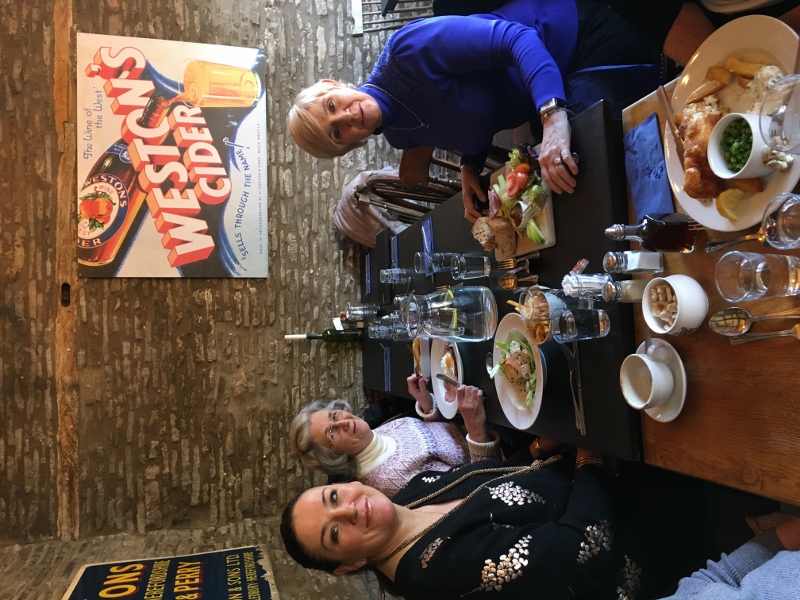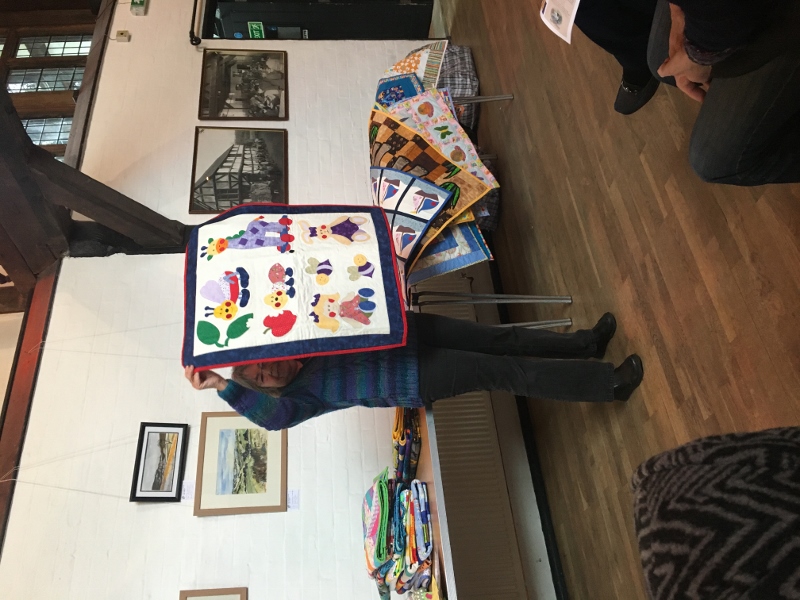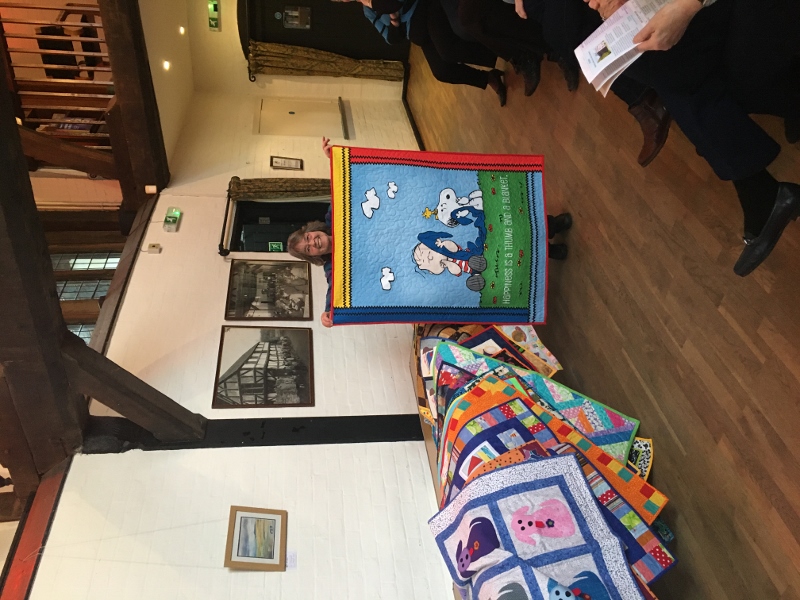 FEBRUARY 2020
Peterstow
Peterstow WI enjoyed a presentation about the National Gardens Scheme in Herefordshire from its organisers.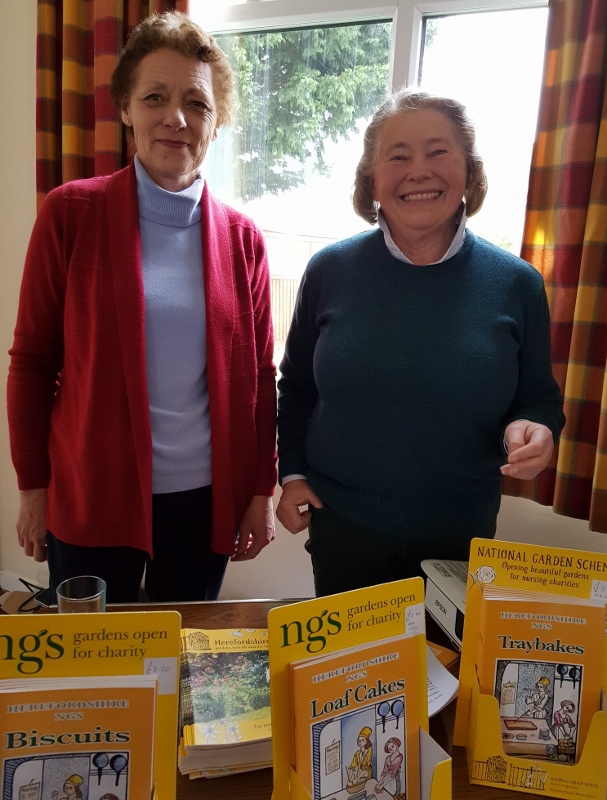 The Sparkling Wye
Sparkling Wye showed off their banner and new tablecloth, both made by their craft group and first used in February.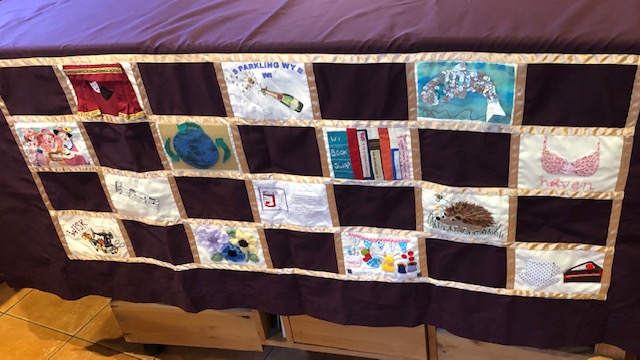 Ledbury
Kathie Barrs talked about and demonstrated wet felting.
Aston Ingham
Carl Sadler demonstrating the art of making garden trugs.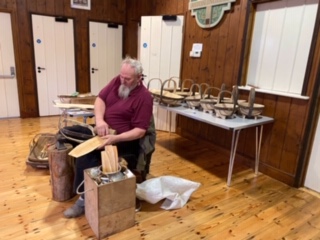 Saltmarshe & District
Saltmarshe members posing with their banner.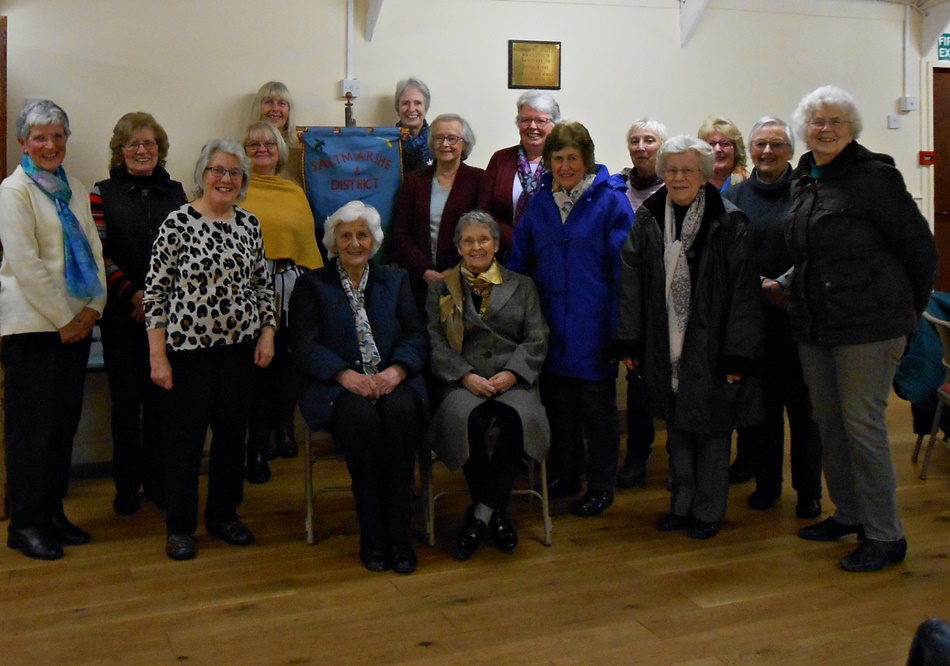 29th January 2020
Saltmarshe & District
Jean J holding her competition trophy for 2019.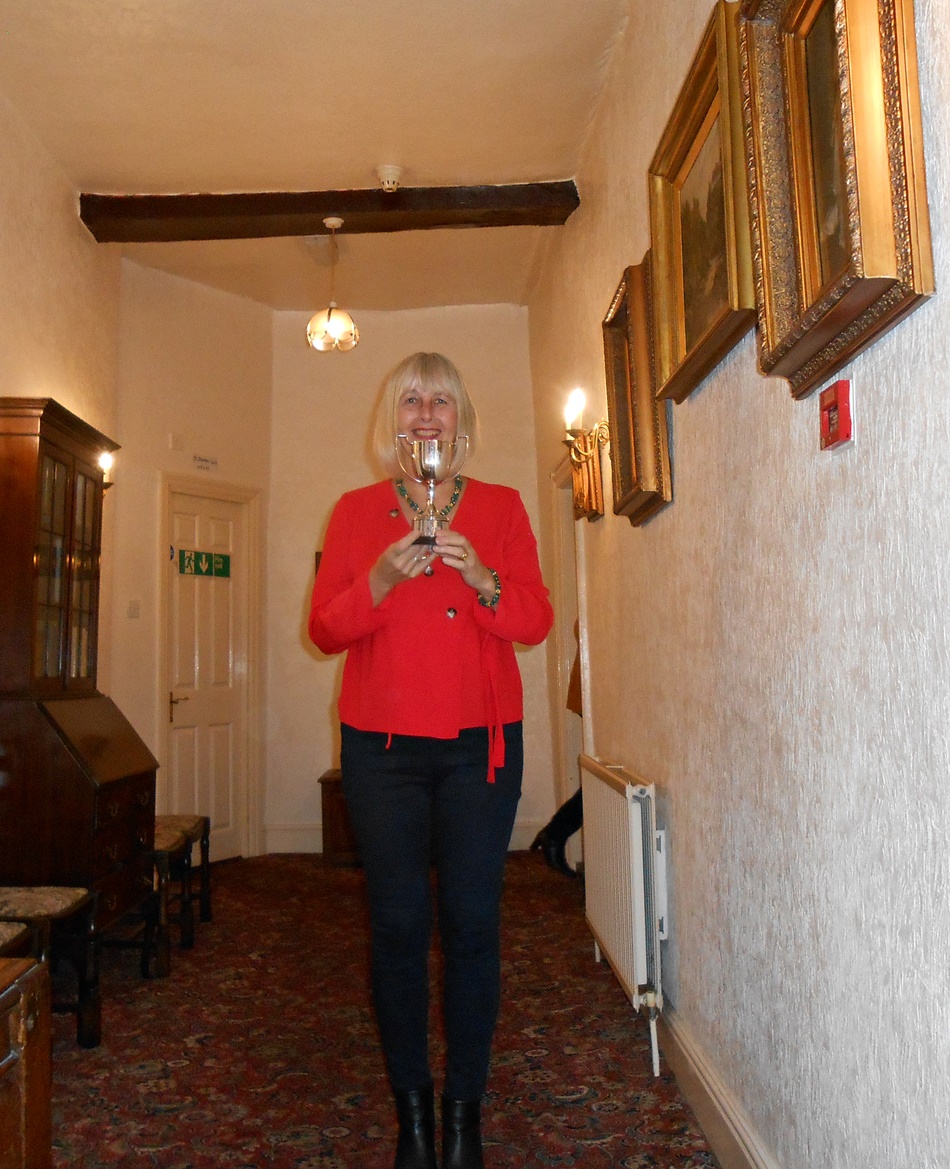 Llangrove
Mary Wall has been a member of the WI for 70 years.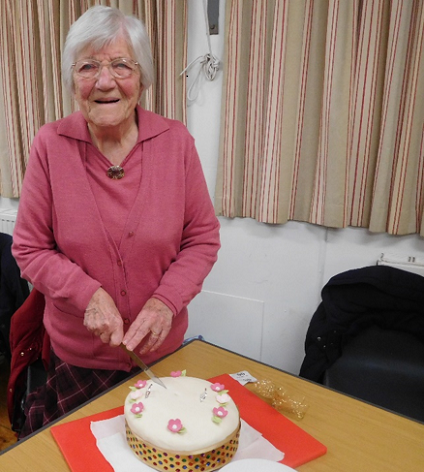 Little Hereford
Here is a picture of our 'youngest members' of Little Hereford WI at a lunch at Sapey Golf club to start our 75th year of celebrations.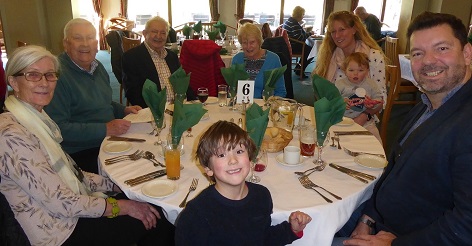 3rd January 2020
Holmer
Holmer WI had a visit from Duncan Fox from the Sly Gin distillery.