21 December 2019
Ledbury
Ledbury WI members celebrating Christmas at their December meeting.
Socialising, games, lots of lovely nibbles – much enjoyed by all.
Now looking forward to all the talks and activities planned for 2020.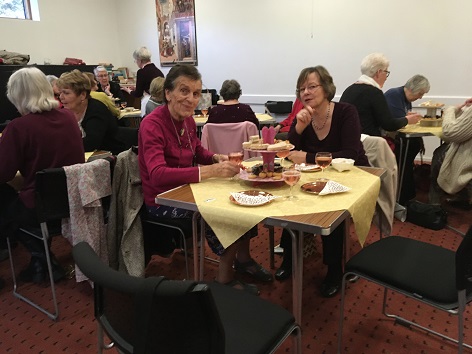 Much Cowarne
Wow what a lunch Much Cowarne WI enjoyed at their December meeting. Wait for it their 90th celebration!! This was attended by Margaret Simcocks in the absence Val Lewis who was otherwise engaged. Elaines Kitchen catered for 30 members with a full blown Christmas traditional spread......wonderful. Shirley Barber our longest serving member was given the honour of cutting the cake, which was made by our Secretary Freda Helme and decorated by Katherine Parker with a ninety themed logo. Here's to our 100th anniversary December 6th 2029!! Please come to our January 10th meeting, coffee,cake bring and buy stall, 10.30 - 12.00 noon at Stoke Lacy hall. All welcome, bring a friend.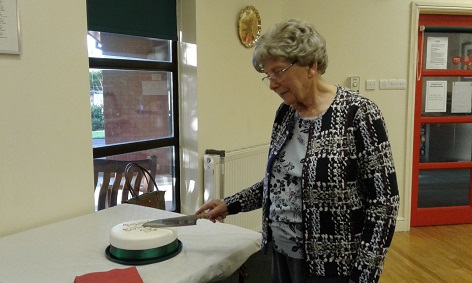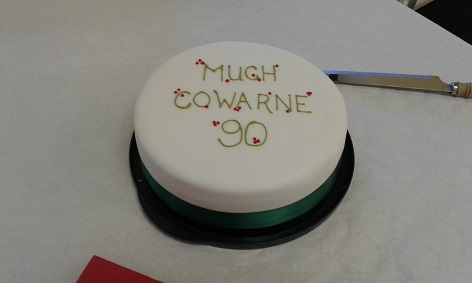 Weobley
Weobley WI had yet another wonderful Christmas meeting with mulled wine, delicious supper, gingerbread icing competition, quiz and Christmas music. During the evening the annual Anne Smith "Speak Up" trophy was awarded to Maggie Waldman for her untiring efforts to ensure that Weobley WI celebrated what would have been our Centenary had we not closed for three years. Maggie researched the history and prepared an outstanding display of photos, articles, etc. A well deserved award!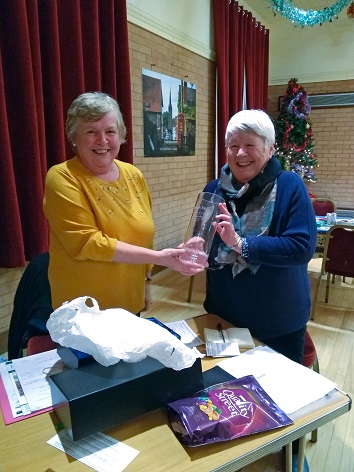 The Suttons
In November, The Suttons WI made Christmas Wreaths, under the guidance of one of our members, Linda Sinclair. She showed us how to fill the wreath with greenery, and make ribbon bows to finish them off. We were all very pleased with our wreaths!
In December. Mike and Rachel Fenton entertained us at our Christmas Party with music on the Dulcimer and Autoharp. We enjoyed mulled wine and Christmas goodies, finishing off with a Secret Santa.
At our next meeting on 15th January we will be Sequence Dancing .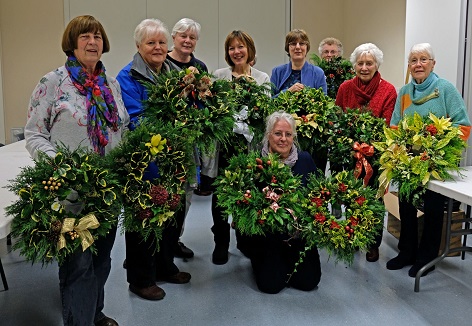 20 DECEMBER 2019
TUPSLEY WI
Leading up to Christmas St Pauls Church in Tupsley were displaying Wreaths as part of their festival and members of the community were invited to take part, as did Tupsley WI. Sue Bonson, a talented member, volunteered to represent us, and, in keeping with the message "Love the Planet'' Sue used the pattern from WI Life to add the material hearts to make this beautiful wreath. Items we regularly throw away like stiff Amazon cardboard, bottle bases were cut for flowers and bottle tops were effectively placed around a disposable coffee cup. Pompoms were from co-op bags. A beautiful result from some throw away items. Many thanks Sue.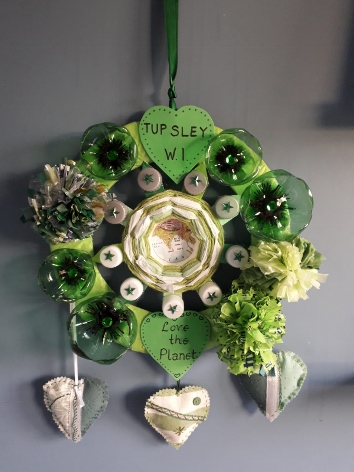 12 December 2019
HOLMER WI MEETING
Our December meeting was full of festive fun and thanks to each other for another year of laughter and learning, where we shed a few tears for those we remembered and joined together to help each other 'seize each day'.
Mary Burgess, our President, announced the winners of our annual awards. Maureen Graver was presented with the Phyllis Hemming Cup as first prize, Ann Jackson was awarded second prize with the Tattersall Cup and Jane Jenkins was presented with the Emmeline Ware Shield as third prize. We enjoyed a lovely supper after which we all racked our brains to answer the Christmas Quiz questions! Altogether, another great evening in the company of good friends.
21 November 2019
Ledbury
Clive Hoare from Wobage Farm Workshops near Ross on Wye was the star of our September meeting. Clive is a willow weaver who has trained with top professional basket weavers. He gave a captivating demonstration of his craft, as well as educating us in the many types of willow he grows and uses.
He donated the spiral obelisk which he made as a raffle prize.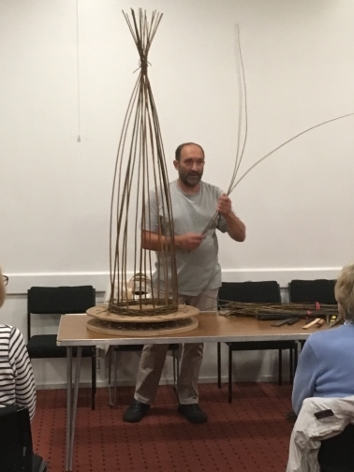 Wellington
In September we had a practical session producing a painted pond with goldfish and decorated with paper water lilies, led by artist Liz Watson.
October was time to hear of the hard work and extreme pleasure involved in opening a garden for charity. One of our members, Shirley Edgar and a colleague from the Hardy Plants Society, Liz O'Rourke both open their gardens for the NGS. But both gardens have very different sites, aspects features and planting and openings were organised differently. With the aid of some lovely photos they compared and contrasted their experiences and the problems involved in showing their gardens to the general public.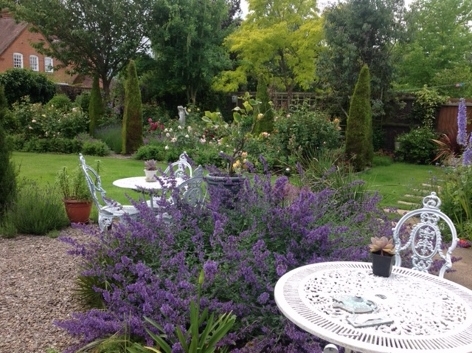 Holmer
Four of our new members, left to right, Penny, Fran, Karen and Moria , can be seen getting ready to play 'Beetle'. A game we love at our WI and which we played at our November meeting following the delivery of the Annual Meeting Reports from our Treasurer Jane Jenkins, Secretary Jenny Hare and President Mary Burgess, who was re-elected as President for 2019-2020. The reports detail the events we have enjoyed during the year, the financial statement and the vital roles our members have played . There was also a competition to choose our Motto for the coming year. Maureen Graver was the winner with ' Ladies need to be loved - not understood'. Very apt and fitting!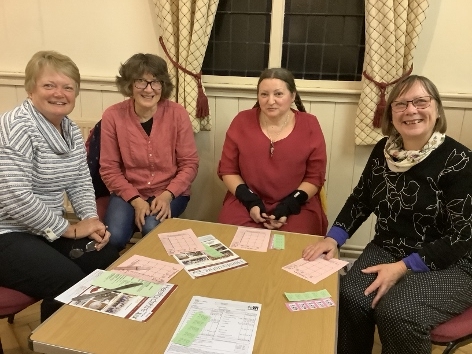 Wellington
This photo shows the poppy curtain displayed at the Hereford racecourse at their November 4th meeting. Led by Lesley Brimley, Wellington WI ladies and friends knitted them as a response to a request by the local British Legion organisation. Some members and husbands also helped to raise further funds for the charity, whilst keeping an eye on the winning horses. During the event, the podium, decorated by the curtain was used for all the presentations and interviews. Well done Wellington !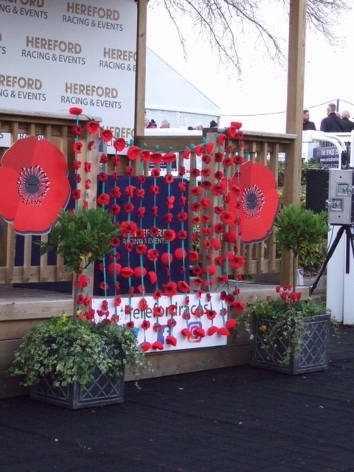 Stoke Prior & District
After their November AGM had been completed, members of Stoke Prior & District WI were entertained by Marjorie Hesketh by creating a small Snowman, Father Christmas and a Penguin out of sugarpaste and marzipan. She had also brought other items along to show us, some of which we could purchase.
Parkway
Parkway WI had an excellent speaker in November when Steve Parker came to talk about bee-keeping. Steve is a chef and has an allotment in Ledbury so his bees have access to a wide range of pollen and the quality of the honey Steve produces is testimony to it. Besides bringing samples of honey and a honey cake to the meeting Steve also brought a vacated hive for members to inspect. His talk was not only informative but had members chuckling when he recounted some of the
mishaps he'd had when the bees came off best.
Saltmarshe & District
Our pictures show us tasting the Mulled Raspberry and Cranberry, a choice combination of two red fruits, warmed to perfection; just the ideal thing for an unpleasant November night.
The sunburst mocktail which followed was created using orange, pineapple, soda, a little lemon juice and sugar syrup.
The emphasis was on sociability as we'd each brought a plate of food for sharing and were delighted to do so.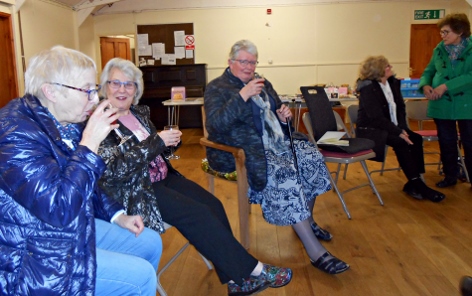 Allensmore
The November meeting of Allensmore WI started with a lovely fish and chip supper. Plates of bread and butter appeared like magic and we all tucked in. It was a good way to start our AGM evening. The business side of things were soon dealt with due to excellent preparation by our secretary and treasurer. We all then relaxed with a cup of tea and some socialising. Also in the evenings entertainment was a bring and buy in aid of Dore Community Transport. We have managed to collect over £100 for them this year. We can now look forward to our Christmas lunch and a very full program for 2020.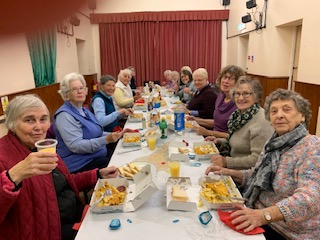 Weobley
On Sunday 3rd November members of WEOBLEY WI joined forces with the Village Hall Committee to run the Weobley Craft & Food Fair. This was our first attempt at organising this fair and so we were pleasantly surprised when it went rather smoothly! Our WI had its own stall selling a variety of beautiful crafts made by our very talented members. The proceeds from the stall will be donated to charity, and our half of the profits from running the fair mean that our annual fund raising target has been met on just one day! We can put our feet up for a while now....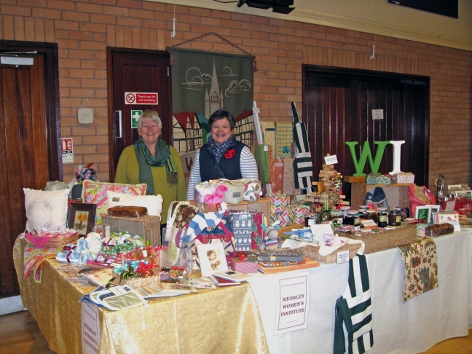 31 October 2019
Almeley
Almeley WI entered the Group competition at Kington Show. The theme was Afternoon Tea for Two in a space 36" x 36".
Margaret Smith And Tessa Wilkinson made this stunning display. It was awarded a well deserved First Prize. Both Margaret and Tessa worked very hard to create this lovely scene complete with fresh sandwiches! A really magnificent effort.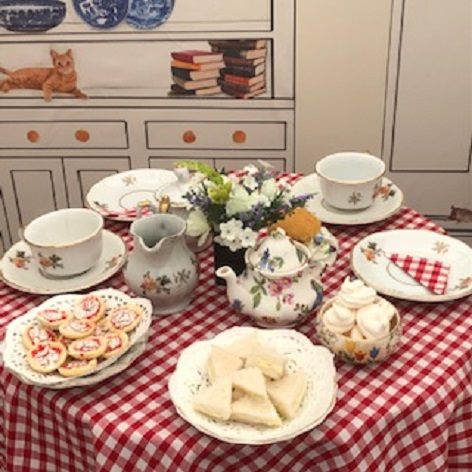 Aston Ingham
The picture shows some of the children's garments knitted by some of the ladies in the Aston Ingham Knit and Natter group. The garments go to The I Need collection in Caldicot to be sent to places in need overseas.
Aston Ingham WI were treated to a demonstration of spicy dishes and dips by Jackie Hope, she was ably assisted by her Mum who filled mini Yorkshire puddings, vol au vents and other pastry cases with the delicious spicy dishes, chilli con carne with sweet corn, a prawn, salmon, lemon, lemon balm, mayonnaise combination, coronation chicken. Jackie also made some delicious dips, using ingredients like avocado, garlic, sour cream spring onions herbs etc. So much was done in such a short time. Jackie has a warm and friendly manner which added to our enjoyment and of course, the tasting was divine.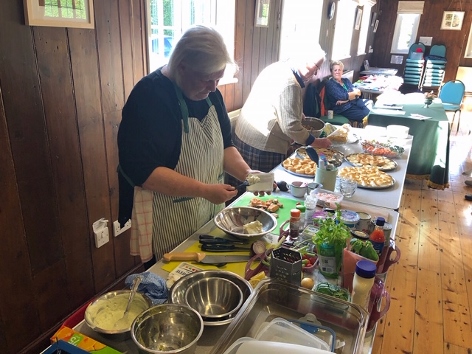 Brampton Bryan
n October Brampton Bryan WI were entertained by the Jenny Pipes side of Morris Dancers. This all female group took their name from the last woman in England to undergo a 'Ducking' for being a common scold and her Ducking Stool can still be seen in Leominster Priory. Jenny apparently came up cursing so the founders thought it appropriate to take such a feisty lady's name.
The ladies first of all showed us a 'Hanky Dance' and then invited some of our members to take part in a 'Stick Dance' which proved how difficult the dances could be. However, no injuries occurred and everyone declared it enjoyable but exhausting. The Jenny Pipes still managed to show us how it should be done before joining us for some well-earned refreshments. They were accompanied on the accordion by Dave and we were able to inspect more closely their colourful waistcoats of red,yellow and blue; the colours of the Leominster knot.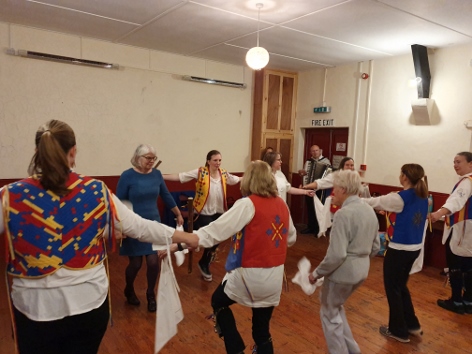 Holmer
Holmer WI's Autumn Craft and Produce show was very successful. It was kindly judged by members from Bosbury WI. The photo shows the entries for the 'Picture' category . Overall, the winner was Jackie Hancock, second place was awarded to Sue Howells ,Mary Burgess and Gwynneth James were joint third. Prizes were presented by Mary Burgess, President.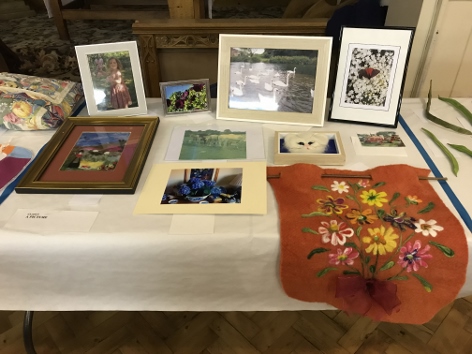 Recently, we enjoyed a walk followed by a lunch in Queenswood. The photo shows us standing beneath a tree which was planted in 1974 by Holmer WI . Kath Lambert, one of the original 'planters' can be seen four people from the left .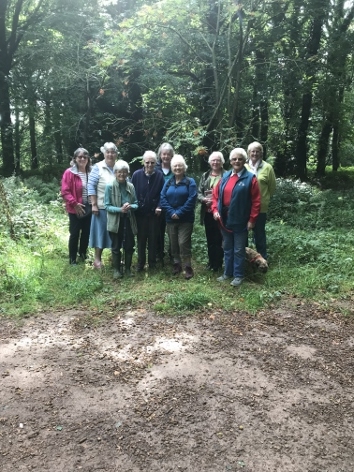 Ledbury
Ledbury WI's October speaker was Ledbury historian and fellow member Jenny Harrison. Her subject was 'Life in Ledbury 1914- 1919' – a social history of the period describing day to day life in Ledbury while the men were at the front.
The outstanding talk was illustrated by many contemporary photographs and posters. A sample of the varied subjects: a 1914 world famous school strike; the Church Lads Brigade guarding the water pipeline from Rhayader to Birmingham; 67000 items such as nightshirts and bandages made by working groups for the War Supply Depot; Belgian refugees evacuated to Ledbury and supported by local people; and extraordinarily that 'conkers' were collected to help make ammunition for small arms and artillery.
Much Cowarne
At the October meeting Much Cowarne WI members became silently immersed in Tim Howsons talk and slide show on 'The Poppy Factory & its History'. Tim told of the humble beginnings of the poppy, in which first World War soldiers were buried in a field of rough soil and dormant poppies sprang to life around the crosses marking the graves. The British Legion employ disabled people in a disused brewery now converted into a factory to make the poppies we now wear today, these are all hand made. Members had a chance to make their own poppy using the identical method used by the British Legion factory employees. 8.3 million poppies were made in 2018 and 145 thousand wreaths.Tim also showed slides of the ceramic poppies displayed throughout the country, including our own at Hereford Cathedral.
Peterstow
October's meeting of Peterstow W.I. was held, as usual, in Bridstow Parish Hall and once again there was an excellent turnout of friendly ladies. As it is coming into Autumn, Christmas was in their thoughts as they collected items to raise funds on their Christmas Table. Also, it is nearly time for the AGM so President Christine asked all members to think about how they could contribute to, or offer to join, the Committee. Peterstow is doing very well with many new members so Christine reminded everyone that new ideas for the W.I. are always welcome.
After the notices and messages, the meeting continued with a talk from Malcolm Penny of Brockhampton Estate. His talk was illustrated by slides from both inside and out, making several think that a visit to the Estate should be something they consider.
Last of all came the hugely popular part of any Peterstow W.I. meeting - the afternoon tea which once again was delicious! Any ladies who like to make new friends, to hear and learn about something new and who would like to find out more about future meetings will be welcome to get in touch with President Christine on 01989 730508,
Saltmarshe & District
Mr. David Wornham treated Saltmarshe and District WI's members, and their 6 visitors from 2 other WIs, to a light-hearted fun evening demonstrating 56 of the "tuneful tubes" out of the 300 he has in his collection. Some were instantly recognisable, others less so, but they all produced their unique sound. There were illustrations of other weird and wonderful items like the Loophonium , described as a cross between a toilet and a tuba.
India,Thailand, China, the South Sea Islands, New Zealand, Australia, Poland, Scotland, Wales and South Africa were among the far flung places associated with these instruments. Some were very old; some were very modern, crafted from plastic bottles and suchlike.
The final instrument was the euphonium and we joined in singing as David played "Teddy Bear's Picnic" and "Auld Lang Syne" to round it all off.
Our pictures show David had a very appreciative audience, even though a snake appeared............................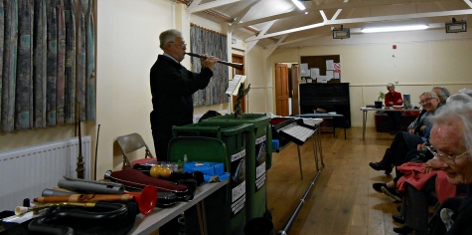 Sparkling Wyes
Sparkling Wye's October meeting was a talk by Wendy Reynolds, entitled 'Life as a Travelling Teacher in the Falklands'. It was fascinating to learn more about the Falklands, probably a place few knew the location of when war broke out in 1982. Wendy went out there in 2004, searching for a change after some years working in primary schools in the UK. She adored her life and described her work with passion, illustrating the talk with beautiful slides. She visited farms where she would stay for two weeks teaching the children on site, then move on, though whenever possible, she tried to get the children together with others. Lessons were interesting, following the British curriculum but with the addition of miniature ponies, sheep, chickens, dogs and cats in the classes! For 6th form the children go to Winchester and for NVQs to Chichester, this, and later, university education, is funded by the Falklands government. She worked on West Island where there are very few people, East Island is more inhabited, with Stanley having some 2500 residents, occasionally doubling when a cruise ship comes in! But as they receive £10 per visitor, it proves a little tiresome but very lucrative! Wendy has now retired but loved it so much there that she bought a house in Stanley, and now spends their summer there and our summer here!! Funnily enough, residents requiring bulk shopping of cereals, tins etc, find it cheaper to shop online at Asda and get it shipped out, than to buy from the Stanley supermarket!
Stoke Prior
In October, members and friends of Stoke Prior WI welcomed Breast Cancer Haven to their meeting. The local charity needs £300,000 per annum to run, giving free treatments and counselling to everyone with Breast Cancer. Please see their advert on the back cover of the Herefordshire WI News regarding their bra recycling initiative and give them your support!!
20 October 2019
LEDBURY PRIMARY SCHOOL MEETS THE WI!
A teacher from Ledbury Primary School contacted the Herefordshire Federation Facebook page as her class was doing a project on the book 'The Tiger who came to Tea'. She knew of the reputation of the WI for our food and wondered if we could help.
Margaret Coulson, President of Ledbury WI was happy to help and here is her report of the event below.
I was invited to Ledbury Primary School to talk to the reception class about WI. I explained how 100 years ago ladies did not know about simple basic hygiene and this was one of the reasons why WI was formed so that we could help each other to learn more about health. I showed our table cloth and they recognised the building depicted. They easily guessed the Queen was the most important person who belonged to WI.
My Presidents bell was well received with several children using it! Earlier the children had made and decorated cakes and I helped them make sandwiches. They spread and filled and I cut them, no crusts and bite size. 40 parents then arrived and sat down to enjoy the food the children had help make. The class were very good and very attentive.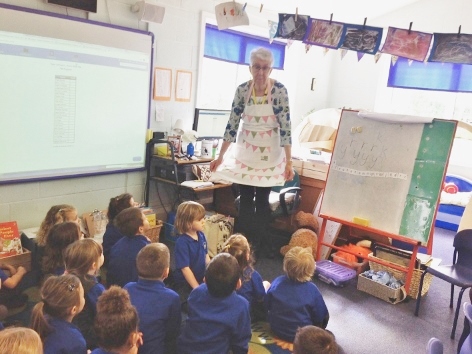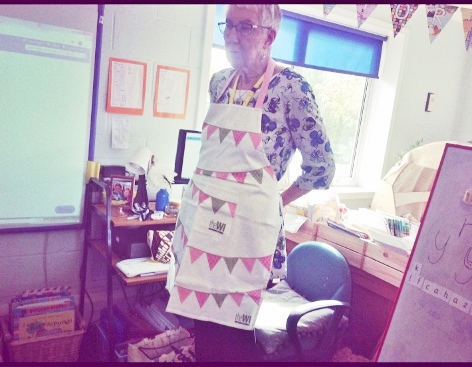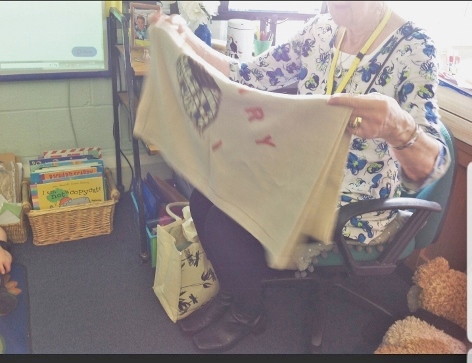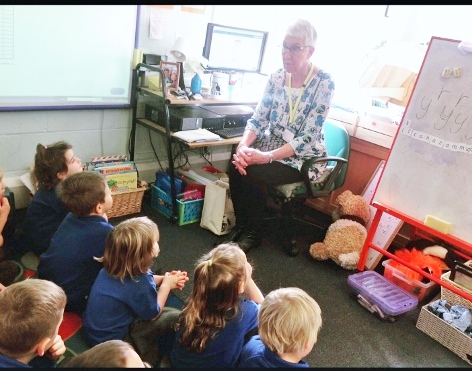 1 October 2019
Bosbury
At our open meeting in September we welcomed Sheila, an estate planner, who gave us sensible, practical advice ranging from powers of attorney, how to deal with care home costs, and inheritance tax. She stressed how important it was to make a will and the difficulties that may occur with re-marriage.
DInedor & Holme Lacy
Members of City Group WI met at St John's on a rather damp Monday evening in September, hosted by Dinedor, Holme Lacy and District WI.
After a wide selection of tasty treats, tea and coffee had been served, Chris Over, (Dinedor's local historian), gave an illustrated talk on 'Hereford Postcards, a Social Insight'. The ladies and gentleman were shown how postcards had developed through the ages from only being allowed to use a small number of words, through becoming collectors items to the present day of using historical pictures. Touching, humorous and questionable messages were read out from local historic cards that Chris had collected over the years, he also let slip some of the prices that were paid over eBay!
Kington
Following a very enjoyable outing to Aberystwyth last month, we welcomed a speaker from the Body Shop to our meeting this month.
The Body Shop was founded in 1976 by Anita Roddick, with 25 products for sale which were made in her kitchen; refills were available as she did not have enough bottles for all the products. There are now 2,500 stores in 60 countries.
The company has always been against animal testing on any of its products, and uses Community Traded (similar to Fairtrade) ingredients in all its products.
This year the Body Shop is running a 'Plastics for Change' campaign, and has committed to using community traded plastics for its containers, ensuring that litter pickers in India have access to clean water and education etc. All plastic containers will be reused, and everyone is encouraged to bring any beauty based containers of any brand, including shampoo bottles and toothpaste tubes to their stores to be recycled or repurposed.
The Body Shop is also supporting the charity Period Poverty this year, and is a collection point for donations of sanitary products, which will be passed on to the charity.
We were then able to sample a wide range of products including hand creams, oils and perfumes. We were pleased to hear that the fragrance for the British Rose range is sourced in Herefordshire, somewhere near Hay on Wye, it is thought.......
Much Cowarne
September's speaker at Much Cowarne WI was Wendy Greensmith. Christmas Tree Decorations made with Fabric. Whether a Patchwork lover or pure novice Wendy showed us the tricks of the trade with what to do with left over pieces of fabric. Bottle wrappers, hanging tree decorations, place mats and even a cover for the tree tub, the ideas of wrappings was truly amazing. Betty Davies'90th Birthday was celebrated during supper with us all tucking in to her pink iced cake. Congratulations Betty from us all.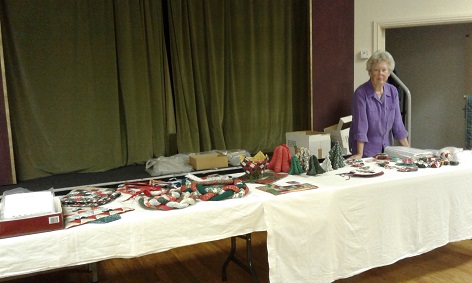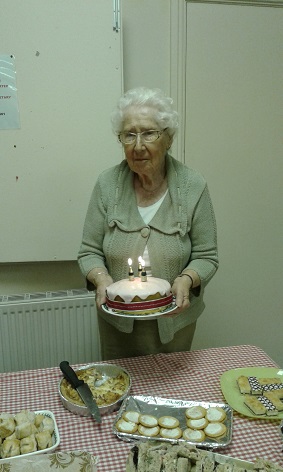 14 September 2019
Aston Ingham
Shelley Soderland a Police Officer with Gloucester Police brought her dog Mo, to talk to Aston Ingham WI about her work for 15 years as a dog trainer and handler. Mo is a young Labrador, spaniel cross and her enthusiasm for search and find was aptly demonstrated. She was given a tennis ball as her reward.
Shelley told us that dogs soon show whether they want to do the work. They have a considerable advantage over humans in that they can search large areas in a fraction of the time. When the person, drug or explosive is found a vocal challenge is always made dogs sit and bark and they bite only if aggression is shown.
Dogs can come from rescue centres or private owners.
We thoroughly enjoyed the afternoon, it made us appreciate too the work of the Police and their dogs.
Dinedor & Holme Lacy
Dinedor and Holme Lacy WI ladies let down their hair and dressed up in a wide variety of Peruvian garments which had been brought along by Jill Salmon. The talk centred on the costumes and cultures of Peru and members were encouraged to dress up to show these garments off to the full. The joviality and happy nature of the local people also seemed to rub off on our members.
Eardisland
Eardisland WI held their Centenary meal at The Riverside, Aymestry on the 12th July, all nineteen members attended and an enjoyable time was had by all. On Sunday 14th July a special Songs of Praise service was held for us by our vicar Julie Read. Members chose hymns, read the lessons, took the collection, welcomed people, did the prayers and four members were in the choir.
Holmer
Sheila Harrison is holding one of the beautiful buttons Rhiannel Turrell brought along to Holmer WI to illustrate her talk on the 'History of Buttons' at our September meeting. Members really enjoyed looking at her collections of buttons.
Saltmarshe & District
Appropriately for a Women's Institute, Saltmarshe and District WI's September speaker, Mr. Paddy Hannigan, told us all about the struggle women had to obtain the vote. He was splendidly dressed for the part in a fine waistcoat beautifully decorated, showing the colours green for Hope, purple for Dignity and white for Purity and bearing the motto "Deeds not Words". Three volunteers were instantly called out to the front to "practise" throwing stones to smash windows while shouting out "Down with the Government; Votes for Women".
So it was a lively, interesting evening and there were a great numbers of items laid out for us to look at.
We had quite a jolly evening all round, reliving a visit some of us had recently made to South Shields, enjoying some delicious scones, marvelling at vintage kitchen utensils and sharing time with our adviser, Cherril, who was able to help us with one or two WI matters.
Stoke Prior
On a wonderfully warm September afternoon, members and friends of Stoke Prior & District WI all met at Wynne's of Dinmore for afternoon cream tea. Wynne's were very generous in giving a voucher for a cream tea for two for the winner of the competition of an animal made from an egg box. They also gave bath bombs to every entry. After refreshments, the ladies were given ample time to stroll about the paddocks of Alpacas, Pigmy Goats, Peacocks, Pigs and a variety of fowl.
Upton Bishop
The year of 2019 is special to Upton Bishop WI as they celebrate their Centenary Year, and have celebrated with many events to mark to occasion.
In May the Oak Tree planted in the grounds of the Millennium Hall was dedicated in style with a Birthday Cake and Bubbly. to which many other WI's were invited.
A Celebration Meal was held in June where members, husbands and friends dined at Ross Golf Club for the Birthday Meal with entertainment.
One a lovely fine sunny afternoon in August members took a Boat Trip on the River Wye at Symonds Yat and had a cream tea on board.
29 August 2019
Ledbury
After many months of looking forward to the event, Ledbury WI celebrated their 60th Anniversary at the Rugby Club.
Everything went off beautifully – the lunch, flowers, celebration cake and our speaker were all delightful.
President Margaret Coulson with past Presidents Muriel Smart and Phyllis Brothers cutting the cake.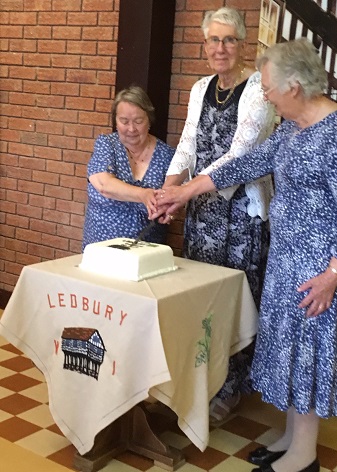 15 August 2019
Much Cowarne
The July meeting for Much Cowarne WI members took place at Stocton Bury Gardens. Thirteen members enjoyed afternoon tea at four pm in delightful surroundings, albeit a rather hot day a good time was had by all.
August. A warm welcome was given by our Secretary Freda Helme to Cherrill Watkins our Institute WI Advisor from Cradley. Cherrill will visit annually to sit in on our meeting to discuss any issues we might have with WI matters. Our speaker for the evening was Jackie Hope, her talk and demonstration was entitled,Summer Cooking. Three quick and easy puddings were quickly and effortlessly prepared. Lemon Cheese cake, Crunchie whip last but not least Malakoff Gateau. All lovely dishes if not worried about Cholesterol levels or your figure!! Looking at members tucking in I don't think they cared about statistics that evening.
Cradley
Cradley WI August's meeting saw us holding a produce show. Seventeen members put in entries and we had a wonderful array of produce, baking and crafts for our judges Moira and Sandy from Marden WI to judge. Tony from Acorn Children's Hospice talked about its work,he judged the knitted toy category the entries of which were to be donated to Acorns, but he went away with a large bag of even more knitted toys as members had produced many more than were entered. Lynne Lloyd won the 'nut' cup for best Victoria sandwich and Joy Edwards the rose bowl for the most overall marks. But well done to all , as the judges said all the entries were of a high calibre.
We were so busy tasting the cakes and biscuits with our cuppa no one took a photo. However the following week our lunch club met at Stocktonbury Gardens on a glorious hot day for a delicious lunch and a stroll round the gardens, cameras at the ready.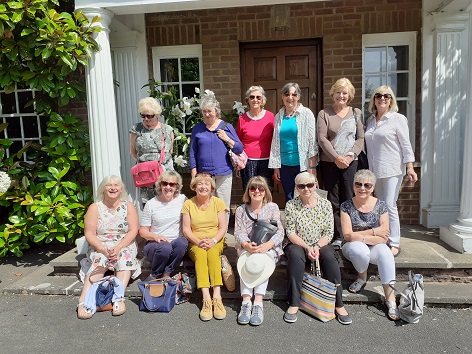 Parkway
In August a member of the Co-op Estate Management team gave a presentation to Parkway members, explaining how to avoid some of the traps people fall into when attempting to protect their estate from depletion through tax, care bills and other incursions. Members raised some interesting questions regarding mirror-wills, tenants-in-common and lasting power of attorney. Questions were answered in general terms and everyone felt the presentation had been helpful.
Saltmarshe & District
As Saltmarshe & District WI motored down the M5 in scurries of rain we were most grateful that our Annual outing was going to be an indoor one this year, as our destination was BBC Birmingham at The Mailbox
Once there, and comfortably inside, we admired the exhibitions of "Peaky Blinders" and "Strictly Come Dancing" costumes before being introduced to our guides, Sue and John, for the one and a half hour tour behind the scenes. We were able to look in the TV studio where our Local news programme, Midlands Today, comes from - the presenters calm and steady in a cosy space, with a full production team just metres away making everything run smoothly.
For some of us the highlight was seeing how The Archers radio programme was put together; who knew that reams of old cassette tape could stand in for making rain, hay or straw sounds? A full board contained doorbells - each one different depending on whose door was in the script. Sue told us that many listeners are soon quick to let them know if they have the "wrong" birdsong for the time of year.
Having enjoyed ourselves there, we returned to our coach and headed back to Webbs of Wychbold to eat, drink and explore the many different items laid out to tempt us.
We arrived safely back in Bromyard considering our Trip a great success. Here's to next year!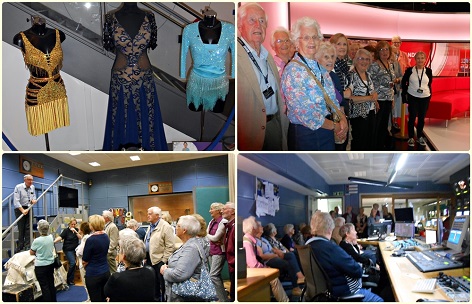 Bosbury
A Crafty Experience – no sewing required!' was the theme of a recent meeting of Bosbury WI. President Helen Poulton demonstrated several basic techniques of 'towel folding' and produced a variety of towel sculptures which included a basket of flowers, a lotus flower, an elephant and a swan. Then, under her guidance, members had much fun creating their own versions and agreed that towels folded in this manner would provide a cheery feature in a guest bedroom.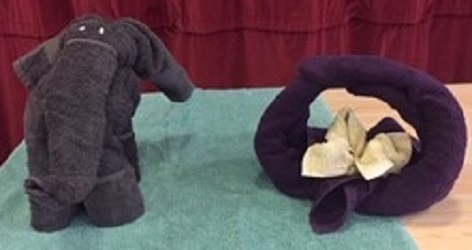 Stoke Prior
Members and visitors of Stoke Prior WI welcomed Paul Morrisroe to the August meeting. His powerpoint presentation entitled Wheels on the Western Front, visiting various sites of battles of WW1 in France. In all, the three cycling groups, who went out in 2014,16 and 18 raised nearly £340,000 for the ABF The Soldiers Charity.
8 August 2019
Bosbury
Bosbury WI had a beautiful birthday cake to celebrate their 95th birthday.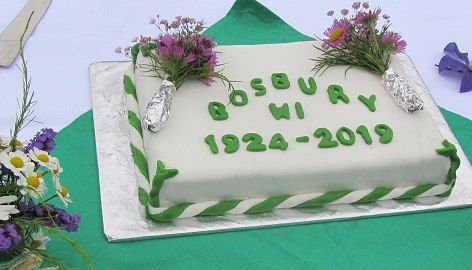 Holmer
Holmer WI recently held a summer Evening at the home of Frances Riddell. Great fun was had by all, as can be seen from the photos. Our speaker at the August meeting was Paul Brodrick who enthralled fans of The Archers radio programme with details of his work as a scriptwriter for that broadcast.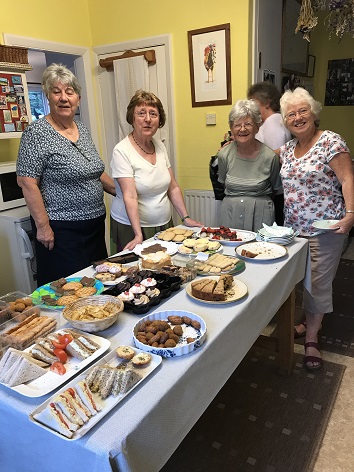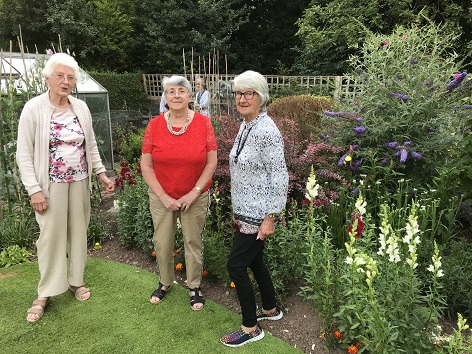 Weobley
Nearly 50 ladies attended the annual Pimms and Puddings garden party for WEOBLEY WI in July. Everyone wore a corsage, with Maggie being awarded a prize for the most creative and Joan for the prettiest. The Pimms went down well, the desserts were delicious and a game of hanging washing on the line was fun - honest! The committee (see photo) brought together yet another successful night and we are already counting down to next year's party.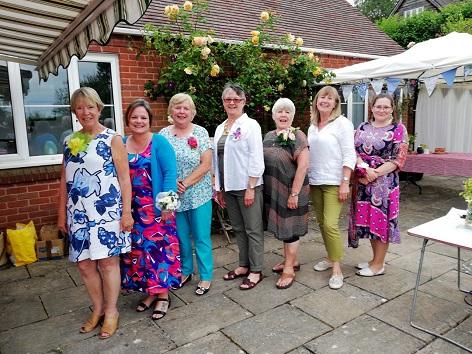 27 July 2019
Bosbury
In July Bosbury WI welcomed our County Chairman, Val Lewis, past members, and visitors to
Karen's lovely garden at The Crown for our 95th birthday party.
We were all presented with a corsage of fresh flowers, and after drinks and canapés
the President, Helen Poulton, cut the cake and thanked the committee for making
it such an enjoyable evening.
26 July 2019
Brampton Bryan
Brampton Bryan WI's speaker Ghislaine Bosqui undertook training for 4 years in the principals of Homeopathy, Anatomy and Physiology, after seeing how much her infant daughter improved after Homeopathic treatment. She explained that treatment starts with a detailed history of the patient as the aim is to treat the whole person not just the symptom. There are thousands of Homeopathic remedies which can be used singly or in concert to treat mental, emotional and physical problems whether acute or chronic. The basic principal of Homeopathy is that of Similars e.g. Belladona in normal doses causes fevers and pupil dilation but when diluted thousands of times in Homeopathic remedies it can cure fevers. Why it works no one knows but at least the amounts used cannot cause harm.
25 July 2019
Kington
At our July meeting, Kington WI enjoyed a very interesting talk on the history of canals. especially relating to Birmingham and the Black Country. The development of the canals formed the basis of the industrial revolution, and Birmingham still has about 5 times as many miles of canal as Venice, forming a rural green network in the heart of the Black Country. We were also shown fascinating "Then and Now" photographs of many places around the Birmingham canal network.
WI members are now looking forward to a coach trip to Aberystwyth in August.
Aston Ingham
In July, Penny Platts came to talk to Aston Ingham WI, a talk titled, 'the Beauty of Japan.'
Penny's delivery of her talk was very professional and exciting. There were some lovely photographs which her husband had taken and lots of detail about the Japanese culture. Penny knew lots of Japanese words for what she described, we got a real sense of Japan and she made lots of the ladies want to go and visit the country.
Putley
On a sultry June evening, full of laughter, as Putley WI gathered at Putley Parish hall.
'Oh, it's just like being at a wedding" someone shouted out, and indeed it was. The sweet smell of roses filled the air as the girls from the flower team pinned on everyone's handmade floral button holes. Glasses of local wine grabbed, photos taken under a beautiful floral door way, and cards with the order of the evening handed out as we entered into a village hall of complete joy. With violins playing and plants to be bought, we took our seats for fantastic culinary delights, cooked up by our chef Geoff Tookey.
A foodie hamper was won, Craft competition prizes handed out and even a Cookery book was won in a group quiz.
Many thanks to all the girls that came along that night and enjoyed a fabulous evening of friendship, entertainment and fun.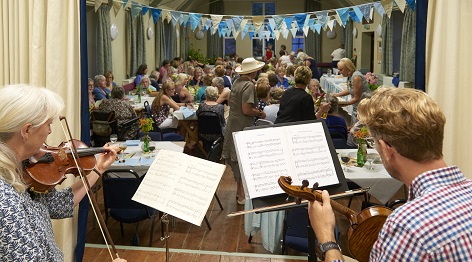 Wye Women
Wye Women WI walk out in all weather. Out in the hot sunshine today...a bit different to our snow walk. We always like to finish with a good lunch.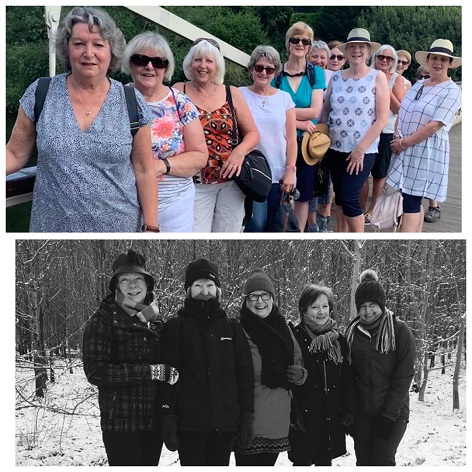 18 July 2019
Saltmarshe & District
The hall was full of the scent of roses, once we'd gathered for our July meeting, and it was Evelyn's blooms which drew the greatest approval.
Once the business section was dealt with, including all the arrangements for our trip to The BBC studios in Birmingham in August, we settled down to enjoy a very well illustrated, entertaining presentation by Mr. Adrian Smart about "Drones and their Uses".
Adrian used to be a member of the Fire Service and became interested in drones for their search and rescue capabilities, but, now retired, he's gone on to fully embrace the training and regulations necessary to become a highly competent drone operator. Adrian had with him drones of all shapes and sizes and we were able to handle both a micro drone, just large enough to fit on your palm and a phantom, a more medium size drone. Our picture shows a larger drone with camera slung underneath and sitting on its landing pad.
Drones have many uses; not just that of aerial photography. In a commercial setting they are used to survey quarries, railway lines, pylons, solar panels, roofs, to calculate quantity and to be used underground or in a confined space...........it's a vast subject and Adrian covered a lot of detail in a short space of time, keeping our interest right to the end.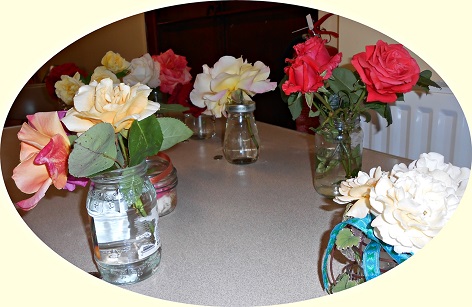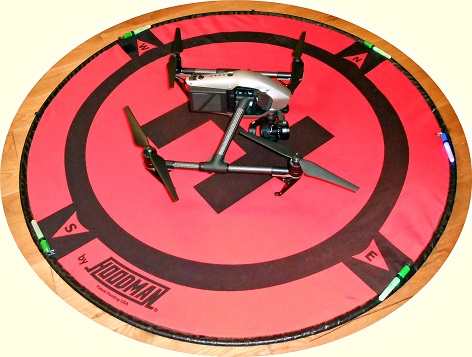 Parkway
In June members of the Stromstad twinning association spoke to Parkway WI about their latest visits, and a film made by the children of Stromstad, in Sweden.
In July Pat Parkes talked about the history of Dolls' Houses. Pat has had a long association with Hereford Miniaturists. Pat had dozens of examples of her tiny creations from her doll's house, plus miniature box-rooms for members to handle. Her talk sparked a lot of laughter and reminiscing about childhood over tea.
Sparkling Wye
July's speaker at Sparkling Wye was Nigel Warwick, a volunteer biker for Severn Freewheelers.
Nigel gave a very enthusiastic talk about the out of hours service his charity provides delivering blood, human tissue and other essential medical items for the NHS in Herefordshire, Worcestershire, Gloucestershire and North Wiltshire. The service is available between 7pm and 7am on weekdays, plus 24 hours on weekends and Bank Holidays. These deliveries may be classified as urgent, non urgent or emergency and often it is necessary to link with sister groups to deliver out of area. The longest delivery being Dumfries to Porton Down. Riders must be 30 or over and must have passed an advanced biking test which has to be updated regularly. A volunteer co-ordinator fields calls from hospitals etc and organises the bikers so that all deliveries are covered as required. Bikes are police specification - bright yellow and very visible, bikers wear high viz jackets with blood clearly written on the shoulder and white crash helmets. A huge number of miles are covered each month so bikes need replacing regularly. The charity receives no funding thus relying on donations and one big fundraiser each year and there are no paid workers or premises. As the alternative out of hours service involves using taxis, this amazing service saves the NHS vast amounts.
Peterstow
It was an afternoon of cheer when the ladies of Peterstow W.I. swapped their planned outing for afternoon tea at Milking Parlour Crafts. Member Amanda is very busy running workshops in crafts and, over tea, shared some ideas on simple crafts to make. However, the main purpose of the afternoon was not to learn or to discuss WI matters, but to have a chance to have a chat over a relaxing cup of tea and coffee – not to mention Amanda's delicious cake!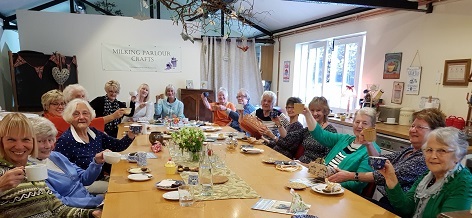 Pontralis
Pontrilas WI had a short business meeting and made plans for a Summer trip to Ralph Gardens . Members then enjoyed a Floral workshop organised by one of their own members. Following a short demonstration everyone had a go at arranging flowers in a teacup and saucer. No two were the same and there was lots of unknown talent.
I wonder what the Christmas Craft Workshop will bring?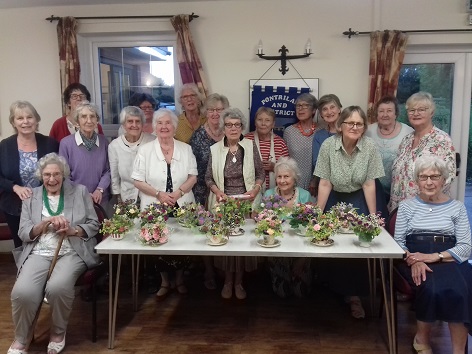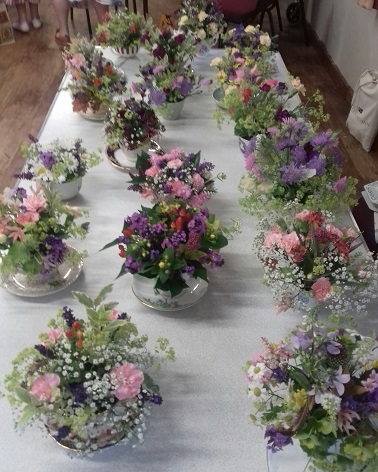 Ledbury
July brought the pleasure of Mair Granthier speaking to Ledbury WI about the work of The Night Shift in Hereford. Thank you Bromyard for recommending her!
Over 20 years ago, Hereford Baptist Church began opening the front of the church each Saturday night/Sunday morning, with Mair and husband Brian leading the team: a haven for clubbers to rest, have a non- judgemental chat, drink a coffee, use the toilet facilities or receive flip flops if they need them. They have been doing so ever since.
Mair's attitude towards the younger generation was infectious – ' They only go for a good night out – they don't expect to get into difficulties'. Excellent presentation laced with much humour.
Allensmore
This month Allensmore WI took a day out to visit Weston Cider. We started with a leisurely
lunch in the excellent restaurant there, followed by a very interesting tour of the cider production unit. We were most impressed by the huge oak vats, some of which were over 100 years old. They all had special names like Faith, Hope and Charity. The vats must always hold liquid to stop them drying out, shrinking and leaking, so if there is no cider then water is put in them. As well as the old vats they also have brand new equipment to press and process the cider apples. At this time of year of course all the apples have been processed but the yard outside was very busy with forklifts moving the kegs of cider to be transported away. The hot weather has meant a lot of thirsty people.
After the very comprehensive tour we had a taste of the cider on offer. Then we all sat down for a delicious cream tea.
Our speaker on the 8th August will be John Turrell. His talk is titled 'Skeletons in the Cupboard'.
If you would like to come along to meet us please do or phone Louise on 01432 354443 for more information.
Louise Hamilton 01432 354443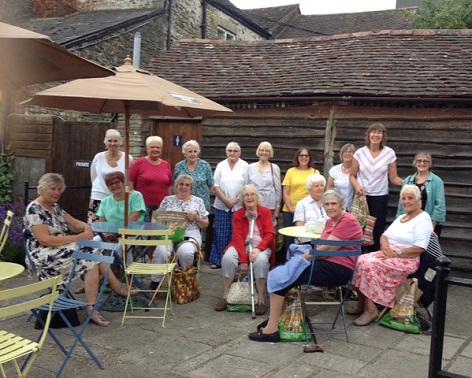 16 July 2019
Brampton Bryan
Jan Rix gave Brampton Bryan WI an introduction to spinning and dyeing using fleeces from local Sheep and Alpacas. She explained the huge differences in the wool produced from extremely soft alpaca and French fleeces, multi coloured Jacob fleeces and harder wearing Ryeland fleece. We were then introduced to the meditative qualities of Spinning and Plying of the wool. Jan is now experimenting with dyeing using natural materials such as onion skins and nettles showing us the subtle colours produced. Her enthusiasm and knowledge for her subject had us quite enthralled and also impressed by the articles produced from her homespun wools
Holmer
Claire told Holmer WI about the importance of Rosie, her guide dog, to her and how having a guide dog and companion has improved her life. Margaret and Mike Searle spoke about their work assisting Head Office in Leamington in bringing potential new guide dogs to be ready for assessment from birth to six weeks old , a new role for them since retirement. It can safely be said that they are both fully paid up members of the sleep deprivation society!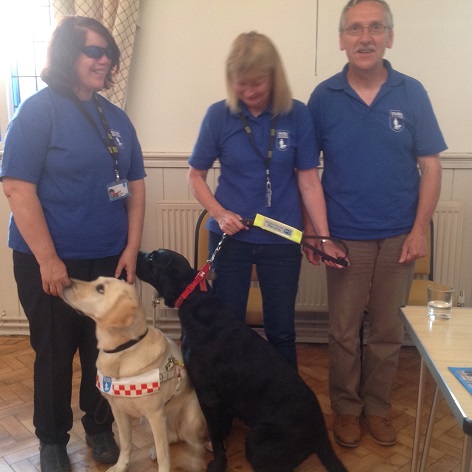 Stoke Prior
There have been two diverse months for Stoke Prior & District WI. In June renowned polar expert, David Fletcher talked on the North East Passage across the top of Russia, and then in July, Mary Walter, of Herefordshire Beekeeping Association talked on the Life of Bees. Both gave powerpoint presentations and spoke with great knowledge on their subjects.
16 July 2019
Aston Ingham
The June meeting of Aston Ingham WI should have been held in a member's garden but due to inclement weather, it was held in the Village Hall. Some of the ladies modelled their attire for Ascot Day which we hold every year, usually in the Cricket Club. Barbara Butcher, our own fashion adviser, helped to find some of the outfits in charity shops, one lady's outfit was all from charity shops. The ladies looked very professional as they glided along the catwalk and we all enjoyed a splendid afternoon.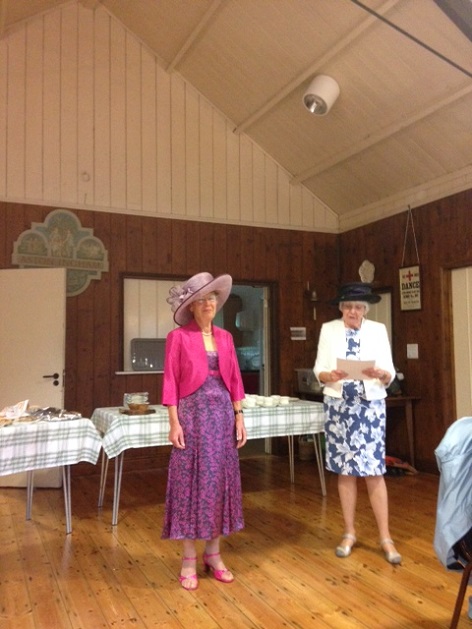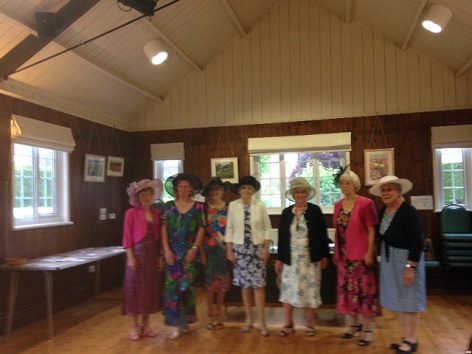 Ledbury
Miguel Dean gave an inspirational talk to Ledbury WI beginning with inviting the audience to step into the shoes of a beggar you might walk past in the street. From his mother dying when he was a baby, Miguel spiralled down into a life of homelessness, addiction and violence. His son's birth motivated him to take responsibility and make changes enabling him to work helping others build a better world for themselves and their children. Miguel's talk was sometimes uncomfortable to hear but touching because of his complete openness, honesty and authenticity.
Saltmarshe & District
Saltmarshe and District WI have quite a history of attending our Garden Meetings in June accompanied by wet weather, but previous years were outdone this year for the amount of rainfall on June 12th so instead we reverted to our usual venue, Saltmarshe & District Hall.
There we entertained ourselves royally by celebrating Jean J's winning of the Bromyard Group of Women's Institutes Challenge Cup, which had happened at Bromyard WI's lively May gathering and we photographed ourselves doing just that.
There was even more laughter later when we settled down to several rounds of Bingo. Norma was our chief for this, ably assisted by Wendy and there was much fun in noticing that Anna and Jean J each had a "proper" highlighter pen; maybe they are professional Bingo players in their spare time.
Next month, on Wednesday July 10th we are looking forward to Mr Adrian Smart coming to give us a talk/demonstration of "Drones and their Uses". If the weather allows we may even get outside the Hall to watch one in action.......... fingers crossed.
You're very welcome to come along and join us. Do have a look at our website to find out more
http://saltmarsheanddistrictwi.simplesite.com/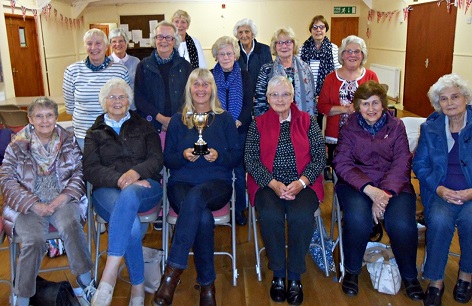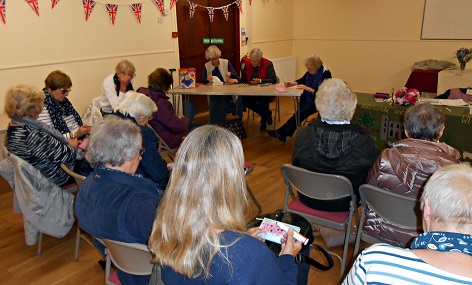 Much Cowarne
The members of Much Cowarne WI welcomed Fraser Gunn as their speaker for the evening of June 14th. The title of his talk 'The Great Fire at Windsor Castle' was awe inspiring to say the least. To actually hear his encounter of the incident as a brigade co-ordinater, in his role within the fire brigade at the scene, actually made you feel and appreciate the enormity of the tragedy. Fraser went into great detail on how the fire was eventually distinguished, showing us great slides and video clips, the operation was carried out in true military style. The evening concluded with supper and a brain teasing word test. We now look forward to our July meeting to be held lunch time in Stocktonbury Gardens.
Ledbury
July brought the pleasure of Mair Granthier speaking to Ledbury WI about the work of The Night Shift in Hereford. Thank you Bromyard for recommending her!
Over 20 years ago, Hereford Baptist Church began opening the front of the church each Saturday night/Sunday morning, with Mair and husband Brian leading the team: a haven for clubbers to rest, have a non- judgemental chat, drink a coffee, use the toilet facilities or receive flip flops if they need them. They have been doing so ever since.
Mair's attitude towards the younger generation was infectious – ' They only go for a good night out – they don't expect to get into difficulties'. Excellent presentation laced with much humour.
Tupsley
The Hand of Friendship in the WI
Some TUPSLEY Ladies were busy in April 2019 after an invitation was followed up by both Avon and Glamorgan Federations to visit Herefordshire.
The trips were arranged through a link to the Hereford Guild of Guides where two ladies from Tupsley WI are members. As part of the guided walk, an invitation was extended for some of the visitors to take a rest break at St John's Church Hall, enjoy WI hospitality and refreshment for a small donation. The first of these visits on 11th April found 20 ladies from Avon Federation stopping by for a welcome break and a chat.
On the 25th April the hall was once again a hive of activity when, from a total of 300 ladies from Glamorgan taking part in the visit to Herefordshire, 50 ladies stopped by for a welcome break.
Both these Federations have extended an invitation to Tupsley WI for a return visit.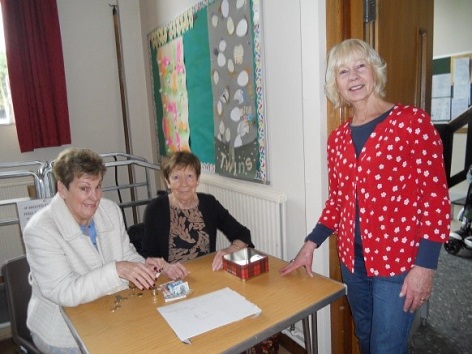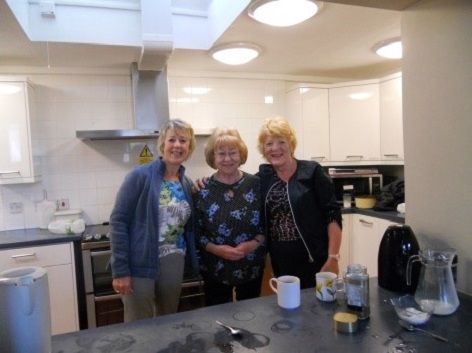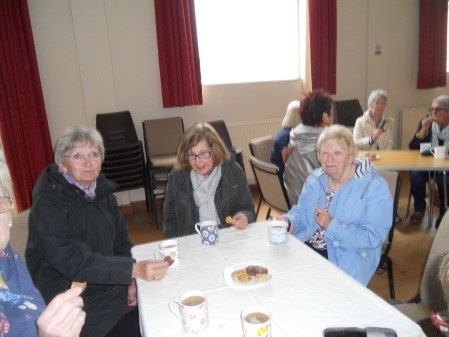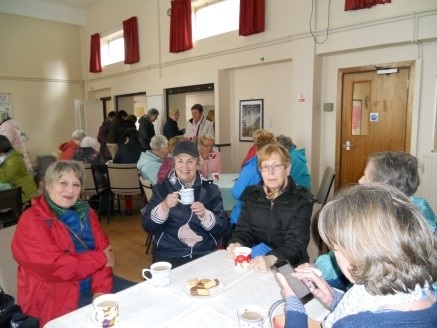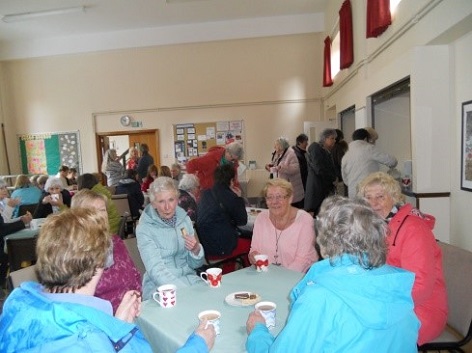 Bosbury
Bosbury WI's speaker in May was Celia Killett who gave a most interesting talk on the history of the Master's House, Ledbury, a 15th century medieval building restored by Herefordshire Council and the Heritage Lottery Fund. It is now the Ledbury Library. It was built about 1487 to care for "the poor and needy", and used until 1941 when it was taken over by the Ministry of Food. The Friends of the Master's House organise events and offer tours.
Holmer
At Holmer WI Malcolm Penny judged our competition, a hedgerow arrangement. Maureen Graver being adjudged the winner. Undaunted by a technical hitch preventing him showing his wonderful slides, he methodically carried his laptop to each table whilst entertaining us with his anecdotes of his rich and varied life as a wildlife producer and cameraman.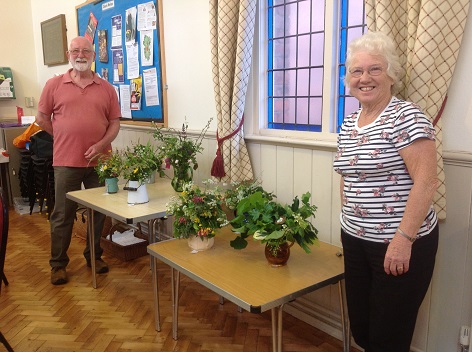 Leominster Lassies
Helen Plumb, a gemmologist of international repute, joined Leominster Lassies WI at Green Lane for their May meeting. Helen gave us a fascinating insight in to how gemstones are formed and introduced us to some of the less familiar stones such as citrine and pinel. It was interesting to learn how the desirability of gems varies across the world and in different cultures. To round off an excellent evening, we were able to browse the beautiful collection of gem stones that Helen had brought with her. We are a very friendly group and new members are always welcome. We meet at 7.30pm on the third Thursday of each month, at Green Lane Methodist Church Hall. However, in June we will be meeting in Corn Square for a Treasure Hunt walk around our historic town centre and July will see us enjoying our annual Garden Party in Newtown, courtesy of Maggie. If you are going to the Three Counties Show, be sure to visit the WI marquee for delicious homemade refreshments and a chance to buy a pot of that famous WI jam (sorry, no Jerusalem!). If you would like more information about becoming a Leominster Lass, please ring Erika on 01568
610979. Your first visit is free of charge.
22 May 2019
Parkway
On May 14th Jan Scrine gave a witty and illuminating talk to Parkway WI on Afternoon Tea. Taking on the guise of a Victorian lady, exhibiting many of the mannerisms and using the language of that time, she talked members through her selection of slides. Jan had set out her tea table and much of what she said related to the accoutrements of the ritual. A good deal of discussion about our changing world was generated over tea and cake.
The Suttons
In April the Suttons WI had a very interesting talk by Bob Anderson and Ann Butcher about Medieval Costumes. They have been involved in a project to reconstruct the medieval costumes of effigies in St Mary's church, Pembridge. The costumes that they created are now on display in the church. They brought copies of the costumes, including underwear and hats, and talked about the development of clothing in the medieval period, and how they researched and made them. The project involved Bob learning to sew – he thought that he would be organising the 'sewing ladies' but found that his sewing skills were needed too!
In May, David Clarke gave us a talk entitled ' We don't let you broadcast that', an account of the songs banned from broadcast by the BBC. There were some very surprising ones, such as 'Waterloo 'by Abba, and 'I will survive'. Songs have been banned for all sorts of reasons, from advertising to offending religious groups, war or politics, and 'mangling the classics'.
At our next meeting, we have Friends of Scam telling us how to avoid being scammed. This will be an open meeting.
Much Cowarne
A talk for the May meeting of Much Cowarne WI was given by John Barron entitled, My Jersey Herd. Milk from his herd is sold unpasteurized. An interesting point he made was that when his milk was screened for bacteria against supermarket milk his product had a lower count. The quality of the Jersey milk unpasteurized contained more protein and butter fat and was ideal for ice cream and butter products. John handed round various tricks of the trade from a box his wife had packed for his talk, these included gloves, halters, ear piercing for tagging identification and many more objects which a lot of our members from farming backgrounds were familiar with. A very interesting talk and to round off John won the raffle.
17 May 2019
Saltmarshe & District
One of Saltmashe & Districts Members was actually attending our May meeting on her Birthday, so as soon as she came through the door she was treated to a hearty rendition of Happy Birthday. This set the tone for a very jolly evening.
We dealt formally with discussing and voting on the Resolutions put forward for 2019. " Don't fear the smear" and "A call against the decline in local bus services" were each passed unanimously.
After that, Members were cheered to have an update about one of our Members who had moved back to her Yorkshire roots after 29 years of living in Bromyard. JJ and Jean S had just returned from visiting her and were able to pass on all of her news.
JJ has a big Birthday soon, so various "tales" involving her recent travels had to be told, which all raised a smile.
Some photographs have surfaced of a Murder Mystery Evening we'd had in 2011 and were passed round to much amusement.
Celia gave an interesting account of what was obviously a good Annual Council Meeting in Hereford where Alistair Neulls ,from the Marine Conservation Society, had made a very informative presentation of their work, which was followed by a light-hearted and amusing talk by an 86 year old Chelsea Pensioner
There was a good amount of time to inspect the Bring and Buy stall, which raised a good amount of money for our funds
Our Meeting in June is on Wednesday June 12th, when we hope for fine weather s it's our Garden Meeting by kind invitation of Mrs Nancy North at Winley Farm, Tedstone Delamere.
For more details look on our website: http://www.saltmarsheanddistrictwi.simplesite.com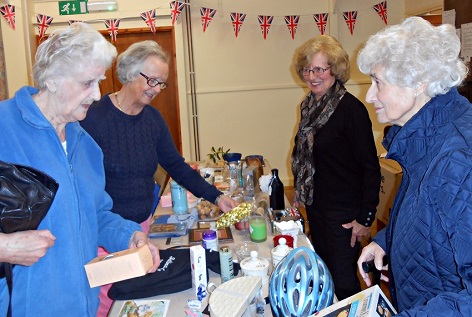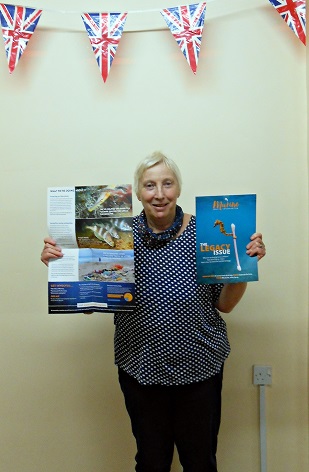 Ledbury
At the resolutions meeting Ledbury WI were thrilled to hear that the County Poetry Competition had been won by one of our members, Dorothy Lewis with a poem entitled 'At What a Cost'. As Dorothy is currently in Australia, our President Margaret Coulson read out the poem, which eloquently describes the fight of suffragettes to get votes for women.
Before the meeting some of our intrepid members had enjoyed a tour of the bell tower at Ledbury Parish Church including climbing up inside the tower to look down on the bells.
Allensmore
This month, at Allensmore WI's meeting, we had a talk by David Bond on the Dore Community Transport Scheme. David had been a driver and administrator for Dore Transport for six years and he gave us an extremely comprehensive description of how Dore Transport operated. Dore Transport is Allensmore WI's charity this year so we were very pleased to hear about the excellent work that they do. It was a surprise to some of us that transport can be provided to any member of the public, not just those who are incapacitated, provided that they live within the designated area Dore operate in. Transport can be arranged take them to outside the area provided that it is in reasonable distance. David gave us an idea of the cost of a typical journey which showed just how reasonable their rates are. However the running costs for Dore are considerable with three vehicles to operate and, of course, replace from time to time . It was surprising just how much work had to be done on the purchased vehicle to customise it to the needs of all their clientele.
Stoke Prior
At their May meeting, Stoke Prior & District WI welcomed Hazel Penwill to their meeting to talk about ACWW. She gave a very informative account of her attendance to the annual conference recently held in Australia, together with her up to date knowledge, members and visitors learnt a lot more about this worldwide organization.
Putley
Hailing from an East Anglian farming family, Rachel Drury is now settled in Herefordshire and a practising artist. Inspired by nature, her detailed acrylic paintings are stunning. She beautifully demonstrated to Putley WI how she transforms a blank canvas into an eye-catching pheasant.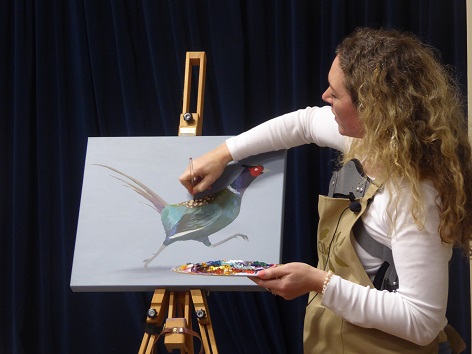 Pontrilas
Pontrilas WI, joined by ladies from Dorstone WI and friends, welcomed Michele Blackmore from Madley Plants to their Open Meeting. Michele told the story of how she and her husband came to own the Nursery, and having brought a large array of plants gave us lots of advice and demonstrated making a Hanging Basket . This was followed by the opportunity to buy plants and enjoy Tea and Cake before a short business meeting.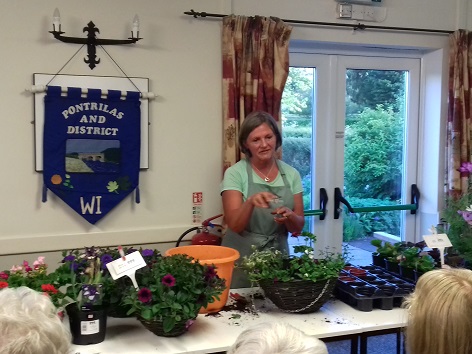 5 May 2019
Bosbury
At Bosbury WI's Open Meeting we welcomed Michelle James of Severn Waste who sort household 'green bin
waste for Herefordshire and Worcestershire. In the UK 90% of total waste used to go to landfill and
now is only 10%. She recommended that we follow the three 'R's, reduce, re-use, and recycle.
On Monday 6th May we will be manning a craft stall at the Bluebell Walk at Bosbury House, and
on Saturday 18th May a plant stall at the Farmers' Market in the Parish Hall.
Holmer
Holmer WI celebrated their 78th birthday in style , sharing the beautifully iced cake made by Frances Riddell, during a craft evening when members demonstrated a variety of crafts. Sue Howells is showing felt and papercraft to Norma Smith, left, and Joyce Crosier, right.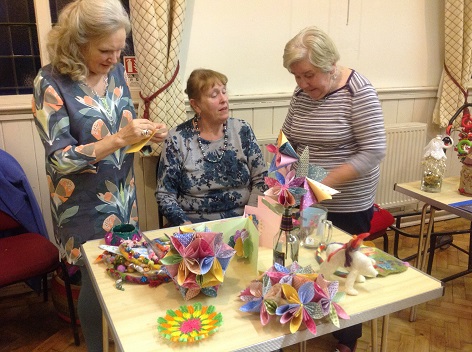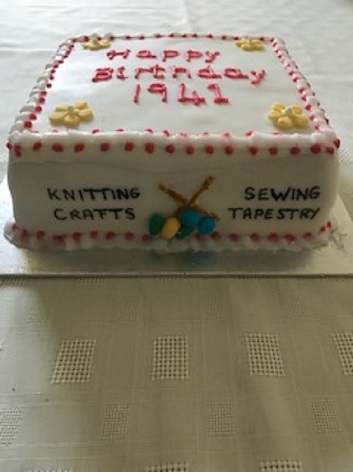 26 April 2019
ASTON INGHAM
Di Alexander came to talk to Aston Ingham WI about the Mitfords. There were 6 girls and a boy, Tom died in Burma in the war. They lived in genteel poverty and were the children of Lord and Lady Redesdale.
Di told us their story was so extraordinary, you couldn't make it up. Four of the 6 girls became published writers, Deborah was the best at writing about the Mitford household. Diana was on friendly terms with both Hitler and Churchill. She married Oswald Mosley and spent some time in prison - the warders said they had the best laugh with her. Aristocrats usually married men with money, one of the girls married Brian Guinness (the women benefited from the money and the business men got the title). Unity was a friend of Hitler and tried to commit suicide when war broke out, she survived 9 years. Deborah saved Chatsworth House for the nation.
Di had worked as a journalist, so she held us spell bound at the recounting of the tales of the Mitford girls and their friends, it was a splendid afternoon.
LEDBURY
Ledbury WI's April meeting was re-planned at the last minute and we enjoyed a sociable evening with a fun Quiz. As Easter was fast approaching many of the questions were 'egg-based' and the prizes were Easter Eggs. Our competition was for an Indian item – which was won by a fabulous sari. Voting is by coin donations, with the proceeds going to ECW.
MUCH COWARNE
Much Cowarne WI were entertained at their March meeting by Judith Harris, who gave a talk entitled My Life as a Dressage Judge. As the title suggests this talk gave factual statistics of the various levels of dressage and about discipline between rider and horse. A bring and share supper was enjoyed by all. April's meeting, Spring Flower Arranging by Yvonne Berry, was on an Easter Theme, there were four arrangements, the first was colourful and dainty, next was the Easter basket with chicks decorating the handle, third, a hand made nest with eggs and a floral display and finally a cross of sticks spectacularly adorned with Lilly's. We now look forward to our annual spring lunch on the 17th of April.
PARKWAY
In March, Richard Long gave an impressive talk to Parkway WI on Lawrence of Arabia. By the end members were in no doubt that the man was of many parts, an exceptional hero but also not quite the hero he would have everyone think him. On 26 of March, 22 members of Parkway WI had a belated celebration of Parkway's 73rd birthday with a spring lunch at The Full Pitcher in Ledbury.
Jan Long was the speaker at April's meeting of Parkway WI. Jan talked about her participation in Rotary International's 'End Polio Now' mission in India. Some of Jan's slides showed the devastating consequences of polio but her story was peppered with wit and humour, leaving members feeling hopeful that the fight against this disease is being won. Jan's talk stimulated a lot of questions. Many memories were also share by members who had experience of polio hitting their own communities.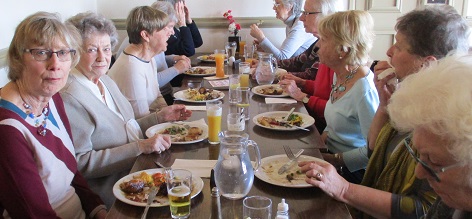 PETERSTOW
There were two visitors to the Peterstow W.I. meeting in April – Gide Dogs for the Blind Puppy Walker Jean Embelin and her 14 month-old puppy Rosie. Whilst Rosie carefully gnawed her way through a bone, Jean told the ladies about the training of Guide Dogs. Rosie is 14 months old, so she is just about to go into her professional training. She will spend 2 years training to be the companion and support to someone whose life she will transform.
Jean had been training Rosie since she was around 7 weeks old, so has taught her basic behaviour and familiarisation with simple commands. There is a great need for Guide Dogs and a long waiting list of people who need this help. Dogs work for around 7 years, retiring at the age of 9 but continue to be looked after throughout their life by the Association.
This was certainly and educational and interesting talk and gave the Peterstow members much to talk about as they socialised over a delicious afternoon tea. The Peterstow W.I. meet monthly and welcome new members and guests. To find out more, phone President Christine Bushell on 01989 730508.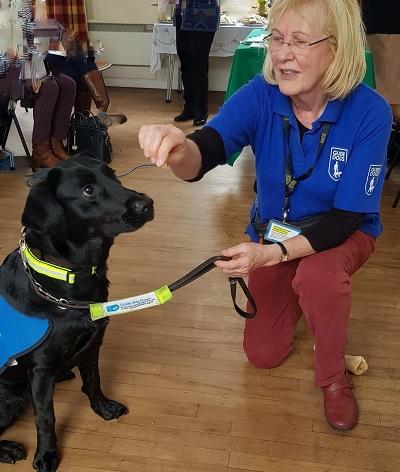 SALTMARSHE & DISTRICT
Saltmarshe and District had a greatly enjoyable time at our April meeting when 19 members were very pleased to welcome Jean Davies and Jane from Storridge WI to demonstrate and then "assist" each of us to make a quilted brooch. Thank goodness they were there to help, as letting us loose with a glue gun could have caused some mayhem ! The end results were quite lovely and no doubt will make an appearance on many occasions.
Members were delighted to welcome two new ladies to the group; Karen and Jean J. It's always lovely to have people sharing in our "madness".
The Quiz team got a mention too as they were called after the preliminaries to attend at the Finals two weeks later where they managed a decent respectable position about halfway. Knowing where to play one's Joker is rather a crucial tactic, which didn't work too well on this occasion. We still had fun though, exercising our brains.

For our May meeting on Wednesday 8th at 7.30pm in Saltmarshe & District Hall we'll be discussing this year's National WI Resolutions. Our competition that evening is titled "A collection of items in a small matchbox " which may very well provide some interesting, thought provoking results.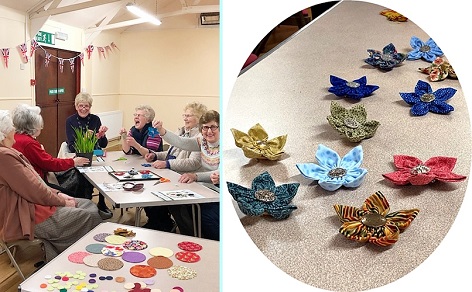 STOKE PRIOR
At their April meeting, members and visitors of Stoke Prior & District WI welcomed Mike Watkins and Wilma Hayes who gave a wonderful powerpoint presentation entitled Two Ships in the Night. These ships were the Titanic and the Empress of Ireland, and as we all know, both of which sank with a tremendous loss of life. We all learnt a lot more about these events, which included a light hearted twist at the end.
On the 14th May the WI will be hearing about all the work of the Associated Country Women of the World, (ACWW). This charity is supported by the WI Federation and helps women improve theirs and their families lives worldwide. Our speaker, Hazel Penwill has just returned from the conference in Australia, so it will be a very interesting meeting. We meet in Stoke Prior Village Hall (HR6 0LG) at 2.30pm. Visiting WI guests are charged £2 and non-members £4. Please contact Sue on 07875 268387 for further information.
THE SUTTONS
The Suttons WI had a very interesting talk by Bob Anderson and Ann Butcher about Medieval Costumes. They have been involved in a project to reconstruct the medieval costumes of effigies in St Mary's church, Pembridge. The costumes that they created are now on display in the church. They brought copies of the costumes, including underwear and hats, and talked about the development of clothing in the medieval period, and how they researched and made them. The project involved Bob learning to sew – he thought that he would be organising the 'sewing ladies' but found that his sewing skills were needed too!
At our next meeting, Mike Watkins will be telling us 'Titanic – the things you didn't know!'
TUPSLEY
Tupsley ladies can proudly announce recruiting for Women's Institute. Last year Joy Marston was invited to come to a meeting with
her sister-in-law Sydna. Joy enjoyed the meeting and was inspired to join Lifeboat WI in Dorset. On Monday 8th April Joy paid a return visit and joined in our Spring Tea. Afterwards, Joy was given the garlands used to decorate our Easter event to take back to Dorset where members of Lifeboat WI are making Easter wreaths for their charity fundraising event.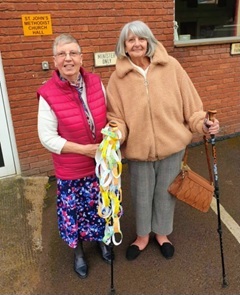 WELLINGTON
"One of the best speakers ever" quote from our meeting! From the WI auditions!
Wellington WI's evening went too quickly! We had been spellbound by Malcolm Penny's hugely entertaining talk on 21 years as a wildlife photographer. The photographs of Patagonia, Antarctica, Zambia and all over the world were crammed with animals and enhanced by information and tales of film-making problems and mishaps. Some successes included helping the manitees as a result of their sympathetic filming. We were left wanting more! We will book Malcolm again, soon!
3 April 2019
LEOMINSTER
In March we were pleased to welcome local circle dance teacher Kathyrn Louhichi.
Dancing in a circle is the oldest form of community dance, a mixture of traditional folk and contemporary dances to music. After a brief introduction to the origins of the dances currently performed in Britain, Kathryn led us through some of the dances. Included amongst others was Hymn of the Women which was choreographed for International Women's Day and performed across the world. Circle dancing promotes a feeling of wellbeing and togetherness which was demonstrated during a most enjoyable evening.
26 March 2019
PETERSTOW
There was a different feel to the meeting of Peterstow W.I. in March, when the ladies 'travelled' to Japan with Penny Platts guiding them through her journey around the island of Honshu. Illustrated by slides of scenery, landmarks and lifestyle, the talk gave an insight into a very different country. She mentioned things that we all know, Sakura the cherry blossom, the temples, the kimonos and the food. However, unexpected aspects of Japanese life she talked about included the cleanliness of public areas and the mechanised toilets that also 'wash and dry' .
Traditions particular to Japan included the Maneki – neko, the cat shaped symbol of good luck and the bamboo, which teaches a lesson from Zen in how to deal with the changes in life - to bend but never break.
Meetings of the Peterstow W. I. always end with a delicious afternoon tea and time for friendship, for which the ladies are well-known.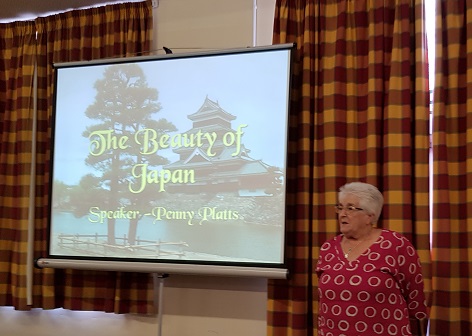 CRADLEY
Cradley WI had a good turn out for our March meeting when Megan Walton from 'Megs Mystical Cakes' Bromyard showed us how to cover & smoothly ice cakes and make sugar work flowers. She generously gave us tips and shared trade secrets that will help us to improve our cake decorating skills. There were no shortage of takers to have a go. Even non cake decorators were impressed at what could be achieved with sugar paste. Every one agreed she was one of the best skill demonstrators we had had in a long while.
ASTON INGHAM
Jonquil Dodd came at very short notice to tell Aston Ingham WI about The Guide Association. The guide dog idea came about as a result of a German doctor during the first world who noticed the affect his dog had on the wounded soldiers.
Britain asked an American, Dorothy Harrison Eustace who had trained German Shepherds, to work as police dogs and guard dogs for help and 4 British men were trained to train guide dogs.
Jonquil and her husband worked for many years with golden retriever bitches and their puppies, most of the puppies became guide dogs.
We all thoroughly enjoyed her talk, she was inspirational.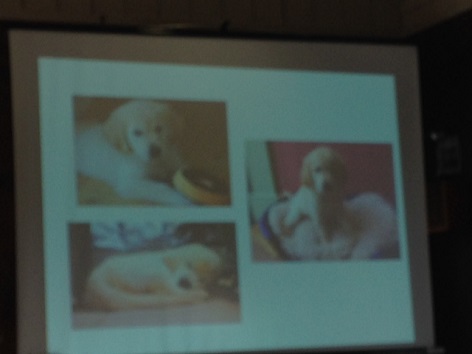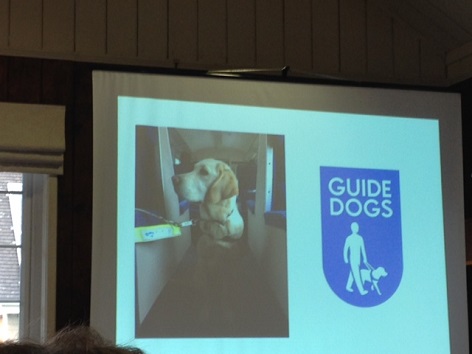 SALTMARSHE AND DISTRICT
Seventeen of Saltmarshe & District members gathered in March to hear Mr Paul Spelman give a very entertaining talk about the history of the Conquest Theatre. Using large scale pictures to pass round and illustrate points in the story, Paul told of the journey from the "old tin shed" in Old Road, originally Mr Senior's chambers, right up to today's Conquest Theatre on the Tenbury Road, able to live-stream shows and productions from all over the world as well as showcasing local talents in many forms from pantomime and folk groups through to visiting performers.
We found the pictures of himself in times gone by when he had hair and even sideburns to be most interesting
Paul explained how many man/woman hours of willing volunteers had come together to create the fine building that stands today and, in the words of its motto, "stages something for everyone". The new programme brochure was hot off the press and contains lots of options from April right through to August
We were all keen to ask questions which Paul gladly answered and he offered to give us a guided backstage tour if any of our Members wished - an opportunity we may very well take up
BOSBURY
At Bosbury WI's recent meeting, Helen Poulton, introduced Malcolm Watkins our speaker,
who had brought along his "cabinet of curiosities."
Each table was given an artefact and was asked to guess what is was, where it
came from, and its age and use. We puzzled over several items which ranged
from a Victorian knitting sheaf from the north of England, and an early tin opener
from 1910 - 1930. It certainly pitted our wits.
LEDBURY
In March Ledbury WI enjoyed Carol Clark, a very knowledgeable reflexologist, telling us the history and treatments involved in the therapy. Reflexology is worldwide and can be traced back to the Ancient Egyptians. Treatments concentrate on circulation and relaxation and Carol emphasised that it is complementary to conventional medicine, not an alternative. It can be given on the hands or face as well as the feet and we enjoyed learning a few simple techniques to help ourselves.
STOKE PRIOR
Stoke Prior & District WI celebrated their 90th Birthday on Tuesday 12th February at the Fountain Inn to which the Federation Chairman attended.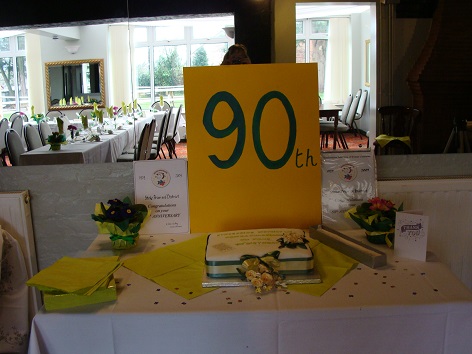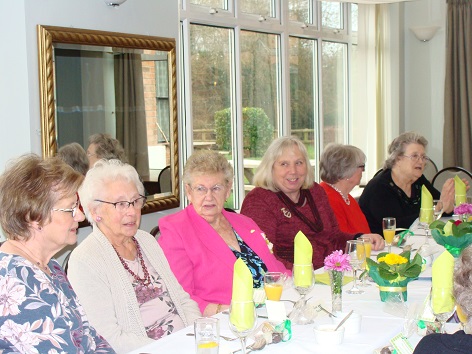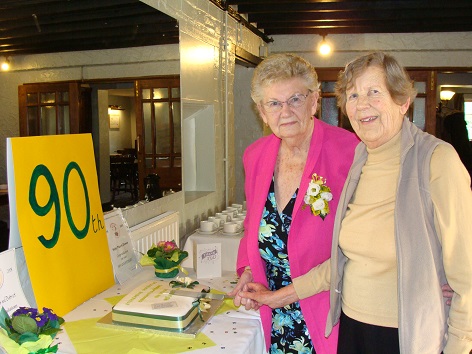 BRAMPTON BRYAN
February three of Brampton Bryans members fascinated them with memories of their wartime years.
Unexploded bombs at the bottom of the garden, dresses made from towels meant to cleanse cows' udders and journeys to Washington dodging U-boats where her diplomat father entertained Winston Churchill were only a few of the topics covered.
14 March 2019
BISHOPSWOOD
Bishopswood WI's seating was café style so together we could review the year ahead over tea and cake. A relaxing task to get to grips with the fine detail involved in our local and county activities. With all those loose ends tidied up, Jenny, our president, extended the theme of loose ends to ask how many of us have draws full of scarves that haven't seen the light of day for a long while? Yes, we were all guilty. It was a timely reminder to revisit what we own and could love again with a demonstration of super stylish ways to tie scarves. Someone, should write a book on scarf tying and probably has. A timely reminder not to keep buying but reuse or donate to charity.
HOLMER
Holmer WI welcomed Fiona And Will Hanks, both dentists, who spoke about their work in Nicaragua for the Peace and Hope Trust. They use their skills and experience for the health benefit of the impoverished people of this very poor and remote country. Carrying out up to 100 extractions in one day, they told us about the logistical and practical difficulties they have to overcome to facilitate their humanitarian work.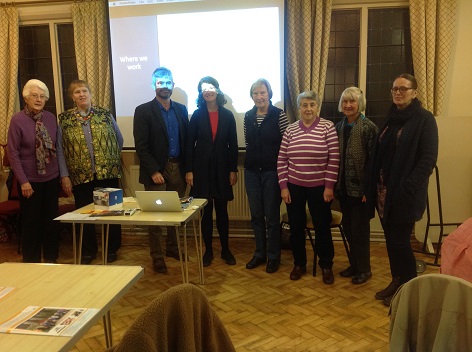 PARKWAY
Parkway WI started 2019 with a really good speaker, Steve Parker, talking about his life as a chef. Steve not only had interesting tales to tell he also explained the hierarchy of the Brigade de Cuisine which operates in many hotel kitchens. Following on, Matthew Kitchin from Matt's Kitchin of Ledbury, specializing in small portions of everything from spices to pre-prepared meals, gave a talk. Matt primarily focused on issues arising when setting up a new enterprise and work-life balance.
THE SUTTONS
The Suttons WI said farewell to Eileen Dilley with coffee & cakes. We spent a pleasant morning reminiscing about past events, and looking forward to Eileen's new challenges. We gave her a garden voucher, to help her get her new garden into shape. We will all miss her and Ted, and wish them well in their new home.
In February, Hazel Penwill told us all about the ACWW – The Associated Country Women of the World – which supports women in rural communities throughout the world. We collect 'pennies for friendship' for the ACWW, so it was interesting to find out where our pennies go, and to hear about the varied projects that they support all over the world.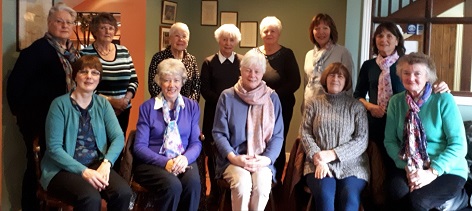 WELLINGTON
Wellington WI were proud to receive a certificate from RAF100 thanking them for their support in the centenary of the Armistice last year. It acknowledged how the WI brought the community together in Remembrance of all those who served in the First World War at their Anniversary Tea. Their members had produced a huge exhibition of displays celebrating the anniversaries of 100 years of WI Resolutions, 70 years of Denman and the National Health Service etc. and even Scrabble!
Members produced a raffle and wonderful cream tea for all the visitors. The charge for this allowed over £400 to be awarded to local charities.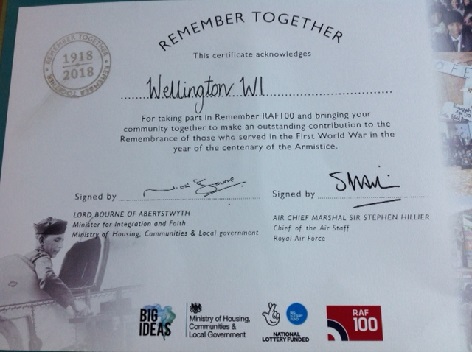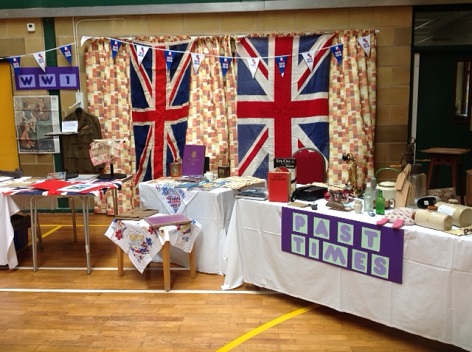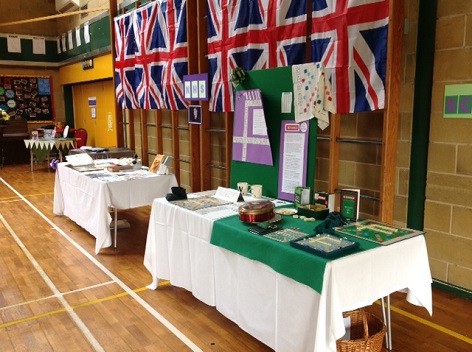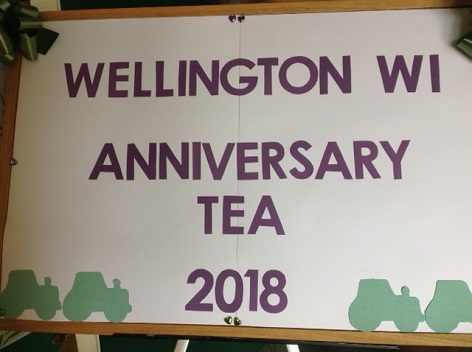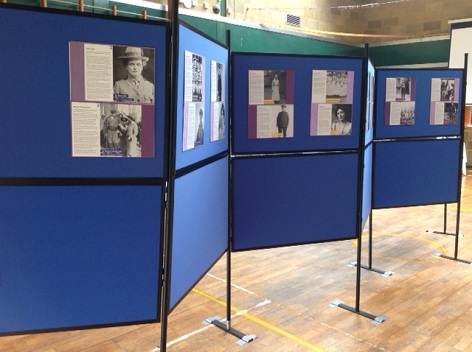 25 February 2019
BOSBURY
In January members discussed the six resolutions and many pertinent points were raised.
This interesting discussion was followed by a Beetle Drive arranged by Sue Sharples. Three
rounds were played with enthusiasm, with Jan More being crowed Queen Beetle. Great fun
had by all.
LEOMINSTER LASSIES
Leominster Lasses enjoyed a sociable evening with a sweets and chocolate themed quiz. Even the chocoholics amongst us had forgotten the delights of Cadbury's Fuse, although most of us remembered that Snickers used to be Marathon.
A singsong accompanied by Gill on the guitar followed, including a very energetic rendition of Edelweiss and the muckspreader's song," Fling It Here, Fling It There" – something we're all familiar with, here in our beautiful corner of rural Herefordshire!
20 February 2019
LEDBURY
Ledbury WI celebrated their 60th anniversary in August and now have 40 members. We have a number of events to look forward to this year include trying short mat bowling and visiting Ledbury Parish Church to view the bells.This month's speaker was Faith Renger, Curator of Malvern Museum. She spoke of the drastic treatments which The Malvern Water Cure involved and about the development of Malvern from Village to Town due to its popularity Bringing many artefacts to illustrate her presentation, Faith was Informative and enjoyable.

STOKE PRIOR
Stoke Prior celebrated their 90th birthday.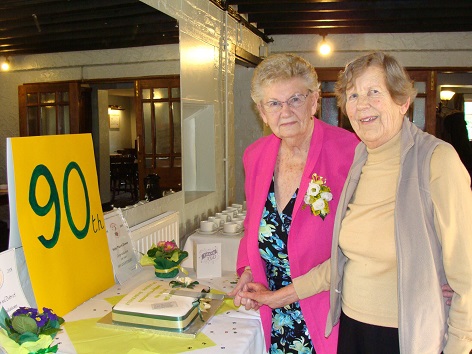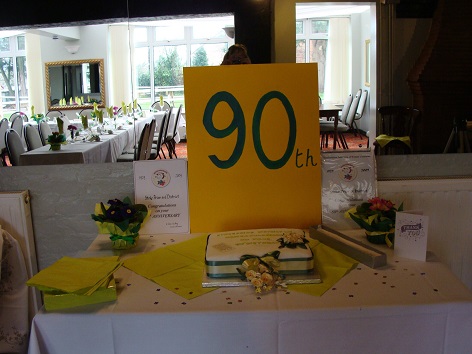 UPTON BISHOP
This year 2019 is very special to Upton Bishop WI , as it is their CentenaryYear and have many
special events, to mark the occasion, to include Dedication of a Centenary Tree at Upton Bishop
Millennium Hall in May, A Celebration Meal in June and a Boat Trip with Cream tea in August.
To start the year in January the members enjoyed an evening making greetings cards with stamps
and paint pads provided and instructed by one of the members.
In February 'Health at the Tip of Your Toes" the speaker was Sylvie Lenoir from Ross-on-Wye,
giving members a talk and demonstration on Reflexology.
She described the many benefits of this gentle massage on both feet, hands and face using
principally the thumb with a firm pressure applied on reflex areas, which can be found anywhere on
the body, each area is very precise and corresponds to an organ or a gland.
The next meeting is on Tuesday 12th March 2019 at 7.30p.m. at Upton Bishop Millennium Hall.
Anyone interested in joining is most welcome. Please contact either President Jane Pendlebury on
01989 780763 or Secretary Clare Bell on 01989 780383 for further information.
18 February 2019
BISHOPSWOOD
Christmas 2018 Cissy Symonds retired from her secretaries post at Bishopswood WI . Cissy has been a wonderful member for 31 years and has always in the last 30 years held an officers position , including being president herself for 11 years from 1992-2003 . Jenny Winchester Bishopswood's existing president and Sheila Trezona presented Cissy with a silver and amber brooch , and plant for her cottage garden . This is an outstanding achievement , we are so lucky to have had a member like Cissy, it is our turn to look after her and we hope she will have many more enjoyable years as a member of Bishopswood's WI.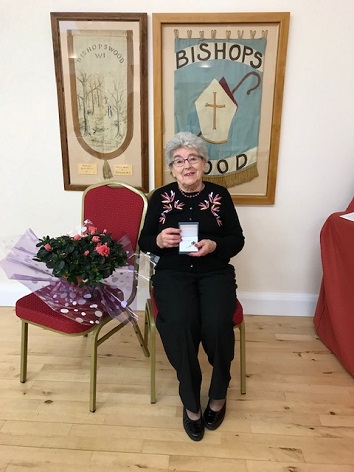 Hurray it's our 100th Birthday this year. Jane has published our 2019 programme and in January Sheila, a long serving member herself, arranged for a local caterer to cook us a delicious three course lunch in our village hall with two potential members attending as well. A memorable start to the year. We will be remembering all our past members by honouring them in our commitment to be friendly and supportive. Yes, friendship is about happy times and support when in times of sadness. Above all isn't all about kindness towards each other?
BROMYARD
BROMYARD kicked off its 2019 programme with a visit from our award winning Town Crier. Peder Nielsen and his escort arrived in full regalia and provided a fascinating evening of all aspects of this ancient role. Peder is looking forward to hosting his home Town Criers' Festival on Saturday 4th May which promised to be a colourful and loud occasion.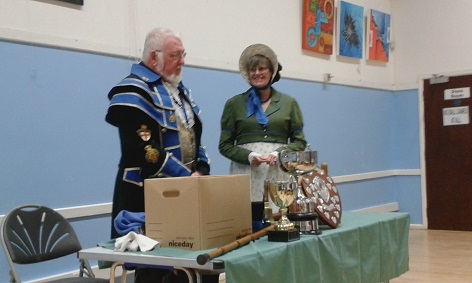 HOLMER
Holmer WI were entertained by Martyn Davis who spoke about butterflies in Herefordshire. These colourful little creatures can be found locally in Haugh Woods and Ewyas Harold common, especially. Members were amazed at the abundance and variety of these beautiful , delicate insects.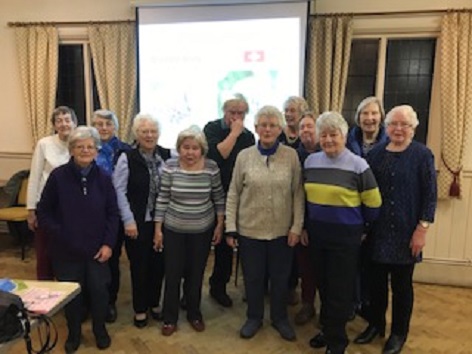 KINGTON
Kington WI welcomed speaker Mandy Harrison from Eardisland to their February meeting. Mandy spoke to us about the importance of regular daily exercise - ' like putting fuel in a car' - especially as people get older. She emphasised that this need not be time consuming - one can do some simple neck and shoulder exercises while waiting for the kettle to boil..We then participated in a session of stretching exercises while seated, or standing using a chair for support, after which the tea and cake provided by our hostesses was enthusiastically received.
LEOMINSTER LASSIES
In January we welcomed Derek Trumper who gave a talk about the Order of the Garter and St George's Chapel, Windsor. We heard how the Order came into being and about some of the Knights and Ladies who have held this honour. The history of the Chapel, it's royal tombs and stunning architecture were illustrated by some beautiful photographs. Derek's extensive firsthand knowledge and his fund of anecdotes made for interesting and entertaining evening.
LLANGROVE
January's meeting for Llangrove W I was both informative and entertaining when Mavis Jenkins and Lynette Knowles from Therapy Dogs Nationwide visited with their dogs.
The charity assesses dogs for their suitability to visit schools, hospices, care homes, hospitals and even prisons.
We had a lovely evening making a great fuss of the dogs as well as learning about how the dogs make such a difference to the people that they visit.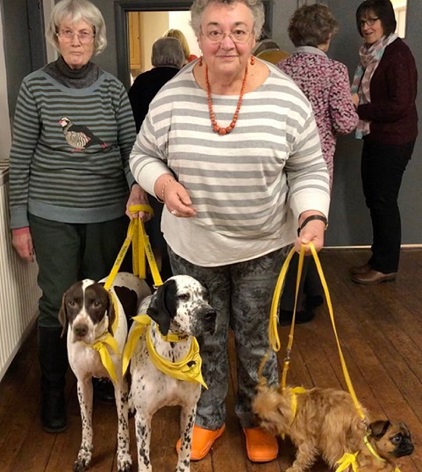 PONTRILAS
Pontrilas & District WI had their only lunchtime meeting for the year. Following the usual business, Kay Pritchard and Jane Roberts were invited to talk about their trip volunteering in Uganda. Kay a Midwife and Jane a retired Health visitor showed slides and reported how they shared their skills with staff at the Kyaninga Child Development Centre and outreach centres, helping to avert birth injuries and to provide assessment, treatment education, and support to children with disabilities, enabling them and their families to lead more independent lives. Ugandan crafts were on sale to help raise funds for another visit and to provide crucial medical supplies, equipment and toys.
Members then tucked into lunch - a choice of Squash and Butternut or Potato and Leek Soup with variety of Bread kindly supplied by members of the Committee.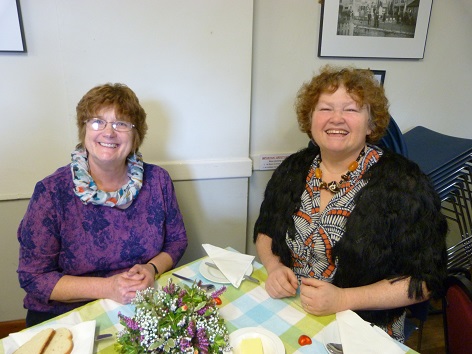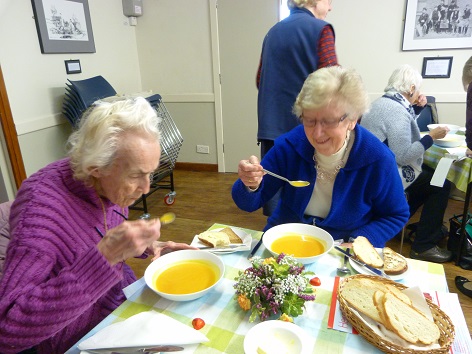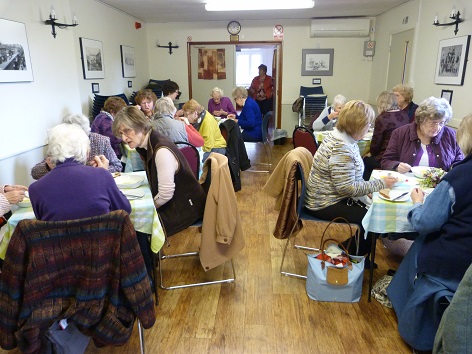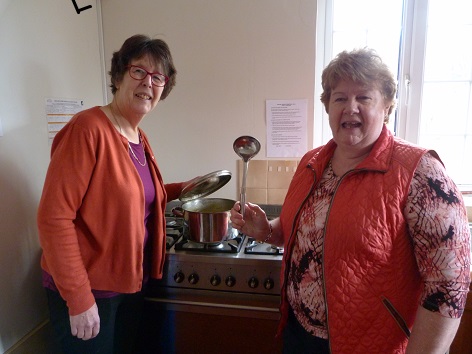 SALTMARSHE & DISTRICT
Saltmarshe & District WI enjoyed meeting up after our January rest month, when Janet took the chair and got 19 of us caught up with WI news.
As the next day would be celebrating St.Valentine, Jean entertained us with a rather sweet love story.
We then settled down to enjoy Mr. Carl Flint's " Pictorial Guide to the Malvern Hills". Carl is a self-published author with 4 books to his name
and it made for a very interesting, illustrated talk containing quirky and unusual items - a once gunpowder shed for the local quarries is now home to a micro brewery, a sewer vent pipe now incorporates a weather vane.
Carl conducts Guided Tours around Malvern and that too sounds an inviting proposition.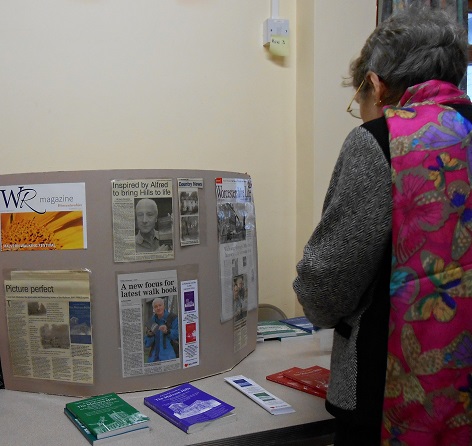 TUPSLEY
The AGM at TUPSLEY was attended by Cherril Watkins after which surprise entertainment followed when a troupe of 6 Laurel and Hardy 'look-a-likes' performed a routine to 'Let's twist again'. A lovely light-hearted way to end a good afternoon thanks to the 'Carry on Sian' entertainers. Congratulations to Judith Hollings who was re-elected President.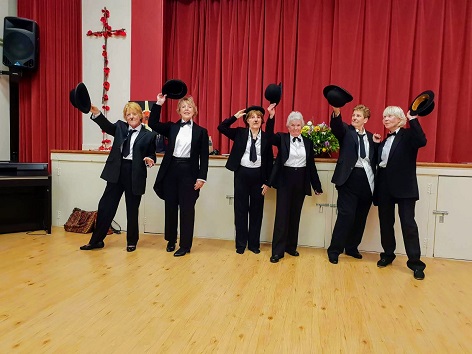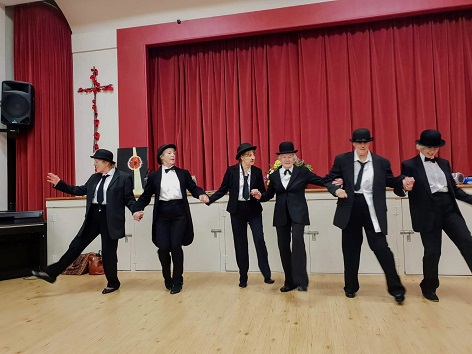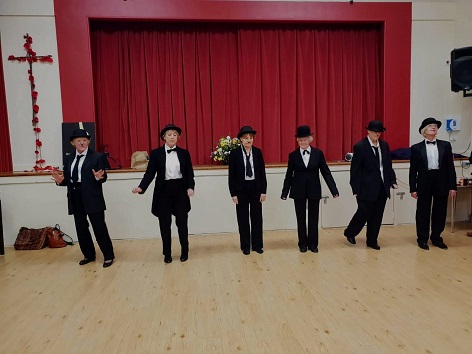 30 January 2019
WEOBLEY
The family of Anne Smith, the late President of Weobley WI, donated a glass vase trophy in her memory. Anne wanted to encourage women to speak in public, or to somehow have a positive effect on an issue by speaking up about it. The trophy was awarded at our January meeting to its first recipient, Caroline Redford, for facing her fear of public speaking to read out a report at our annual meeting last year. Well done Caroline.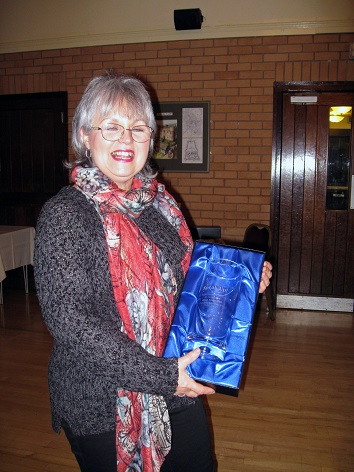 17 January 2019
SPARKLING WYE
After Sparkling Wye WI's November AGM, member, Chris, showed how to make paper flowers which were very impressive. December was a social meeting where members also donated small children's gifts with which they filled stockings, later donated to the Women's Refuge, Hereford. Forest of Dean Nutritionist Val Green spoke to the group in January, she had been inspired to study by trying to find alternatives to chemo for her beloved dog who had lymphatic cancer. A short course led her to go on to do 3 years training in natural nutritional medicine. She looks at each client in an holistic way, taking into account medical history, lifestyle, environment, genetics and noting any red flags, and she believes that each individual is totally unique. She will go on to make personalised lifestyle recommendations for her clients. She gave an illustrated, extremely interesting talk which looked at an ideal lifestyle, which should include colourful veg and fruit, pulses, good fats, seeds and nuts and protein, which may come from white meat and eggs, all organic if possible, plus adequate exercise.
LEDBURY
At the first 2019 meeting members spoke shared their special memories:
- Presentation paperweights were reminders of time spent as an athletics official at the 2002 Manchester Commonwealth Games and the 2012 London Olympic games
- An extremely scary encounter with a rat in rural France was brought back to life!
- A 1946 Butlins Skegness badge recalled happy holidays as a small child
- A Mother's bracelet brought back family memories.
Stimulating presentations which provoked much audience participation.
ALLENSMORE
Members of Allensmore W.I. enjoyed a very jolly Christmas lunch at the Axe and Cleaver in December. Some members also decorated the W.I. Christmas tree in the Church of St. Michaels & All Angels, Kingstone ready for the special services held there .
Our January meeting was held in the afternoon. Unfortunately our speaker Angela Lloyd was ill so Carol and Denise from Angels Catering very kindly stepped in and provided us with delicious sandwiches and cakes. They gave a short talk on how their local business was started and the types of catering they provide. They showed us pictures of some mouth watering cakes they had made and examples of the table decorations they are able to provide. After that we had a very enjoyable and sociable afternoon sampling all the wonderful food.
Carol has now completed our pennant, well done Carol, and has handed it over to HQ.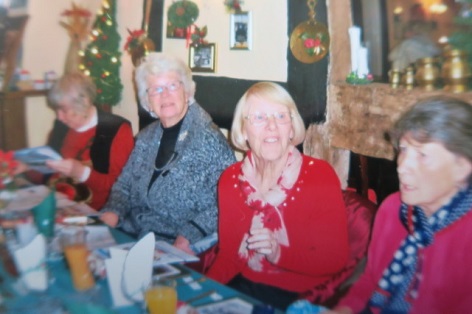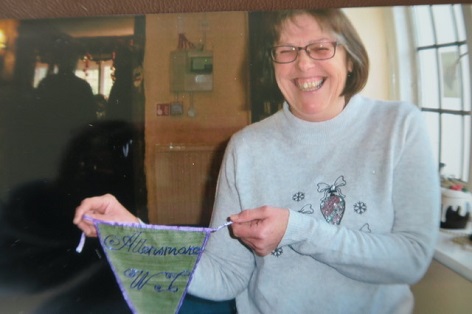 BRAMPTON BRYAN
Our Speaker was Caroline York, Search and Rescue Dogs of Wales.
Caroline gave us a fascinating insight into the training of Search and Rescue dogs including the use of "Dogsbodies" like herself who enact the part of those needing rescue during the vital training of dog and handler. We also learnt the difference between dogs trained to find any human in the Search area ( which can have embarrassing consequences) and those dogs trained to find specific people. It was an excellent and informative talk.
MUCH COWARNE
Much Cowarne WI enjoyed their December meeting in a very festive way with an evening Christmas meal at The Plough in Stoke Lacy. January's meeting was held in the morning in the very enjoyable company of members and friends attending a coffee morning with a bring and buy stall, Elaine Brown was presented with a gift voucher for her past dedication over two decades as secretary, who for health reasons has had to hand over the role to Freda Helme.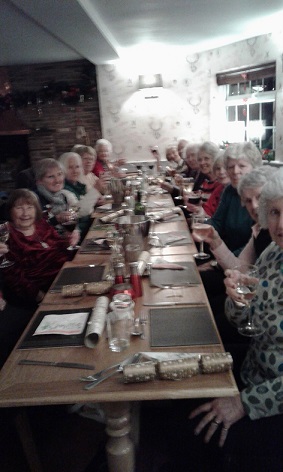 11 January 2019
BROMYARD
Following the business of BROMYARD's Annual Meeting, members made festive rag wreaths from re-cycled materials. As well as enjoying a fish & chip supper, a light hearted quiz, a beetle drive and carol singing (including an action packed rendition of "The Twelve Days of Christmas") at the Christmas party our ladies had reason to celebrate. Our entry was voted the "Best Dressed 2ft Tree" by visitors to the town's annual Christmas Tree Festival, held in aid of local charities.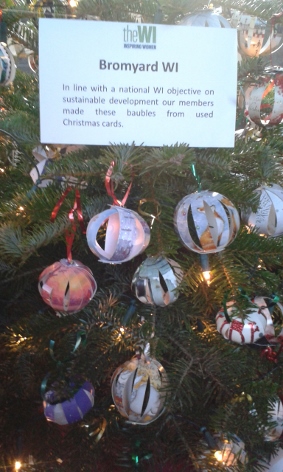 HOLMER
Our President, Mary Burgess, told us about the Order of St. John . She was invested as a serving sister in the Order in 2000 and told us the fascinating story of the Knights Hospitallers and Order of St. John both historically and in Herefordshire, at our first meeting of 2019.
DINEDOR & HOLME LACY
Dinedor and Holme Lacy WI were joined by local volunteers of 'Vennture' to listen to Robert Thomas (Lead Executive), who had been inspired by the Emelia Arch and John Venn plaque on Commercial Road, Hereford.
A very thought provoking and heart rendering talk which incorporated the historic Venn buildings around the city and was brought up to date with the very real problems of drug taking, sofa surfing, hungry children, loners and young people needing answers.
Originally Hereford City Mission, formed in 1856, Vennture was renamed in 2013 and was awarded The Queen's Award for Voluntary Service last year.
PETERSTOW
The members of Peterstow W.I. began 2019 the way they had ended 2018 – with a musical meeting. However, this time it was on the theme of 'Autoharp and Dulcimer Delight'. Mike and Rachel Fenton, local musicians in Herefordshire, certainly pleased the ladies with their melodic and tuneful repertoire. Beginning with the Vanderbilt theme tune the tone was set for the afternoon, with some audience participation in singing well-remembered tunes. One of the most haunting performances was called 'Polly Swallow', a composition inspired by a photo of a young Victorian fisherwoman. Mark also showed his skill with the Jews Harp and joined with Rachel in playing a courting dulcimer, interspersing music with short and humorous stories. Thanks were expressed to Mike and Ruth for the afternoon of enjoyment and for the atmosphere that they had created which was certainly a 'delight'.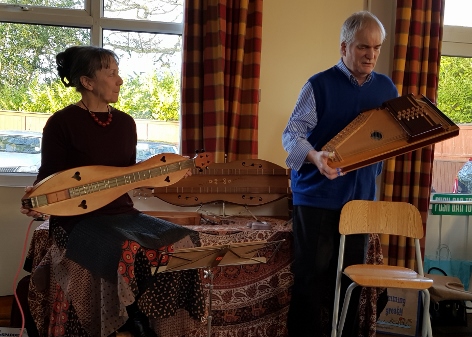 STOKE PRIOR & DISTRICT
For their first meeting of 2019, Stoke Prior & District WI members and visitors had a wonderful afternoon when they were joined by Claire Rush with her guide dog, Rosie. Despite terrible setbacks in her younger days, she had grown into a confident and happy woman since being given a guide dog, which has culminated in her living independently and being employed.