Your Denman Ambassador for the Herefordshire Federation is Margaret Simcock.
She can be contacted on:margaret.norbrook@gmail.com 01885 400700
12.6.2020
The July 2020 trip to Denman has now been rearranged for 2020: Monday, 22 March to Wednesday, 24 March, 2021. Still at £250 to include everything - transport, accommodation and workshops. Coach pick-up points and timings as previously given. There are still places available on Sing the Beatles, Mosaics and Summer Baking courses. All courses are open to members and to non-members so anyone interested should contact me for an application form.
11.02.2020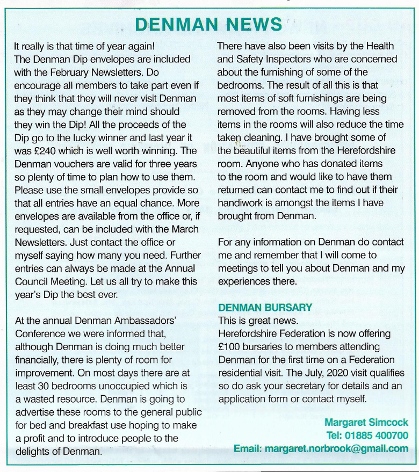 11.12.19
HEREFORDSHIRE FEDERATION DENMAN BURSARY
Herefordshire Federation are now offering a £100 Bursary for members who have not been on a residential visit to Denman but are coming to Denman for their first residential visit on a Herefordshire Federation Residential Visit. Qualifying members coming on the Residential Visit from 6 - 8 July, 2020 can apply from 1 February, 2020.
Applicants must have submitted an application form for the visit and have paid the £75 deposit by the closing date of 25 January, 2020. Application forms giving full details of the visit are available from secretaries or from WI House. Bursary Application Forms and full details will be sent out with the February Newsletter. The completed Bursary Application Form must be completed and returned by 30 March, 2020 to Margaret Simcock, Norbrook Farm, Pencombe, Herefordshire HR7 4SH.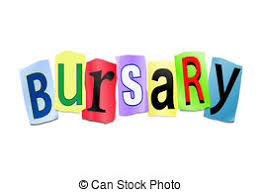 6.12.19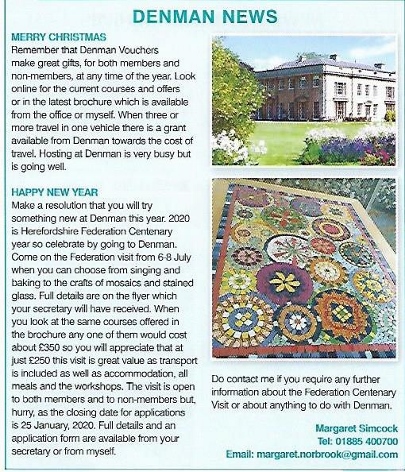 8.11.19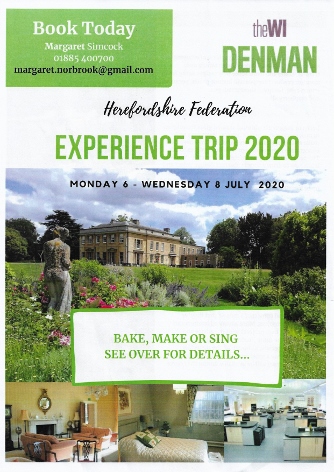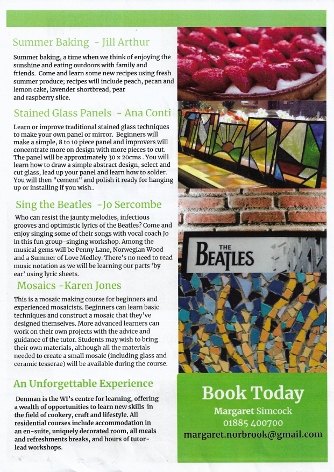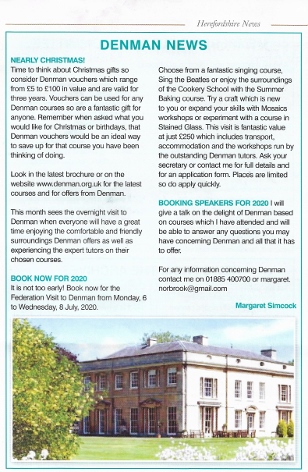 DENMAN

What is Denman?
Denman is a Georgian mansion set in 17 acres of grounds which provides a relaxed environment and embraces both members and non-members. There is comfortable accommodation for over 80 guests both in the house and in accommodation blocks in the grounds. All rooms are en suite, some being doubles and others equipped for disabled and carers.
Where is Denman?
Denman is situated in the village of Marcham, just a few miles from Oxford. There is plenty of parking for cars on site and a taxi service, provided by Denman, operates from both the coach and railway stations in Oxford.
What happens at Denman?
From the moment of arrival, your every need can be catered for. Denman can be used as a base to visit Oxford and the surrounding countryside. There is a local bus service to the centre of Oxford so cars can be left at Denman.
The catering is, of course, outstanding, meeting all dietary requirements requested. In addition to main meals, morning coffee and afternoon tea are served with tea and coffee available at any time as well as packed lunches to take out.
Not just a fantastic hotel, Denman is a centre of learning offering courses throughout the year in a wide range of subjects. Look on line www.denman.org.uk or read the brochure for full details of courses ranging from day events to those covering two or more days. Denman offers courses as diverse as history tours, flower arranging, silver smithing, creative writing, ukulele playing, singing, sculpture, painting, embroidery and all aspects of cookery.
Herefordshire Federation and Denman
Denman is a part of the WI organisation which is reflected in the decor of the bedrooms as each is maintained by a federation or by individual WIs and furnished to reflect the county or the individual interests. Herefordshire is very proud of its bedroom as in 2018 the Herefordshire room was refurbished to a high standard by members. (see photographs below)
In July 2019 there was a very successful Federation Day Visit which included a cookery demonstration.
Our Federation Group have now returned from the Denman November visit. We all had a fantastic visit with many willow work objects, silver pendants, paper cutting items and enhanced digital photographs coming home on the coach.
We are now looking forward to the visit in July 2020. Book soon to secure your place.
From 6 - 8 July, 2020 a Federation Visit offers the following courses:
'Sing the Beatles' with Jo Sercombe This course will be a huge amount of fun whether you are an experienced singer or not. From the moment you meet Jo you will love her workshops. Absolutely no musical experience is necessary for maximum enjoyment. However, if you are already an enthusiastic singer you will immediately appreciate that Jo is an outstanding tutor and enjoy learning so much from her technique.
'Summer Baking' with Jill Arthur Jill uses a range of seasonal fruits and vegetables in cakes, doughs, biscuits and pastries. This course is a must for anyone who enjoys baking and wishes to extend their knowledge and learn new recipes. You will have your own work area in the outstandingly equipped Cookery School.
'Stained Glass' with Anna Conti On this course you will learn traditional stained glass techniques from how to draw a design, select the glass and how to cut it to create a beautiful item.
The cost for the three day visit, including transport, is just £250. All courses are open to both members and non-members. The closing date for applications is 25 January, 2020. Application forms are available from WI secretaries or from Margaret Simcock who also has copies of the current brochure with details of all courses.
Contact details for any information on Denman are: margaret.norbrook@gmail.com 01885 400700 I look forward to hearing from you.
Margaret Simcock Denman Ambassador
The Herefordshire Room at Denman