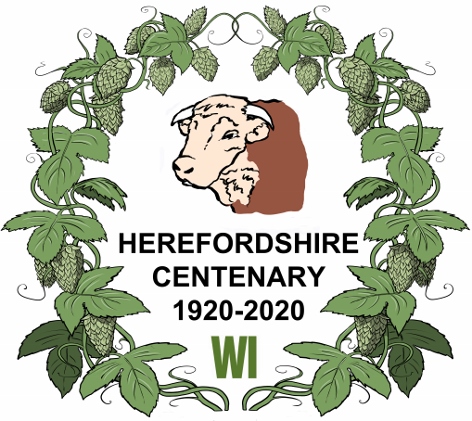 Herefordshire Federation of Women's Institutes
1920 – 2020
Records show that the formation of the Herefordshire Federation was "unanimously agreed" at the first Council Meeting at the Shire Hall, Hereford on 4th February 1920. In order for this to have happened at least twelve Institutes had to be in existence in the county. In fact at this stage there were already eighteen with another five being formed that year giving a membership of nearly thirteen hundred. This was largely due to the vision, energy and enterprise of twenty-four women in St. Weonards who, two years previously, had voted "unanimously to have an institute".
Mrs. Alice Madeleine Foster was elected as the first Chairman and three years later she purchased 6 St. John's Street for use as a clubhouse with the main office just across the road at number 1. In the summer of 1923 Mrs. Foster organised a rally in which some sixty Institutes, each under its own banner assembled in the Cattle Market and marched to the Cathedral where a service was held.
Mrs Kevill-Davies was largely responsible for the formation of the Federation and became its first Secretary. It was she who persuaded the National Chairman, Lady Denman, to visit Hereford when she gave added impetus to the Movement leading to a stall in the Butter Market and the formation of the Produce Guild with its Club and weekly WI Markets in the city and the four market towns in Herefordshire.
Mrs. Foster retired in 1925 and was succeeded by the redoubtable Hon. Mrs. Daphne Dunne who served as Chairman for the next twenty years. Together with her long serving secretary, Miss Barbara Lilley, she presided over a remarkable growth in membership which by 1931 had already reached nearly four thousand. In addition Mrs. Dunne was also responsible for devising and writing numerous pageants and masques that were all very successful. In the late twenties the Federation office was re-located to 7 St. Owen Street where it remained until the mid 1950s.
With the advent of War the Executive became an Emergency War Committee and long term planning was encouraged. By May 1940, members had made more than three thousand garments for the troops. Savings groups were initiated and subscriptions sent to the National Federation's Ambulance Fund. Evacuees and refugees were welcomed and members responded to an appeal for help with munitions making. The majority used their skills to increase food and crop production – most famously in the copious quantities of jam with which the WI became synonymous.
The WI's reputation for handicraft skills was advanced by Mrs. I. Harding of Aston Ingham WI who founded the extant Handicrafts Club in 1946. Cleverly meetings were held on market day, the only day when members were able to travel to Hereford due the shortage of public transport and petrol for private cars. As part of the Federation's Golden Jubilee the Club presented a County tablecloth to the Federation.
A regular feature of the summer WI calendar was the County Picnic held at various grand country houses until 1966 when the executive decided that many members were "rather bored by it" and the practice lapsed for a few years. Photographs show that these were well attended and consequently a useful source of revenue for the Federation.
Involvement in the Three Counties Show has been ongoing since 1926 when Herefordshire joined Gloucestershire and Worcestershire Federations in sending exhibits to a WI tent. This has now expanded into running catering outlets but on a triennial basis.
After periods in rented offices in Broad Street (1956 – 1979) and Hereford House in East Street (1979 – 1989), the Federation was finally able to purchase the current WI House. This was officially opened on 29th March 1989 by the National and Federation Chairmen, with the Bishop, Mayor and Mayoress of Hereford in attendance.
Other highlights include the visit of Their Royal Highnesses the Prince and Princess of Wales to a luncheon for five hundred guests prepared by members in 1985. A series of "An Evening with ...." was held in 1999/2000 where guests included Edwina Currie, Henry Sandon, Jennies Pitman and Bond. The Queen's Golden Jubilee was celebrated with a Tea Party at the Bishop's Palace.
The Federation is fortunate to have been able to mark previous anniversaries in the magnificent setting of Hereford Cathedral. These include a service for the Diamond Jubilee featuring the WI Choir, a "Home and Country" Flower Festival in 1990, a recital ten years later and a choral evensong and thanksgiving service in 2010. It is fitting that the centenary is to be commemorated in the same venue.
Tessa Lovell
HFWI Archivist
06/02/2020
Pictures from the Centenary Service at Hereford Cathedral 9.2.2020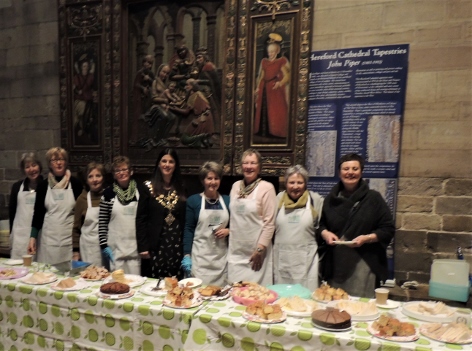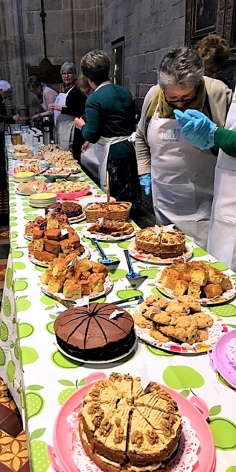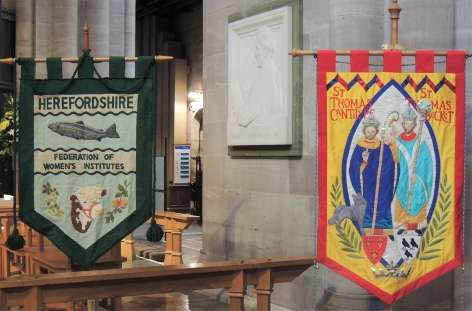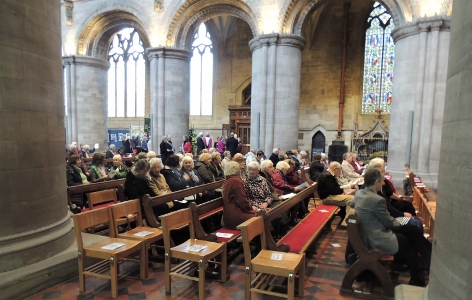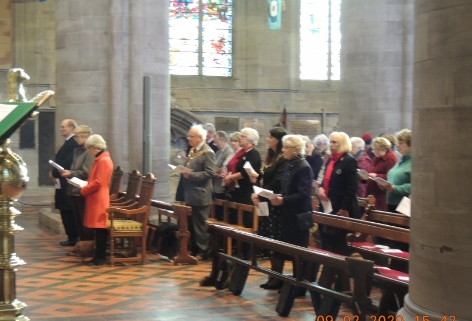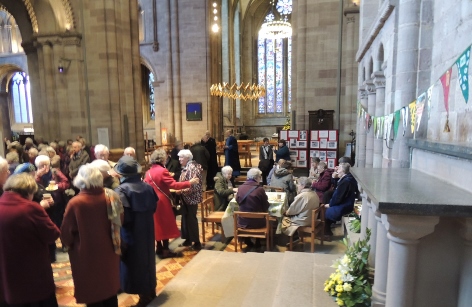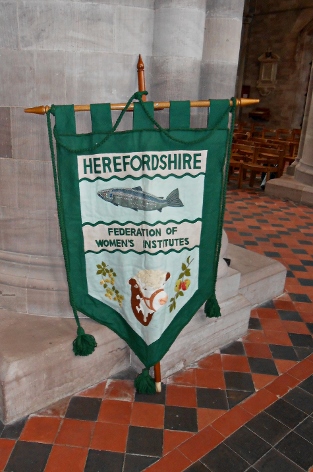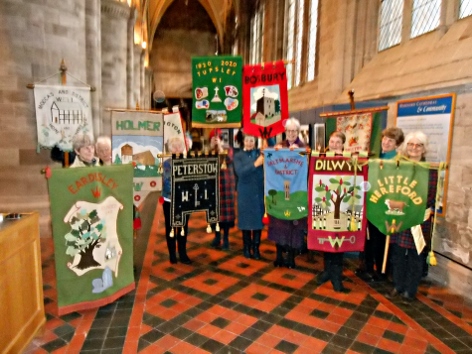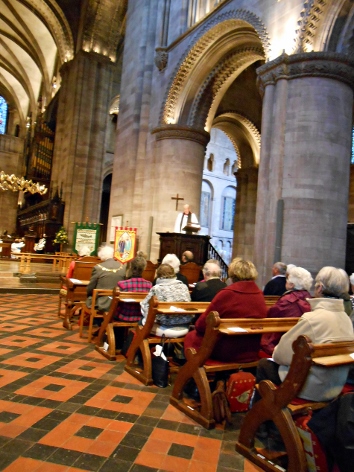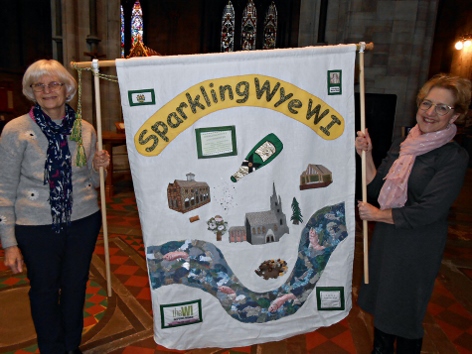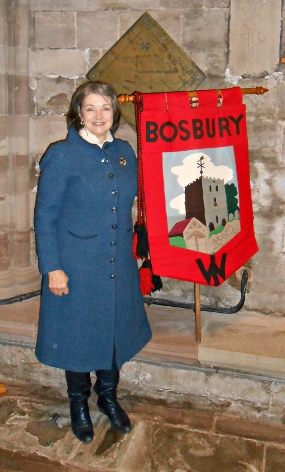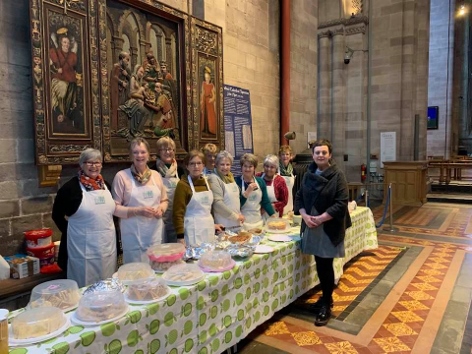 01.01.20
Hereford Cathedral 9th February 2020 at 3.30 pm.
This is the evensong service at the Cathedral and will commemorate the founding of the Herefordshire Federation of Womens Institutes on 7th February 1920. Things have changed a lot since then!
EVERYBODY is welcome to attend the service and I would really like as many as possible to attend. I have sent invitations out to WI Presidents and some guests as, as much as I would like to, it would be a very difficult undertaking
to provide Tea and cake if 1,570 members turned up.
This is a good excuse to dust off your WI banners and bring them with you. When I know how many will be coming then I can give further instructions on how we are presenting them.
I would like you to let me know if you can attend as the Canon has asked meto try and find out how many we can expect.
I hope to see you on Sunday 9th February 2020 at 3.30pm Hereford
Cathedral
Best Wishes
Val Lewis
Centenary Celebrations

9th December 2019

Christmas concert at the Holy Trinity Church, Whitecross Rd Hereford 7pm.
Includes Rail Male voice choir, solos by two WI members as well as Christmas readings. At the end of the concert mulled wine and mince pies will be served. I would like WI's to bring their banners to be displayed in the church. We are proud of our Federation.

Sunday 9th February 2020

Hereford Cathedral
Celebration of our Centenary following evensong.
We will have as many banners as we can get on display in the Cathedral. This will be followed by tea and cakes.
27th April 2020

Annual Council meeting at the Three Counties hotel Hereford.
This will celebrate the year of our Centenary. There will be speakers yet to be confirmed.
4th June 2020

NFWI Annual meeting Royal Albert Hall London.
We will travel to London on 3rd June .After an overnight stay we will have the meeting in the Royal Albert Hall and then return to Hereford.
21st June 2020

Grand Garden party at Lower Hope Ullingswick.
This is planned as the culmination of our Centenary celebrations. This is stated as being the time to see the gardens and pond area at their best.
As we were formed in 1920 the theme for the afternoon will be "The roaring twenties". I am hoping to see lots of flapper dresses and dropped waist creations, use your imagination. This is NOT compulsory but would give a lovely atmosphere. All wrinkly knees welcome!
It's midsummers' day. Be prepared to enjoy yourself!
The entertainment is a group playing music of the era, you will be amazed!!
We are very lucky to also have Lorna Williamson who sang last year with her of soft jazz and Sunday afternoon listening music.
Food and tea will also be provided.
We will drink a toast with Prosecco.
There will be competitions, details tbc.
Entry is £6 as always. Details at a later date.
I am hoping that the attendance is high. WI members, friends and neighbours welcome. Please support us.
Centenary Memorabilia