6 April 2021
********* Creative Arts competition No. 2***********
Winner Pat Simpkin ,Preston Wynne, with an 'Easter Wishes' card.
Runner-up Joanna Helme, The Pyons, with a 'For a Lovely Mum' card
Please remember the closing date for Competition No. 3 , the Willow work, is 30 April.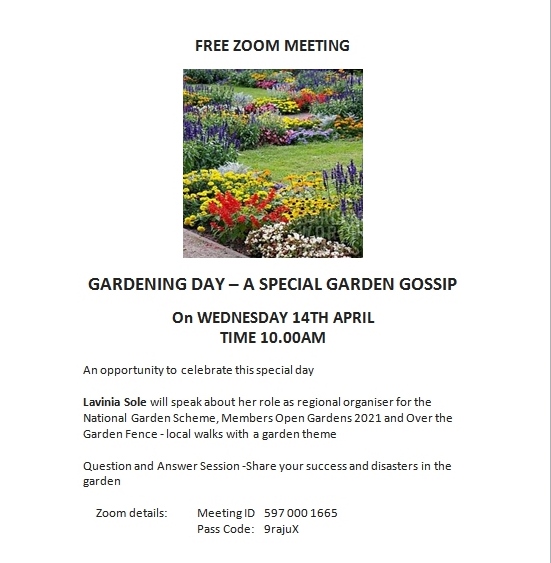 A Call to increase Awareness of the Subtle Signs of Ovarian Cancer
Tues 11th May 7.30pm Wellington WI are hosting a "Zoom" presentation through HFWI.
A representative from TARGET OVARIAN CANCER will talk to us and answer questions about identifying early signs of ovarian cancer to support our understanding of the WI 2021 Resolution.
Everyone is welcome to zoom in. A donation will be made to the charity by Wellington WI and if your WI would like to add to the donation please send cheques to :
Wellington WI
c/o Jackie Cleveland,
2 Church Close,
Wellington, HR4 8BX
By 18th May please.
01.02.2021
What does my subscription fee include for 2021/2022?
20.01.21 CLIMATE AMBASSADOR
Herefordshire Federation has a new Climate Ambassador, Christy Crouch, Longtown & District WI. Christy has put together for you details of the Show the Love 2021 campaign which is below, please tell your members, don't forget we all can make a difference. Website address: www.theclimatecoalition.org.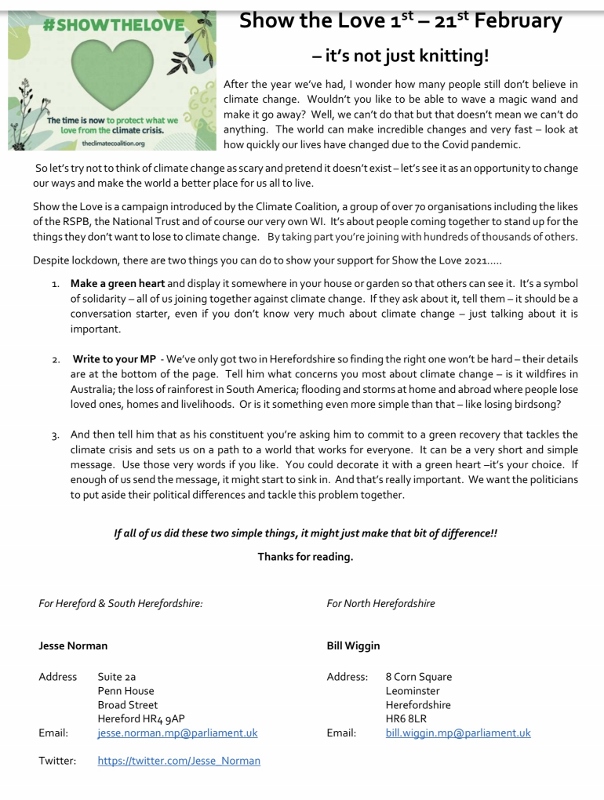 10.2.21 Zoom Speaker List
With grateful thanks to Carole Donovan of the Unofficial WI Facebook group who has compiled this list of speakers from information sent in from WIs and speakers themselves. Feel free to download this to your computer for reference. It will be regularly updated.
05.01.2021 News from NFWI
Guidance on the resumption of WI meetings

Following the Government's announcement on 04/01/2021 the UK is now in a national lockdown.
England entered lockdown today, 05/01/2021 and Wales continues its lockdown. This means that everyone must stay at home except to:
Shop for basic necessities, for you or a vulnerable person.
Go to work, or provide voluntary or charitable services, if you cannot reasonably do so from home.
Exercise with your household (or support bubble) or one other person, this should be limited to once per day, and you should not travel outside your local area.
Meet your support bubble or childcare bubble where necessary, but only if you are legally permitted to form one
Seek medical assistance or avoid injury, illness or risk of harm (including domestic abuse)
Attend education or childcare - for those eligible
There are no exceptions for WI meetings. Sadly this means all face-to-face, physical meetings are suspended.
We thank all federations and WIs for how much effort has been made to adapt the membership experience to online and offline activities such as virtual meetings and speakers and providing activities through meetings in a bag. We would like to urge WIs to continue adapting and providing a valid and valuable membership experience.
Information on holding Annual Meetings can be found on My WI
We sincerely hope Covid infection rates come down and the virus is under control very soon, we wish all our members well and hope we can stay as safe and connected as possible.
02.01.2021 News from NFWI
Pro-rata subscription rate eligibility
NFWI are delighted to announce a change to the former pro-rata subscription rate ineligibility period of 10 years. Following feedback from members and very careful consideration by the Board of Trustees, this ineligibility period has been reduced to 1 year.
The aim is to maintain the function of having an ineligibility period for former members so WIs are not disrupted by individuals switching their membership on and off while bringing in the most welcoming and encouraging approach possible for our former WI members who wish to re-join. This will also support WIs wishing to reach out to their former members and invite them back – helping to retain as many members as possible.
This will come into action from 1st April 2021 so it can be active and applied throughout the next pro-rata year.
There are so many life events that can lead to women feeling they have to give up their WI membership, such as moving house, new career, becoming a mother, periods of debilitating illness, increased demands on time due to caring etc. We know that many of these members would like to re-join as soon as they feel able to and their WIs want to be as accommodating as possible to help them do so. Reducing the pro-rata ineligibility period to 1 year will we hope be a very practical and impactful way of enabling WIs to offer this understanding and support.
There are a few elements we want to clarify that you may get questions about:
This only applies from April 2021 going forward (no retrospective refunds or arrangements can be made for former members who re-joined before this date).
The rules on dual membership remain the same. Dual members only pay the WI portion to their second WI so there is no pro-rata rate for this.