Don't forget to check out all the new Federation Zoom events happening over the next few months. All joining details with ID and password are on the Calendar of Events.
Some highlights:
Climate Change talk with Andrew Mottram: 25 November 7pm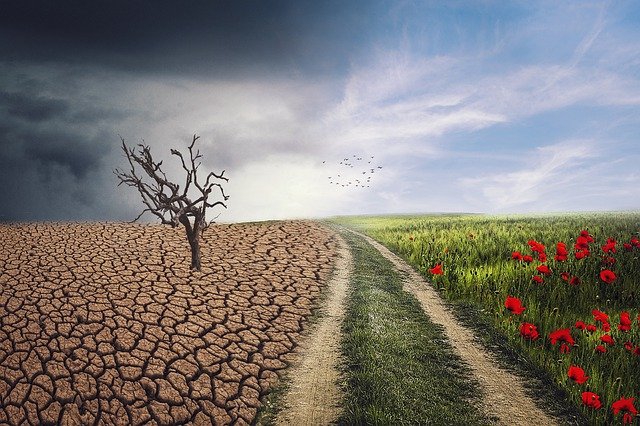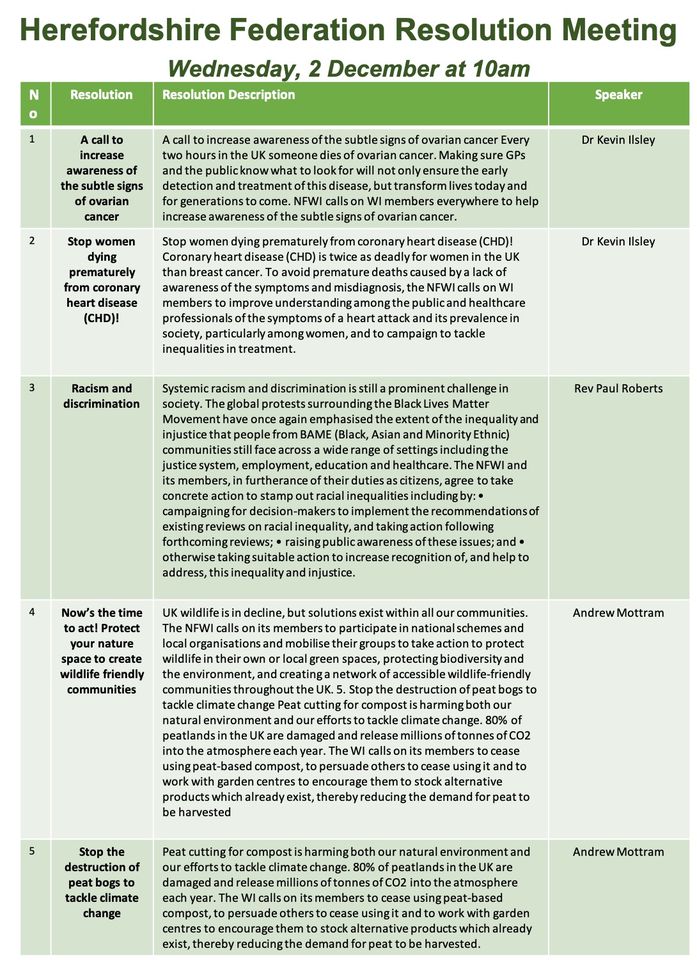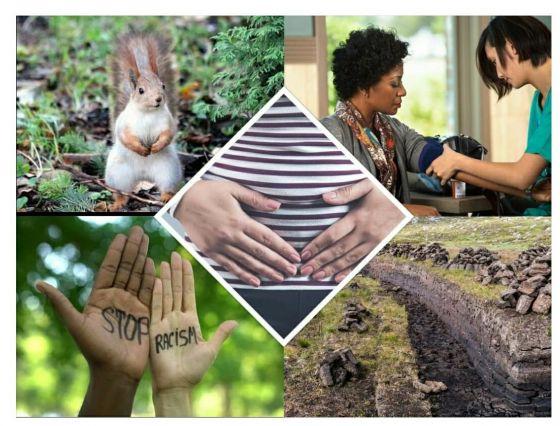 10.11.2020
NFWI 5.11.20 Guidance on resuming meetings
England
The Government announced further restrictions in September as a response to rising rates of COVID-19 infections. It has also introduced a number of regional variations. These are called COVID alert levels or tiers and can be: medium, high or very high.
From Thursday 5th November 2020 all regional variations will be replaced with new national restrictions. These will be in place at least until Wednesday 2nd December 2020.
The Government's 3 overarching measures during this time are:
Requiring people to stay at home, except for specific purposes.
Preventing gathering with people you do not live with, except for specific purposes.
Closing certain businesses and venues.
These will supersede all guidance on meeting under the Rule of Six.
There is no change to the Bailiwick of Guernsey following the UK's announcement of lockdown starting on Thursday.
The Isle of Man continues with local restrictions in place
Stricter local rules or a total lockdown will always supersede NFWI guidance.
The Government has stated that the 5th November lockdown means you must not leave or be outside of your home except for specific purposes. These include:
for childcare or education, where this is not provided online
for work purposes, where your place of work remains open and where you cannot work from home (including if your job involves working in other people's homes)
to exercise outdoors or visit an outdoor public place - with the people you live with, with your support bubble or, when on your own, with 1 person from another household (children under school age, as well as those dependent on round-the-clock care, such as those with severe disabilities, who are with their parents will not count towards the limit on two people meeting outside).
for any medical concerns, reasons, appointments and emergencies, or to avoid or escape risk of injury or harm - such as domestic abuse
shopping for basic necessities, for example food and medicine, which should be as infrequent as possible
to visit members of your support bubble or provide care for vulnerable people, or as a volunteer
There are no exemptions for WI meetings. For more details please see gov.uk
Wales
The Welsh Parliament has put a firebreak lockdown in place. This started on Friday 23rd October and is in place until the start of Monday 9th November.
The five main restrictions during the firebreak are:
people must stay at home, except for very limited purposes
people must not visit other households or meet other people they do not live with
certain businesses and venues, including bars, restaurants and most shops must close
secondary schools can provide learning online only for the week after half-term, other than for children in years seven and eight. Primary schools and childcare settings can remain open.
face coverings continue to be mandatory in the indoor public spaces that remain open (subject to certain exemptions and exceptions), including on public transport and in taxisWales will introduce new restrictions covering how people can meet and businesses can operate from Monday 9th November
WIs are encouraged to make as full use of online activities and virtual meetings as possible. There is guidance on holding virtual meetings and on moving subgroups online. There are also options to help provide contact with members off-line such as goody bags and the Let's Keep Connected member friendship notes.
We sincerely hope restrictions are loosened very soon and wish all our members well and hope we can stay as connected as possible.
31.10.20
Guidance on WIs creating and sending goody bags
Can WIs create and send goody bags to their members?
Yes. WIs can give nominal – small and relative – gifts to members such as goody bags that demonstrate their appreciation for their members, and aims to keep them connected to the WI. When determining what is 'nominal', WIs need to look at their income and their overall financial position.
As WIs have not been able to meet physically over the past few months, they may have subsequently made savings on hall hire, speaker and refreshment costs. Of course, many WIs have met online and thus have still incurred costs for virtual meeting platforms and speakers. Therefore, for those WIs who have the WI funds to do so, they are able to provide their members with goody bags.
As always, decisions about the use of WI funds must be agreed by the WI Committee after a consultation with the members. The WI Committee must agree and allocate a certain amount of WI funds to provide goody bags and account for this on their account book as usual. WIs are able to use their WI funds to cover the cost of posting goody bags to members.
What can WIs put in the goody bags?
The contents of the goody bags should be relevant to the WI and can be used to further the charitable objects of the WI.
It is the decision of the WI what they wish to include in these bags. Here are some initial ideas to help WIs with this:
Activities such as a quiz, word search or crossword. These may be about your WI, local history, a local place or local issue.
Items/information linked to local matters of importance
Items/information linked to the national WI campaigns. For example, sign up information about becoming a stem cell donor for the WI campaign Make a Match. Or information about attending cervical screening appointments for the WI campaign 5 Minutes That Matter. Or you could encourage members to Make Time for their Mental Health by including a tea bag and suggesting they make a cuppa and have some time to themselves.
A craft, cookery or gardening project for members to have a go at. For example, something to make, bake or grow. For more ideas please see My WI.
If your WI or federation has Climate Ambassadors, they may wish to include an action for WI members in goody bags.
Goody bags can also tie into WIs online meetings. For example, they may include a competition to write a poem about a certain topic. The poems can be read at their online meeting and a winner decided by a select panel. Or if a speaker is unable to attend an online meeting, they may wish to provide some information which can be included in the goody bag and then discussed at their next online meeting.
When preparing good bags please remember to be mindful of health and safety by washing your hands before and after packing the goody bags – thank you!
---
Contact us
For more information, please contact the NFWI via email membership@nfwi.org.uk, call 0207 371 9300 (Ext. 201) or write to us at NFWI, Membership and Engagement Team, 104 New Kings Road, London, SW6 4LY.
| Version | Date created | Last review date | Next review date | Document author |
| --- | --- | --- | --- | --- |
| 1 | September 2020 | N/A | September 2021 | Membership and Engagement Team |
31.10. 20
Ideas from NFWI
Low-Cost & No-Cost Meeting Ideas
We are happy to announce to all our members that as a response to the COVID-19 lockdown the annual membership subscription for 2020 has been extended by three months to April 2021.
The next renewal date for membership subscriptions will, therefore, be 1st April 2021. In addition, from this point onwards, membership renewals will always be in April. This is to acknowledge the feedback many of you shared with us during the recent Strategic Vision consultation about the challenges of the January payment date and how you wished to see this changed in the future.
While both of these are good news, we do realise that filling these additional three months with fun activities might be a little challenging if your WI has been arranging lockdown activities such as Zoom talks and now the coffers are running dry.
In the spirit of maximising the enjoyment of the subscription extension here are some low-cost & no-cost suggestions for WI meetings which also take social distancing into account.
Things your WI can do now
A big "Well done!" to those WIs that have been getting online, holding virtual meetings, posting messages to members, calling up members for a chat and all the other wonderful and innovative ways that have kept their WIs connected. Keep going!
For those WIs that have found operating during the lockdown more challenging for various reasons, such as no internet access, the past months have presented many difficulties. We'd like to offer encouragement. Contact members and ask what kind of contact they would be comfortable with. A call may be more than enough.
If you feel ready to try out other ideas here are a few you can try now. Please be aware that group activities can now be done in groups of 6:
Use the money saved from not holding physical meetings to buy a small craft project for each member. This can be the yarn and pattern for a crochet or knitting project, a blank canvas, brush and basic paint set with instructions to "paint your feelings" or "represent friendship". The aim is not to feel pressure to produce a great work of art, just to have fun with colour and paint. You can then all bring your paintings or completed craft projects to a future meeting for an exhibition or a "Show-and-Tell". More guidance on Goody Bags is available online.
Arrange a socially distanced walk.
Arrange a ring-round: starting with the President, give a member a call and ask how they are. The person called is then given a name to call next (please call within three days).
If your area does have internet access:
Hold a Zoom catch up. There is guidance available about how to get going on Zoom. Give it a try. If you need further help, please contact the Membership and Engagement Team at membership@nfwi.org.uk.
Register for a Denman talk, have a Zoom tea and chat scheduled immediately afterwards to discuss with fellow members.
Government guidance on meeting socially has been changed to a maximum of 6 people (rule of six) and some WIs are re-structuring meetings to meet in groups of six. Please only meet in accordance with the guidance, and if the majority of your members feel confident about the level of risk.
When you are ready to resume meetings, here are a few low-cost/no-cost meeting ideas:
(Most of these suggestions can be adapted for virtual use until your WI feels confident about resuming meetings)
Member exchange: WIs arrange for a member to visit from a neighbouring WI to give a talk, e.g. share a childhood memory or a work experience, talk about their hobbies etc. They then reciprocate and arrange for a member to visit in return.
Approach a local charity to provide a speaker for free to tell members all about the charity, the work it does and different ways interested members can support them.
Hold a "Just-for-Fun" Quiz. No prizes, just for fun. You can even turn this into an on-going quiz tournament with a "Quiz Champion" board. You can contact the Membership and Engagement Team to get a copy of the WI quiz e-mailed to you at membership@nfwi.org.uk, use the WI Pride quiz, ask your members to submit five questions and answers each or you can download quizzes from quiz sites such as challangethebrain.com.
Hold a "Just-for-Fun" Bingo event. No prizes, just for fun or maybe play for a box of chocolates. There are sites which can help you generate bingo cards such as onlinebingo.co.uk or you can buy fun bingo games such as cat bingo which costs around £20.00. These allow for 12 players, but you could copy the boards for more players. Be aware that more than one person will get to complete their bingo board at the same time so it really will be the fastest to shout out wins. Bingo caller's decision is final!
Galleries & museums are re-opening, so find your nearest free one and arrange a visit. Please remember to stick to the current Government maximum for numbers allowed to gather indoors and maintain social distancing. Please check with local museums and galleries about the practicalities of arranging a visit safely.
Host a Game night/day! Members bring a game suggestion that can be played while maintaining social distance e.g. Countdown. It is great fun re-visiting childhood games and learning new ones. There are plenty of games that need very little or no equipment at all. Please contact the Membership and Engagement Team for a list of games and rules at membership@nfwi.org.uk.
Arrange a Scavenger Walk. This is a socially distanced walk with a twist; provide a list of things members need to spot along the route. This can be adapted for rural or built-up areas.
Very Important: Please double check all activities for safety, make sure equipment isn't shared or passed around, e.g. bingo boards and pens. Please make sure everything is carefully wiped/cleaned at the end and beginning of each meeting.
Please contact the Membership and Engagement Team if you would like advice on adapting ideas for virtual use membership@nfwi.org.uk.
Very Important: Please remember those members who may not be able to join in with meetings and activities at the same time as everyone else due to greater vulnerability. How will they be included? If you hold a quiz maybe they can be asked for questions and be given an update about how it went and who won. If a speaker visits, perhaps they can be asked to prepare a summary which can be posted, and vulnerable members are given a call to have a chat about it. Maybe they can be asked for suggestions about what to spot on scavenger walks.
16.09.20
Latest information from NFWI - please read updated document regarding Rule of 6.
3.7.2020
Latest information from NFWI
FAQs (updated July 2020)
COVID-19 impact on WI activities and members
We have received a lot of questions from members about the impact of COVID-19 on WI activities and members. We hope these FAQs will help to answer a lot of your questions.
Please note: These will be updated regularly as the situation develops, but please keep a very close watch on Gov.uk for the most up to date and relevant information and advice.
Should we cancel WI meetings and events?
The Government is advising everyone to reduce social contact, particularly those who are vulnerable. As the situation is still so uncertain, it is not clear how many WI meetings and events will need to be cancelled, but our advice will always be to prioritize members safety and wellbeing, ensuring that the Government advice is followed. Many WIs are already implementing alternative arrangements to ensure they stay connected and support members who may become more socially isolated without their WI meetings and the support network it provides. Please see our #MyVirtualWI page for ideas and inspiration.
How can vulnerable members be supported?
This time will be particularly difficult for vulnerable members, especially people who live alone. Without WI meetings taking place, take time to check on members in your community in other ways. For members who may not have access to a computer or mobile phone, telephone them on their landline regularly to check in and see if they need any support. For those who do use technology, you may wish to set up WI WhatsApp groups or Facebook messenger groups if you haven't done so already. Meetings and subgroups certainly don't have to stop, for example, you could try holding your meetings, craft groups, book clubs or film clubs via Zoom or free conference calling software. Please have a look at our Guide to Zoom for more information.
So many WI members are doing amazing work to keep their communities connected and to ensure nobody is isolated or in need. Have a look at our WI Community Champions page for case studies of some of these extraordinary members.
The uncertainty of this situation can be scary and affect our mental health. It is normal to feel vulnerable and overwhelmed as we read news about the outbreak, especially if you have experienced trauma or a mental health problem in the past. While social media can be invaluable for staying connected, it can also circulate a great deal of scaremongering and untrustworthy information surrounding the virus. You can hide content and unfollow pages that are making you feel uneasy alongside stopping news notifications on your phone.
What are the consequences of not having 11 meetings a year as stated in the constitution?
With the uncertainty of this situation and how long it will go on for, it is not possible to say how many meetings may have to be cancelled due to the virus. In order to try and maintain the 11 meetings a year, WIs should consider holding virtual meetings using Skype or Zoom (which are free) where possible. This may be slightly easier for some WIs than others depending on how big their membership is, along with their access to the software. In other instances, WIs could move one or more of their cancelled meetings to later in the year, and could even hold more than one meeting per month later in the year.
However, if you are unable to hold 11 meetings this year, please do not worry, as the health and wellbeing of members is far more important. These are unprecedented times with many organisations and charities asking the same questions, and the Charity Commission is aiming to be as flexible and pragmatic as possible to help organisations to continue to function effectively during this period. We have sent official legal guidance to all federations, and would also suggest that members continue to review the latest information on the charity commission website, as advice and information are changing regularly.
For the time being, we ask WIs to please focus on supporting other members and keeping connected during the period you are unable to meet.
A lot of WIs have also been concerned about cancelling their Annual Meetings and elections, and the consequences of this on their WI operations. In the current circumstances, the Charity Commission has confirmed that it understands that charities may have no choice but to cancel or postpone their AGMs and other critical meetings. The guidance we have sent to federations explains this in much more detail, so please contact your federation or NFWI if you have any specific concerns or questions.
Are NFWI offering refunds or a membership subscription extension to cover the WI meetings that will be cancelled?
The NFWI has been very concerned about the disruption this lockdown period has had on WI meetings and activities and the membership experience this year. We recently held consultations with all federations to discuss ways in which we can acknowledge this in our membership subscription this year.
As a result, we are offering a three-month extension to this year's membership subscription. The next renewal date for membership subscriptions will, therefore, be 1st April 2021. In addition, from this point onwards, membership renewals will always be in April. This is to acknowledge the feedback many of you shared with us during the recent Strategic Vision consultation about the challenges of the January payment date and how you wished to see this changed in the future.
We have added full FAQs to My WI to help you understand a bit more about the process and how this will impact WIs. The FAQs can be found here: https://mywi.thewi.org.uk/essential-information/subscription-rates/faqs-membership-subscription-extension
We know that many WIs have responded creatively to the practical challenges posed by lockdown and we continue to be inspired by the activities being delivered to ensure members remain connected during this difficult time. However, we do appreciate that this period has meant that many members have experienced disruption to their WI experience and therefore we hope the additional three months will provide some compensation to acknowledge the disruption.
What should we do about events and venue cancellations?
The financial implications of event cancellations will vary depending on the venue you have booked with. You should seek advice directly from the venue along with your insurance company regarding their policy. If your WI's insurance is managed at federation level, please contact your federation.
Are the NFWI offices still open?
As of Wednesday 18 March, the NFWI London, NFWI Wales and NFWI–Unit offices have closed and staff are working from home. You are still able to contact all staff via emails and telephone as normal.
Please do not send anything urgent via post as we are not currently accessing the office buildings at all. If you want to send us anything that cannot be sent via email, please call us to discuss alternative arrangements.
Are all NFWI events cancelled or postponed?
The Annual Meeting at the Royal Albert Hall on 4 June has been cancelled, and the Wales Conference on 26 April has been postponed until later this year (date TBC). We make the decision to cancel the Annual Meeting with great sadness and we know many members will be very disappointed, as we are, but we always prioritise the health and wellbeing of our members above anything else.
You will still receive your Annual Meeting documentation in the upcoming NFWI mailing as this was signed off at the end of February. Please retain this documentation and we will be in touch to confirm how we will proceed with regard to the selection of this year's resolutions.
There is more information here: https://mywi.thewi.org.uk/nfwi-news/articles/coronavirus-update-on-nfwi-events-and-activities
What happens to the 2019/20 resolutions?
As the NFWI Annual Meeting was cancelled due to the COVID-19 pandemic, the two resolutions due to be discussed were not able to be debated or voted on by delegates.
The NFWI Board of Trustees has decided that in these exceptional circumstances, the results of the shortlist selection process will be used as a proxy for the Annual Meeting vote. Please visit https://www.thewi.org.uk/campaigns/resolutions/resolution-selection-results-2020 for further information.
Can WI members and WIs help to craft items such as face masks and uniform bags for the NHS?
Over the past couple of weeks, we have received a number of queries about whether WI members can craft items to support the NHS. The NFWI is very concerned at reports of shortages of Personal Protective Equipment (PPE) and other vital items of clothing and equipment and urges the government and NHS to make sure that all health and care staff get the right protection to carry out their vital roles.
It is important to note that many items of PPE are single-use and produced to strict specifications, so in many cases, crafted items would not be appropriate.
We have been in touch with the NHS and are aware that there is a need for scrubs in some areas of the country. This is not confined to NHS services, as other health and care services like care homes and domiciliary care services are increasingly using scrubs for their staff.
At present, these projects are being managed locally by various volunteer groups to respond to particular local need. The NHS is under significant pressure at the current time, and so we want to make sure that any contribution members make to support our NHS is timely, useful and responds to local need. We are aware that some health services are not in need of these items whereas others do still need supplies. As such, it would not be appropriate to launch a national appeal and we are instead encouraging members who wish to support their local health and care services to do this at a local level.
If you are aware that your local hospital or other health or care services are in need of these items and are calling on the community for help, please do organise this on a local level. If you are able to contact your local hospital, you can let them know your WI is available to support with making these items if necessary. Given the burden on NHS staff at this time, it is preferable for you to contact the charity arm of your local hospital who can advise how best to support them, or to make contact with volunteer groups already coordinating donations. If you would like to support a local care service or care home you can find nearby services by searching on the CQC website.
---
This page was last updated July 2020.
22.7.2020
Dear Ladies,
This is to let you all know that I am stepping down as your Chairman after nearly five very enjoyable years. Margaret Simcock from Preston Wynne WI is taking over from me.
Margaret is very enthusiastic as I am sure that all of you who support Denman is aware, she is full of new ideas and I am sure that the Federation will benefit from all of her energy and enthusiasm.
I have really enjoyed being your Chairman and I know that I am going to miss you all dreadfully. I have loved visiting all of the WI's and meeting you all. I have shared in your celebrations and have made some lovely friendships that I am sure will endure.
Thank you so much for all of the help and support that you have given me, I could not have done all that I have without all of you. I feel sad that I am having to put all of this in a letter instead of being able to tell you to your face at the annual meeting but the Covid virus has put paid to all of our plans.
I am leaving the Board to be able to have some more time with Malcolm but I could never leave the WI.
Take Care and keep Safe
Lots of Love to you all
Val Lewis
18.6.2020
Membership subscription extension FAQs
The NFWI has been very concerned about the disruption this lockdown period has had on WI meetings and activities and your membership experience this year. We recently held consultations with all federations to discuss ways in which we can acknowledge this in our membership subscription this year.
We are delighted to share with you that as a result, we are offering a three-month extension to this year's membership subscription. The next renewal date for membership subscriptions will, therefore, be 1st April 2021. In addition, from this point onwards, membership renewals will always be in April. This is to acknowledge the feedback many of you shared with us during the recent Strategic Vision consultation about the challenges of the January payment date and how you wished to see this changed in the future.
We hope the additional three months will provide some compensation to acknowledge the disruption many of you will have experienced this year.
Please see below some FAQs to explain a bit more about the process and how this will impact WIs. Please note we will be adding to these FAQs over time, as new questions arise.
Q: Will the subscription fee still be increased in 2021?
A: Yes. The 2021 fee has already been agreed by federations and the NFWI, and budgets across the organisation will have been agreed based on this.
The cost of the three-month extension to the organisation as a whole (all three levels) is £1.7m, which comes with considerable financial challenges, particularly to our federations, and reducing the subscription fee for 2021 would put all three tiers of the organisation in an even more precarious financial position. It would also in all likelihood necessitate large increases to the subscription in subsequent years.
The NFWI Board of Trustees works hard to keep subscription increases as low as possible. Despite the predicted economic downturn, the costs incurred by WIs, federations and the NFWI will not go down. If membership fees do not keep pace with annual costs, it will financially destabilise all parts of the organisation. This will not only create a deficit position but will also decrease the organisation's resilience to future issues and disruption, such as those faced during the Covid-19 period. There would also inevitably be a need to exponentially raise fees in later years, above the cost of inflation, which would no doubt result in a drop in membership.
The 2021 subscription cost will be £44. Of this, 49.3% (£21.70) will go to the WI, 23.20% (£10.20) to the federation, and 27.50% (£12.10) to the NFWI. Out of the £1 increase, only 20% is going to the NFWI, 20% to the federation, with the large majority of the increase remaining within the WI (60%).
Q: Will the new subscription payment date (April) be kept in place permanently?
A: Yes. A change of payment date away from January, a financially challenging month for many, will hopefully be a welcome change for members and reflect the feedback many of you shared with us during the recent Strategic Vision consultation. As we move out of this Covid-19 period and look to the future of the WI, our aims to be more inclusive and flexible are central to all considerations and we are delighted to be making this permanent change to what many of you have told us you feel to be a practical barrier to membership.
Q: Is a decision on this matter being taken too soon?
A: It would not be appropriate to ignore the many enquiries we have received from members, and it is important that you, our WI members, know we are listening and acknowledging the disruption to your WI experience.
Even at this stage, we do not know the full extent of disruption Covid-19 will have on WI meetings and events, and even as we emerge from strict lockdown, we are very aware that 'normality' is still a long way off and WIs may be unable to meet for the foreseeable future. However, after considerable financial analysis by our Finance Department, we are aware that it would not be possible to offer any further financial assistance without crippling the organisation, so it would not be fair to wait any longer without acknowledging the disruption. Many charities are not offering any compensation at all, so although we are aware that three months is not reflective of the full extent of disruption, we hope members will appreciate the reason behind this.
Q: English Heritage has offered a membership extension with an 'opt-out' scheme. Is this against the WI constitution?
A: Yes. English Heritage (and National Trust) are not federated charities and therefore adhere to different charity rules. A central principle of our constitution is that all members pay the same membership subscription each year which is set by the NFWI in consultation with the National Council. If changes are made to the subscription they must be applied to all members equally.
Q: Some WIs are considering collecting fees for national and federation but not for themselves. Is this permissible?
A: No. Constitutionally every WI member must pay an equal subscription fee, and it would not be fair or in line with our constitution for some members to be offered a lower fee, but not others. Although many WIs will be saving money during this lockdown period there are others that have fixed costs. There are also many WIs who have adapted online meeting programmes and are incurring regular costs, such as speaker fees. We also know that many WIs are looking at ways in which they can use any savings accrued during the lockdown period to enhance the experience of members once normal activities are resumed and to compensate for the disruption to their programme.
Q: How will small WIs with no cash reserves cope with the financial hit?
A: Many WIs will have reduced expenses over this period and will, therefore, be making savings. If your WI has not been able to save on fixed costs during this period, we encourage you to explore what government grants may be available, in particular those WIs who own their own halls. If you have any concerns regarding your financial position then please contact your federation team in the first instance for support. NFWI are continuing to monitor the financial situation of all three levels of the organisation and proactively identifying ways in which we can identify savings.
Q: Will all members be notified directly of the change?
A: We are aiming to ensure that this message reaches all members as soon as possible. A formal notification was sent from Julia Roberts, NFWI Honorary Treasurer, to federations, there is a memo in the July WI Life magazine, posts on social media, this page on My WI, and a letter in the July WI mailing. We hope that by ensuring the message is consistent across all our channels of communications, it will reach all members; but please do ensure you share the news with all the members in your WI too.
Q: Does this also apply to Associates?
A: Yes, the extension to the current year membership year also applies to all our Associate members.
Q: How would pro-rata membership work with the proposed new payment dates?
A: The pro-rated fees will remain the same, except for members who will join from January to March 2021 who will pay the same rate as those who joined in the quarter 1 October to 31 December 2020.
Members who join anytime between 1 October 2020 – March 2021 will pay the pro-rata subscription rate of £10.75 and their membership will be next due for renewal in April 2021.
As usual, the pro-rata subscription only applies to someone who is new to the WI or has not been a member in the last 10 years.
The rates are as follows:
| | | | | |
| --- | --- | --- | --- | --- |
| Date of joining 2020 | Total subscription | WI share | Federation share | NFWI share |
| 1 Jan-31 March | £43.00 | £21.10 | £10.00 | £11.90 |
| 1 April-30 June | £32.25 | £15.83 | £7.50 | £8.92 |
| 1 July-30 Sept | £21.50 | £10.55 | £5.00 | £5.95 |
| 1 Oct-31 Dec | £10.75 | £5.28 | £2.50 | £2.97 |
| 1 Jan -31 Mar 2021 | £10.75 | £5.28 | £2.50 | £2.97 |
18.6.2020
Lanceprint are not operating during the lockdown period, so Caroline Wright has produced an in house Federation newsletter for June with contributions from WIs. Your secretary will have received a copy for distribution, or you can read it HERE.
10.6.2020
NEWS FROM Maureen Sullivan, President of Cradley WI
I am very delighted and proud to inform HFWI members that my sister Val Smith-Orr who runs the burns charity
triplebcareprojects.org
in the Philippines has been awarded the 'Order of Australia Medal' in the Queens birthday honours for services to the international community through nursing.
As you all know I collect unwanted medical supplies for her from Herefordshire WIs which Cradley WI members help me sort and pack. When ever we can meet again I will still be collecting . Last year a medical company sent me six pallets of out of date dressings- thousands of dressings which Cradley WI ladies had been helping me sort and repack.( before lock down)The six boxes members helped me pack at the beginning of March were finally picked up in May and fingers crossed
Val will receive them in July.
I was so pleased to have got to see her in the Philippines in January , how lucky was I? The lock down there was quite extreme.At one point no one was allowed out and food parcels were delivered by the local authorities, mainly rice & noodles which resulted in more burns & scalds. Val is classed as a front line worker so she was allowed to run emergency clinics. Her "ambulance" basically a metal box on a 3 wheeler motor bike was allowed out to either take Val to the patient or bring the patients to her clinic. A local company usually making motor bike helmets changed to making PPE and donated Val her own PPE. She had plenty of scrubs as her friends in Australia have been making them for her from donated materials & bed linens for a while now. She received another box just before lockdown.
Both public transport and the postal service are still closed in the Philippines so Val never got the formal letter about her award. However even when open ,there is not the postal service as we know it, you have to go to the post office to collect post , so if you are not expecting a letter …! The Australian ladies who had nominated her are from another charity in the Philippines which Val supports. They realised she would not know and organised a zoom meeting with her as soon as the list was published in Australia which was 6.30am her time. She wondered what on earth was the matter and could hardly believe it when they told her. From the congratulations I have received from WI members and the hundreds on her Facebook page everyone knows what a well deserved award it is for a truly inspirational woman.
Maureen Sullivan
President Cradley WI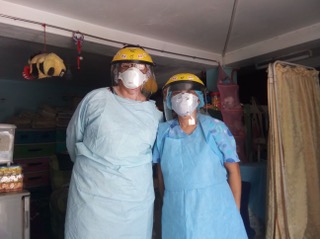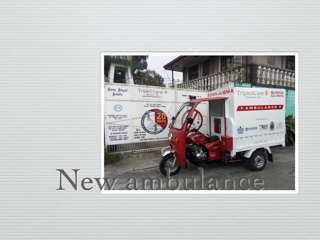 26.5.2020
Please see below a thank you from Sue Robinson.
Dear WI ladies,
I want to thank you so much for rising to the challenge of making 2500 laundry bags for Hereford Hospital. As Black Hill Scrubs, we had bitten off rather more than we could chew and it is thanks to you that the order was fulfilled, indeed exceeded with over 3000 laundry bags eventually being delivered to the hospital.
You have shown that the wonderful WI will rise to the challenge when there is a national emergency and your work has meant that doctors and nurses have been able to safely transport their dirty, contaminated scrubs and gowns for laundering.
Thank you so much,
Sue Robinson
Black Hill Scrubs
6.5.2020
Hospital Scrub Bags
Dear Ladies, you have done Herefordshire proud. This week you have made 604 scrub bags. So, together with the 958 and another 47 handed in last Wednesday the grand total is, there should be a drum roll here, 1,609 . We cannot thank you enough for responding to the Hospital's request . Please pass on our appreciation to all the sewists who raided their linen cupboards, cajoled neighbours and friends for fabric and dived into their stash. The bags came in beautifully sewn in all colours and hues, some even had messages for the NHS workers and a lady who didn't sew knitted dolls with their face masks on which brought a smile to everyone's face. They have all been collected from WI House by Lydia and her husband who will take them to the Hospital contact. Please let me know if you have made some which have gone directly to the Hospital and I can add them to our tally. Also, I received 11 bags in the post yesterday without a name, please let me know who you are so I can thank you.
Best wishes and well done.
Caroline Wright, Federation Secretary
13.5.2020
Good morning ladies, we have now met Hereford Hospital's scrub bag objective so we can stand down regarding these. I know scrubs are still being made, and are needed, as well as face mask adapters but our remit was the bags. Well done everyone and thank you. Total today is 1,846.
Caroline
5.5.2020
Letter to members from Val Lewis
Dear Members
Please can you take some time during your spring-cleaning and gardening to look at MY WI online.
There are many ways that we can stay connected with one another even though we must stay in our homes, this explains how we can go about it.
Please let me know if you are able to have meetings online via the many ways that we have available to us now.
I asked you previously about craft items that you have made during the lockdown. If we manage to have our annual meeting in October as arranged we could show them to the other members. I am so pleased the the WI members stepped up and made so many scrub bags for the hospital, very well done to all concerned. I have spoken to Juliet Isherwood in National and she would love some photos of our efforts to be sent to her. Please contact her if you need to. The number in NFWI gets re directed to her home number.
Val Lewis
1.5.2020
Dilwyn WI can be proud of one of its members with her starring interview in WI Life. Well done Georgina for putting Herefordshire Federation on the map!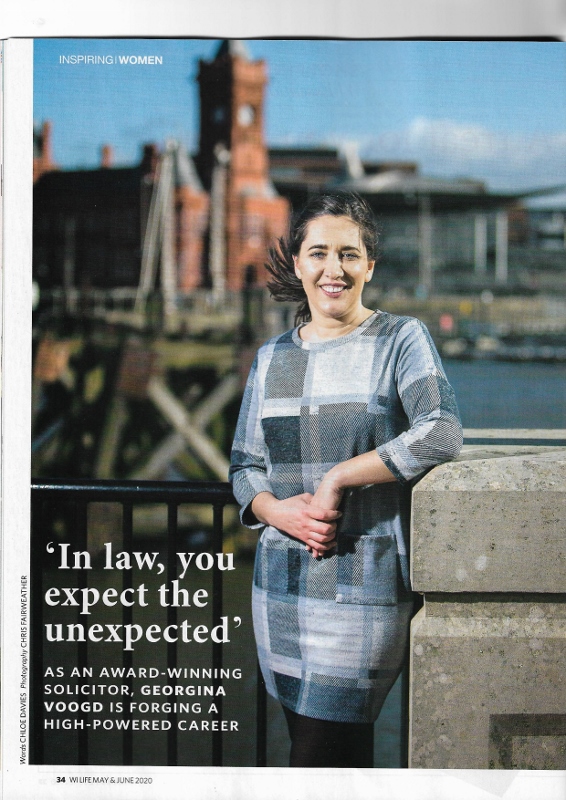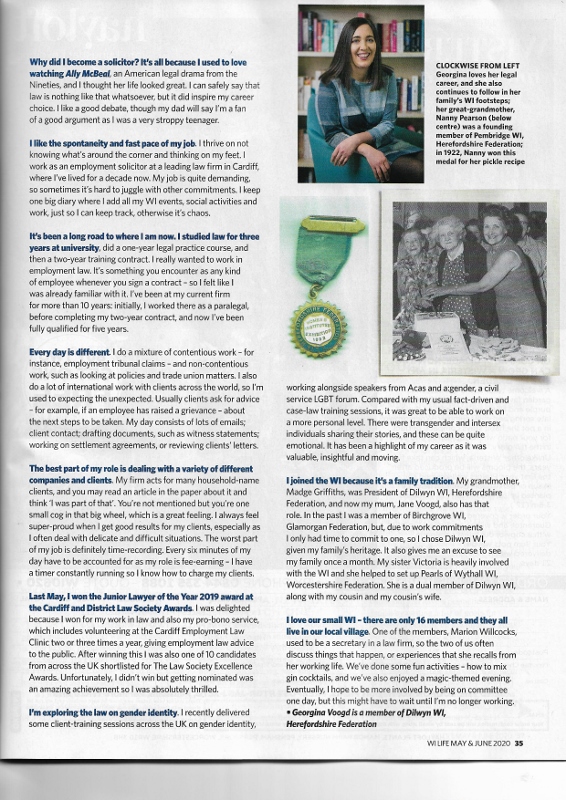 17.3.2020
This email is being sent on behalf of the NFWI by Melissa Green, NFWI General Secretary to all Federation Chairmen, Federation Treasurers, Federation Secretaries, NFWI Board of Trustees and the NFWI senior staff team.
Dear all
NFWI events
In light of the ongoing spread of COVID-19 and the new Government advice regarding social contact, the NFWI has made the difficult decision to cancel the Annual Meeting at the Royal Albert Hall on 4 June, and to postpone the Wales Conference on 26 April until later this year. We have been keeping a very close eye on the situation over the last few weeks but as the number of cases is rising and advice is becoming stricter, we believe this is the most responsible decision to make, even at this distance from the June event. We make this decision with great sadness and we know many members will be very disappointed, as we are, but we always prioritise the health and wellbeing of our members above anything else. We are still working out the practicalities involved for both events, but we wanted to let members know as soon as possible.
You will still receive your Annual Meeting documentation in the upcoming NFWI mailing as this was signed off at the end of February. Please retain this documentation and we will be in touch to confirm how we will proceed with regard to the selection of this year's resolutions.
Denman
Denman is postponing all courses and specific events that were scheduled to run until 12 April. Please contact Denman directly if you have a booking to discuss how you wish to proceed. We understand that many of you are concerned about current bookings and may wish to receive a refund, however we are all conscious of the financial impact this period of closure may have on Denman and therefore request you to consider postponing your booking to a later date rather than cancelling if this is possible. Please note that we will review all future courses again in a week's time and will update you accordingly. Thank you for your continued support for Denman.
Walking Netball
England Netball have announced that all netball activity is being suspended until further notice, which includes Walking Netball. Walking Netball hosts will be contacted directly to discuss further.
We kindly ask federations to communicate this information to members as widely as possible. The NFWI will also circulate this information on its website, on My WI and on all social media platforms at 4.30pm today (17 March 2020).
Further information
NFWI Annual Meeting
We urge you to cancel any travel and accommodation bookings immediately, in order to obtain refunds as far as possible.
This is a cancellation, not a postponement and we are currently exploring other ways of ensuring you can participate in the different elements of the Annual Meeting process without incurring additional cost.
The NFWI will pick up all central costs of cancelling this event i.e. venue hire.
Members who have paid for observer tickets should be reimbursed; invoices to federations for observer tickets will be revoked/ refunded if already paid.
All 2020 Pooling of Fares payments made to the NFWI will be refunded to federations.
The NFWI is unable to cover the cost of accommodation and this will have to be covered by federations in the usual way, if refunds are not possible. Federations can ask WIs to contribute to these costs however this is to their discretion and would be a voluntary contribution.
Federations are not obliged to reimburse travel and accommodation costs to WI Advisers and observers, if refunds for these services are not possible.
The staff team at the NFWI will be working behind the scenes to ensure that any governance obligations can be carried out, for example resolutions voting. We ask for your patience while we confirm these arrangements. Further information will follow as soon as it is available.
Wales Conference
We will follow up with all attendees directly when we have confirmed the rescheduled date in order to transfer bookings.
WI meetings
As outlined in my email yesterday, we are now actively encouraging WIs to follow the new Government advice and reduce contact as far as possible, particularly for those who are more vulnerable. We are putting together FAQs for WIs and members to outline this, as well as some of the other practicalities involved.
If you have any further questions on this matter please feel free to contact myself or Kerri McGarvie, Board Secretary & Events Manager.
Kind regards
Melissa Green
General Secretary
17.03.2020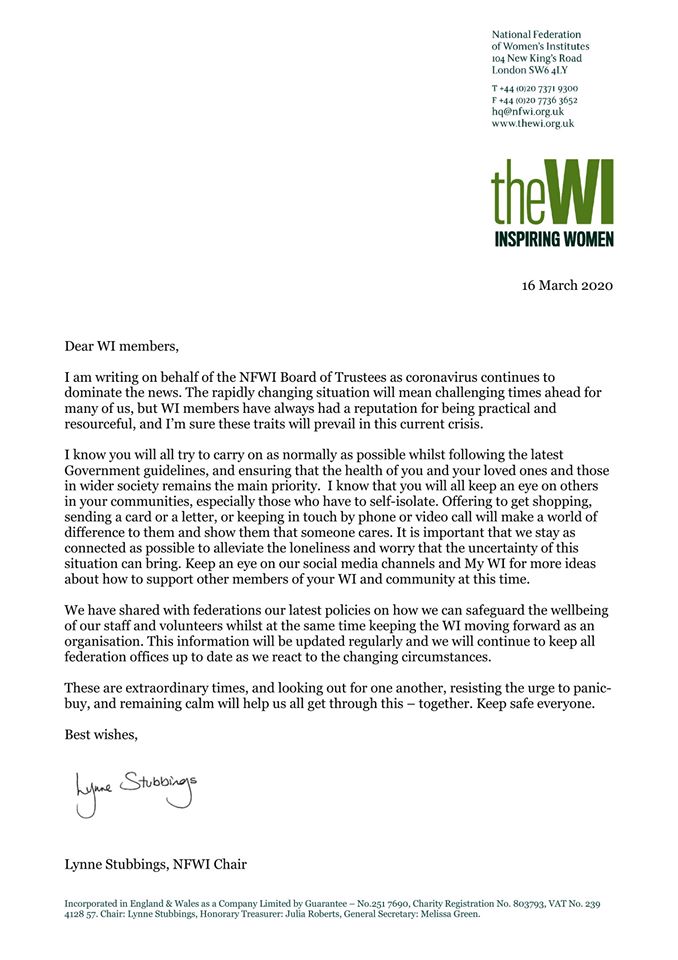 10.03.2020

POSTPONEMENT OF ACM
After much debate and with consideration for the continuing good health of our members the Board of Trustees have decided to postpone Herefordshire Federation's ACM from Monday 27th April 2020 until MONDAY 12TH OCTOBER 2020. We have re-booked the hotel and are in the process of contacting the speakers and guests to inform them. Those members who have already paid for their entry/lunch will have their money refunded. We shall let you know as soon as details for the ACM in October are finalised.

Val Lewis
05.02.2020
QUIZ POSTPONED TO UNKNOWN DATE
****CHANGE OF DATE TO QUIZ FINAL***
Dear Ladies,
Due to unforseen circumstances I have had to make a change to the date for the final of the Federation Quz for 2020.
The venue for the final and the time, Sutton St Nicholas Village Hall at 7.00 p.m. remains the same.
The new date is Friday March 27th, one week after the preliminary rounds.
I would be grateful if you would make sure that your quiz teams know about this change.
To confirm, the preliminary rounds of the quiz remain unchanged, but the Final will now take place one week earlier than originally planned at 7.00 pm on Friday March 27th.
I apologise for the inconvenience this might have caused.
Best wishes,
Joy
17.01.2020 A final decision about whether this course will take place will be made in July 2020
Listen Speak Inspire Course run by NFWI. Taking place in Hereford Wednesday 30 September 2020 venue Bartestree Village Hall
Flyer with full information for the course download
If you are interested in applying download the application form here
03.01.2020
Jean Haig
Jean Haigh, who sadly died just before Christmas was a popular member of Cradley WI since the early 70s. In 2006 she also joined Bromyard WI when we reopened a new WI in the town. She was on the board of the Herefordshire Federation for a number of years and served on several subcommittees including Sport and Leisure and the 3 Counties Show. She was on the Membership Support Committee until she and her husband left Cradley to live in Norfolk near their family. She was part of the team that compiled the newsletter when it was produced in-house. She was a loyal and hardworking WI member who will be greatly missed by all who knew her. We extend our sympathy to her family. There will be a service for Jean in Cradley church on Monday February 10th at 12 noon.